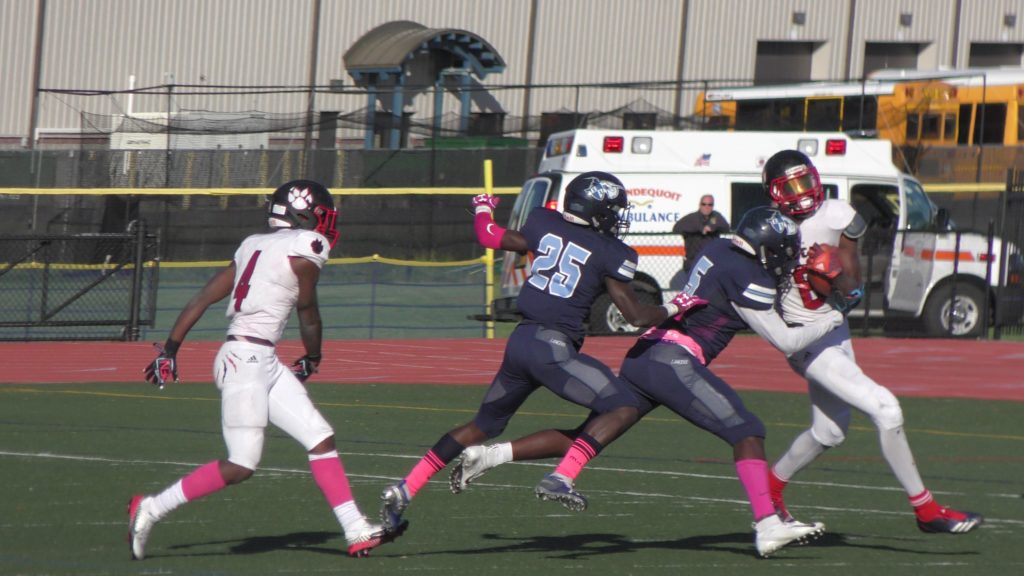 EAST (4-1) 26
UPREP (4-1) 22
Freddie Brock's fall sport was soccer during his childhood days. Now, the East senior plays football along with basketball and baseball. That transition rewarded him a Division I scholarship to UMass Amherst and he proved why on Saturday afternoon. READ MORE.
SPENCERPORT (4-1) 28
GREECE OLYMPIA/ODYSSEY (2-3) 12
Khalize Beamon went 22 yards on a first down play to give Spencerport a 14-12 lead late in the third quarter, and the game looked destined to swing back and forth. Olympia/Odyssey took possession on their own 39-yard line and Corey Bright rushed for 20 yards. The Spartans had the ball on Spencerport's 41 when quarterback Xavier Hurell rolled to his left. READ MORE.
WILSON 32
EASTRIDGE 33
If you've followed Eastridge High School football for the better part of this decade, you know how significant the goal line has been.There was the 2011 game at Victor, when the Lancer defense recorded a stop at the one-yard line on the last play of the game to improve to 6-0 and hand the Blue Devils their first Monroe County loss since joining the league. There was the 2012 sectional semifinal against McQuaid, when running back Jeremiah Ortiz recovered a fumbled snap in the Rhinos Stadium end zone for the game-winning touchdown in double overtime. Now the Jasson Jobson era has its own big-game goal line moment. The Lancers, clinging to a 33-32 lead with 16 seconds left, stopped Wilson Magnet running back Jahkier Moore on a fourth and goal pitch from the three-yard line to improve to 5-0 this season. READ MORE.
ALEXANDER (5-0) 11
RED JACKET (3-2) 8
After trailing 8-3, the Trojans used a late score to remain undefeated. Red Jacket's points came on a 68-yard touchdown pass from Matt Record to Chase Rizzo. Logan Keifer had 71 rushing yards for the Indians. Hunter Fitzpatrick had 10 tackles and Jake Anderson added nine tackles to lead the Red Jacket defense.
JAMESVILLE-DEWITT (0-4) 0
EDISON (1-3) 24
Jahmear Stallings dominated on both sides of the ball to lead Edison over Jamesville-DeWitt. He had 11 carries for 84 yards and a rushing touchdown, and added two sacks, a forced fumble and a fumble recovery on defense. Edgar Bass had a 53-yard interception return touchdown for Edison.
BROCKPORT (1-4) 14
GREECE ARCADIA (3-2) 21
After trailing 14-13 in the fourth quarter, Arcadia scored on a fake punt and converted the two-point conversion to seal a victory in its homecoming game.
MIDLAKES (0-5) 0
HONEOYE FALLS-LIMA (3-2) 39
The Honeoye Falls-Lima offense exploded in the first half, scoring 33 points before the break. Cougars quarterback Turner Wilson got the scoring started on a 77-yard touchdown pass to Mitch Slymon. Then, back-to-back rushing touchdowns by Mason Ferrara put the game out of reach early. Turner finished with two touchdown passes, both to Slymon. Ferrara racked up 188 rushing yards on 11 carries, three of which went for touchdowns.
IRONDEQUOIT 17
GREECE ATHENA 7
Nick Calarco and Jaden White scored on touchdown runs to lead Irondequoit.
MCQUAID (5-0) 37
MONROE (0-5) 18
Joe Cairns threw for 197 yards and three touchdowns for McQuaid including a 72-yard connection to Josh Gaddy. Andrew Passero had 100 rushing yards for the Jesuit Knights.
MARCUS WHITMAN/BLOOMFIELD (0-5) 23
EAST ROCHESTER/GANANDA (3-2) 50
The Bomber rushing attack gave Marcus Whitman/Bloomfield fits on Saturday night, as the ER/G offense carried the team to its third win of the season. The Bombers rushed for 363 total yards and averaged 9.6 yards per carry. ER/G led 36-0 at halftime and 50-0 at the end of the third quarter. Dion Mather threw for 45 yards and a touchdown, and rushed for 44 yards. TJ Swagler ran for 101 yards and a touchdown for the Bombers. Omarri Cooper and Alex Hartman ran for two touchdowns each, and Christian Clarcq ran for 82 yards and caught a 25-yard pass for a touchdown. For MW/B, Justin Smith ran for 107 yards and a touchdown, and Austin Smith ran for 64 yards and two touchdowns.