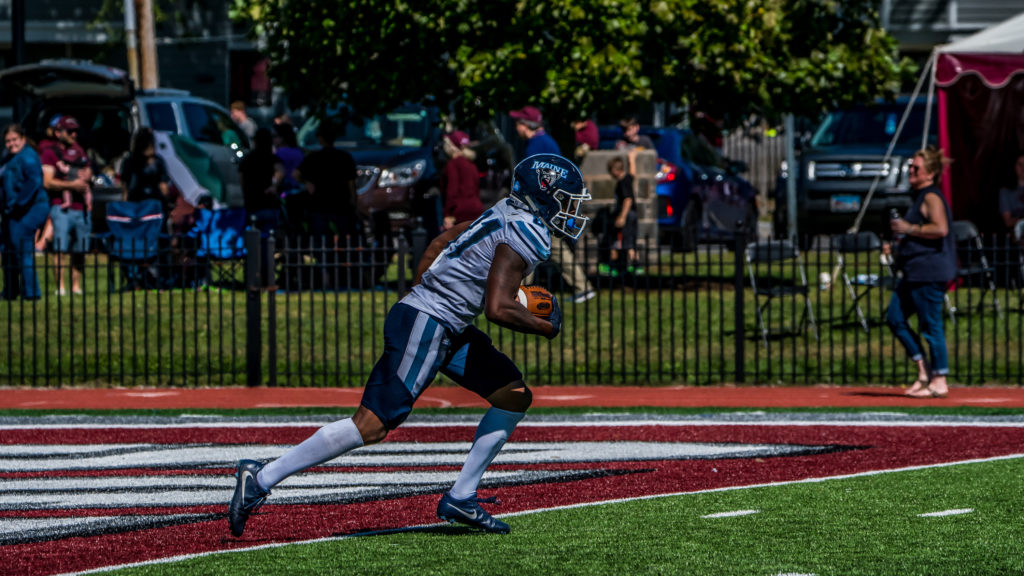 By BILLY HEYEN
University of Maine receiver Earnest Edwards (Aquinas) was named the STATS FCS National Special Teams Player of the Week. Edwards returned two kickoffs for touchdowns in Maine's 35-21 win at Colgate in Hamilton, N.Y.

Edwards scored three times overall in the Black Bears' win: He caught a 40-yard touchdown in the second quarter, returned the second half's opening kickoff 100 yards, then returned a later kickoff 95 yards to complete the touchdown trifecta. His 198 kickoff return yards were a new Maine record.

"The kick returns, it was just the blocking honestly," Edwards told Spectrum News. "They did a great job holding their man, give me a lane, I just used my speed. It felt real good to back at home in New York, two hours away from home, 30 plus people here, my family, I just had to show for them."
Edwards, a senior, has returned six kickoffs for touchdowns in his Maine career, a school record, and holds the Black Bears' career mark with 2,025 total kick return yards.

In all four Maine games this season, Edwards has been a part of at least one touchdown. He caught three passes for 84 yards and a score in Week 1, then he threw a touchdown on a reverse in Week 2. He had his best receiving game in Week 3, reeling in six passes for 116 yards and a score, before his trio of touchdowns on Saturday.

Edwards was part of a 2018 Maine team which made the national semifinals before losing to Eastern Washington.

In his time in Section V, Edwards made All-Greater Rochester in both his junior and senior seasons, 2014 and 2015. He was a member of the 2013 and 2015 Class AA state championship Lil' Irish squads. Edwards is one of more than 50 former Section V players on Division I football rosters this fall.