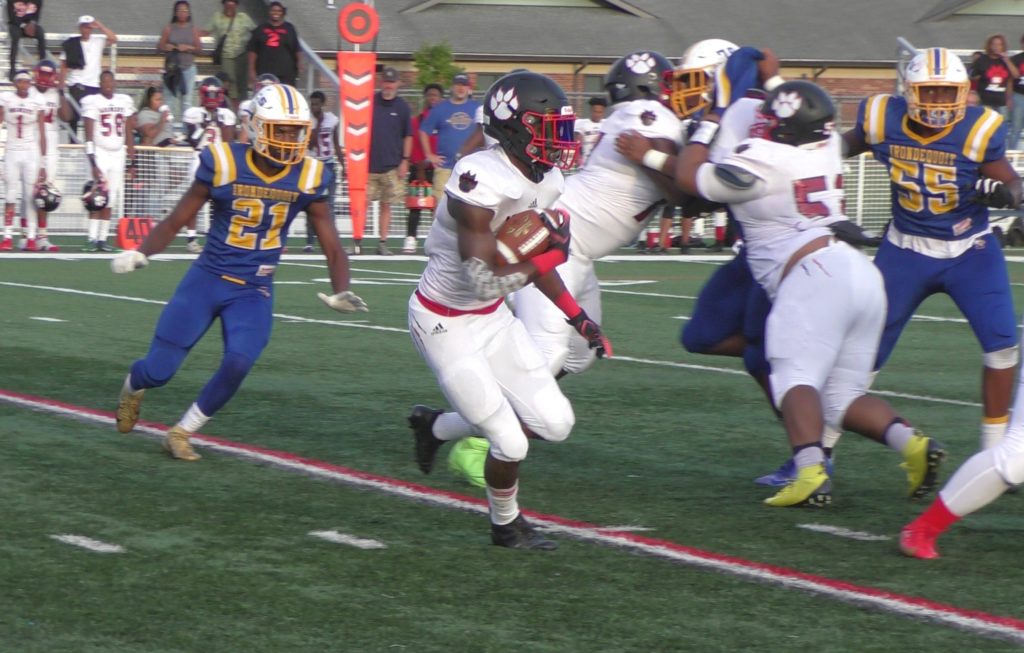 By CHUCKIE MAGGIO
IRONDEQUOIT, N.Y. — Jahkier Moore displayed two of his most impressive attributes at Irondequoit on Friday night: his speed and his memory.
Moore took the first meeting with the Eagles since Irondequoit's 35-27 sectional victory last October personally. "This game runs deeper than just Wilson and West Irondequoit," he said.
Moore played that playoff quarterfinal with a groin injury suffered in the spring track and field season. Let him tell it, and he let the team down by playing hurt.
The 5-foot-10 senior's "revenge game" erased a few of those bad memories. Moore collected 157 all purpose yards and ran for three touchdowns in Wilson's 42-3 victory.
"It's been in the back of my brain the whole offseason. All of track season, every time I touched the football I thought about West Irondequoit and when they took us out for sectionals," Moore remarked. "Today, I came in and this game was personal, very personal."
Moore had very little difficulty carrying the rock against the Eagles defense. He set up his first touchdown with a 23-yard rush to Irondequoit's four-yard line before converting the four-yard score.
Another goal-line TD followed in the third before Moore's grand finale, a 75-yard burst to extend the lead to 34-3.
The Wildcats have posted 86 points in the last two games. Moore has four of those touchdowns.
"I was a little nervous because I knew I had a whole lot of weight on me from what was to be expected of me," Moore commented. "Once I talked to my coach he was like, 'Just relax and play your game and take it from there.' I caught a little shovel pass and once I got that run, my momentum came back and it was lights out from there."
Wilson coach Greg Mortier was satisfied with the running game, as he was with every facet of his team's victory.
"We had a lead last week at halftime, but we weren't able to push the ball on the ground, grinding that clock," Mortier noted. "Tonight was a little bit different. We were able to continue with that run game and we didn't get caught, three-and-out giving them the ball. We were able to limit their possessions in the second half and that was huge."
Quarterback Sam Jackson threw for 146 yards and a touchdown to wideout Rahmeer Wade as well as scrambling for 69 yards. Even when Jackson was inaccurate and threw an interception, junior Ernest Thomas scored a pick of his own and took it to the house- on the very next play.
Dante McGowan ensured Moore wouldn't be the only touchdown rusher when he scored the game's final TD. Finding paydirt was the capper to an impressive day; McGowan recorded 13 tackles and forced a fumble.
Irondequoit scored the first points of the game on a 37-yard field goal by Nicholas Chodak and held the 3-0 advantage through the first quarter. The Eagles didn't score again.
"We got a win last week but we don't feel like we played a really solid game," Mortier recalled. "Much better effort tonight, both sides of the ball. The defense was great last week (a 24-8 win over Bishop Kearney), offensively we were a little shaky. Tonight we put all three phases, because special teams, I thought, was great too."
This is Wilson's third straight 3-0 start. Moore expressed confidence that the victories are a sign of things to come.
"3-0, feels like we're coming for sectionals again," Moore said, rubbing his hands together. "We back and we better. I think we're gonna dominate this season."