By JOHN LIKANJE
ROCHESTER, N.Y. – Clyde Davis, Jr. receives a snap with his hands facing forward. UPrep's sophomore quarterback spreads his seven fingers out when holding the ball – five on the right and two on the left. Then he steps with his left foot and unleashes a spiral down the field. Just like any other right-handed passer in Section V.
Davis was born with a pair of pinky-sized fingers on his left hand. The aspiring quarterback didn't let the inherited medical condition limit his ability to play football.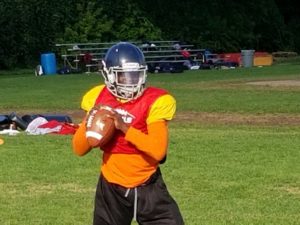 "I've been playing football since I was in kindergarten and played flag football," Davis said. "I played running back first and then middle linebacker."
Davis transitioned to quarterback in seventh grade and has played the position since then.
"He started to grow to realize his power was really in his right arm," Davis' father, Clyde Davis, Sr., explained. "He developed his right side more. His ability comes from his right side and his strength is stronger. He started throwing the ball and started to find his accuracy and now he became much better at it."
Davis' hard work resulted in him earning the starting quarterback job for the Griffins' first two games. The sophomore quarterback completed 18-of-37 passes for 275 yards and two touchdowns in wins over Palmyra-Macedon and Honeoye Falls-Lima.
UPrep will travel to Midlakes Saturday night for their first away game of the season. Kickoff is slated for 7:30 p.m.
"It was a great feeling," Davis said about his first career varsity starts. "New beginning. Very excited for the rest of the season."
"I see the same as usual," Davis, Sr. said. "He always goes to play. His confidence was always there. He never gave up. Never doubted him."
I have only had a chance to see Clyde Davis as @UprepR sophomore QB1 for a few drives so far during young 2019 high school 🏈 SZN, and it is already so easy to gauge how majorly inspiring he can be/he is to onlookers. A player who is easy to root for. pic.twitter.com/Qp9GXxQz8O

— Matt Trabold (@TrabsMatt) September 8, 2019
The sophomore quarterback credited his father for motivating him to stay committed to the sport. Davis, Sr., whose favorite sport was baseball, played catch with his son at a young age. Once father realized his son's knack for catching the ball, Davis could start playing flag football at 6 years old.
"He scored his first touchdown and we just went from there," Davis, Sr. said. "It was no stopping then. Just kept pushing him and he stayed at it."
"My dad never told me that I couldn't be great," the sophomore added. "He always pushed me to try to just be the best."
Davis started on UPrep's junior varsity team last year. Despite his father's recommendation to stay one more season, the sophomore believed in his ability to play varsity level football.
"I learned a lot from last year to this year," Davis said. "Reading coverages, routes, mechanics, just knowing where the ball got to be and everything else."
.@SecVFootball scrimmage – @UprepR vs. Edison Tech: Cartier Jefferson juggles a pass from Clyde Davis, Jr. for the first down. @PickinSplinters pic.twitter.com/pnGw51DcFk

— John Mitchell Likanje Junior (@jml5798) August 31, 2019
"We gave him a shot at quarterback," UPrep head coach Kala Gause said about Davis. "He got better. He learned. The hand thing doesn't come into play. We don't handicap him at all. He's turned out to be a pretty good athlete. He's smart. His football IQ is very high."
UPrep quarterback coach Victor Davidson has worked closely with Davis since April to develop mechanics, better habits and an ability to quickly read opposing defenses in the heat of the moment. The drills include different snaps, adjusting the ball in his hands and getting rid of it as soon as possible. Davidson and Davis work on using his footwork to drive through his hips when he throws.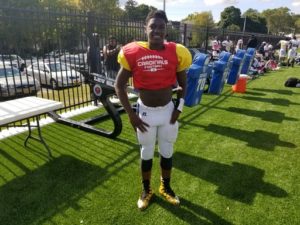 "When I first met him, I was amazed at how far he was at the time," Davidson explained, "but I knew we had to tweak a couple of things with his delivery, about not dropping his elbows, keeping his shoulders parallel to the line of scrimmage.
"… He's probably a year ahead where I would have him normally, but for him to come out and do what he's doing, I'm impressed. It's also a tribute to his devotion to the game of football. He's really truly a student of the game."
The quarterback coach has also taught Davis how to use his 5-foot-9 inch frame to his advantage against larger and taller linemen. To Davidson, Clyde is a spitting image of his son, who played quarterback at Wilson Magnet High School.
"We don't have 6-(foot)-5 guys, but we have some bigger guys," Davidson explained. "It's just about using lanes when we're rolling him out. Making sure that he's using his athletic ability to get around bigger guys."
.@SecVFootball scrimmage- @UprepR vs. Bennett: Clyde Davis, Jr. threads the needle to Andre Facen. @PickinSplinters pic.twitter.com/x9hjIUvwWO

— John Mitchell Likanje Junior (@jml5798) August 31, 2019
The UPrep Griffins won their first four games of the 2018 season en route to a 5-3 record before falling to Honeoye Falls-Lima in sectionals. As part of the new Federation schedule changes, Gause's squad will match up with two sectional finalists, Livonia and East, later this year.
Davis has been UPrep's starting quarterback for two games — he wasn't a part of that history. Now, he's got three seasons to make his own.
"I can do anything," Davis said. "Nothing is impossible. Everything is possible as long as you're striving. Continue to believe that you can do what you want to do. I just kept that mindset to be a hard worker."