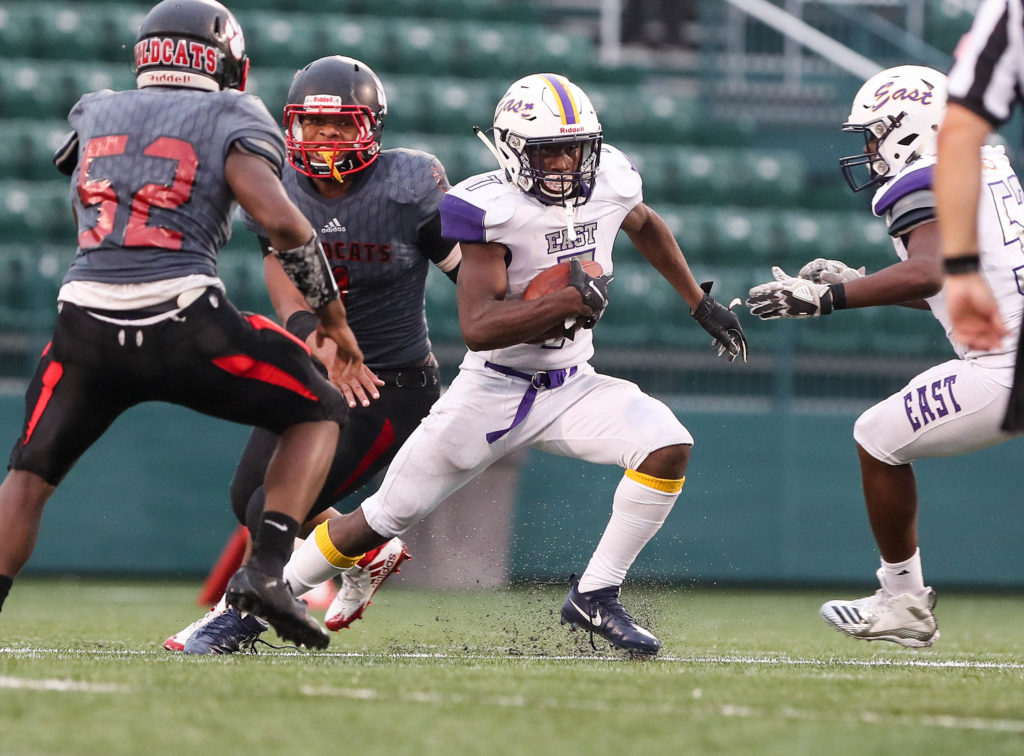 By BILLY HEYEN

In an Instagram post over the weekend, Seven McGee wrote, "Momma told me one day you will be the face of this city."

That's still got strong potential to be true. But on Wednesday, the potential future face of Rochester was told he won't be starring on a gridiron in Section V this fall.

The East High School star and Oregon commit McGee was denied his eligibility appeal by Section V on Wednesday, East announced in a statement. McGee had been appealing based on transfer rules, after he'd played for East in fall 2018, spent a portion of spring 2019 at Narbonne (California) High School before returning home to Rochester. The issue, according to the Democrat and Chronicle, was that the section never received certain papers required from Narbonne.

"It is disappointing that Section V was not more understanding of Seven's circumstances and his desire to return to his home community and school," reads a portion of East High's statement. "We do, however, respect the section's need to be consistent with the standards that it uses to evaluate appeals."

By the rule book, the initial ruling was correct. Appeals exist, though, to account for discrepancies that may be hard to put in writing. In McGee's case, it was a flawed old administration at Narbonne that prevented paperwork from being sent. He also has the somewhat unique case of trying to play at the same school for two-straight seasons with a transfer to-and-fro in between.

In my pre-appeal column, I tried to be measured, figuring that common sense would win out in the appeal process. It didn't, and there's no more room for being measured: Section V got it wrong.

There are two aspects at work here. First, Narbonne. The D&C has reported that many of the old administrators there have moved on from a negative environment that made McGee want to come home in the first place.

East's statement recognizes that the new administrators at Narbonne have helped however they can. Evidently, there's certain things that won't ever be sent, seemingly because they went out the door with the old administration.

If someone can explain to me how it's McGee's fault that papers from a bygone administration at Narbonne haven't been sent, I'd love to hear it. For that to be the reason he's ineligible is absurd.

The second aspect here is that McGee simply wants to compete for the same team he did last year. He didn't play in any athletic events during his short time at Narbonne. It's not so different to someone needing to take a leave from school for family or medical reasons. If they returned the following fall, to the same school, they'd never be made to sit out.

Yes, it's a transfer by definition of the word. But it's not malicious, or sneaky, or advantage-seeking. No one in New York should feel hard done by McGee's movement – he was trying to play in a prep school-type environment in California. 

VIEW MORE CHRIS CECERE PHOTOS HERE. 
What's "right" about this decision? Decision-makers stuck to the letter of the law, but it's not like ruling in McGee's favor would've been making an exception for one of the best athletes to come through Rochester. I'd think any athlete, returning to the same school to play in the same colors two years in a row, would deserve the same clearance if they hadn't partaken in athletics at another school in between.

To say people outside Rochester don't care about this decision would be shortsighted, because McGee is more prominent than that. It's a story that's been followed by reporters in Oregon, and even the rapper Big Boi tweeted about it. But it's the type of thing that affects Rochester most closely.

It's not fair that McGee's family and friends won't be able to see him cutting through and sprinting past opposing defenses under each Friday night's shining lights, just because his old school didn't send along paperwork. It's not fair that McGee's teammates will be disadvantaged in their quest for a sectional title by this ruling, just because the running back who was their teammate last year returned to try and be their teammate again.

Most of all, it's not fair for McGee, who made a common sense decision that presents no logical reason to keep him ineligible.

When the ruling came down earlier Wednesday, McGee sent out a tweet:

While McGee will still presumably be on East's sideline, helping and supporting his teammates, that'll be it. In one sense, the last Section V football fans will hear from McGee this fall is that broken heart at the end of his tweet.

That's a damn shame.