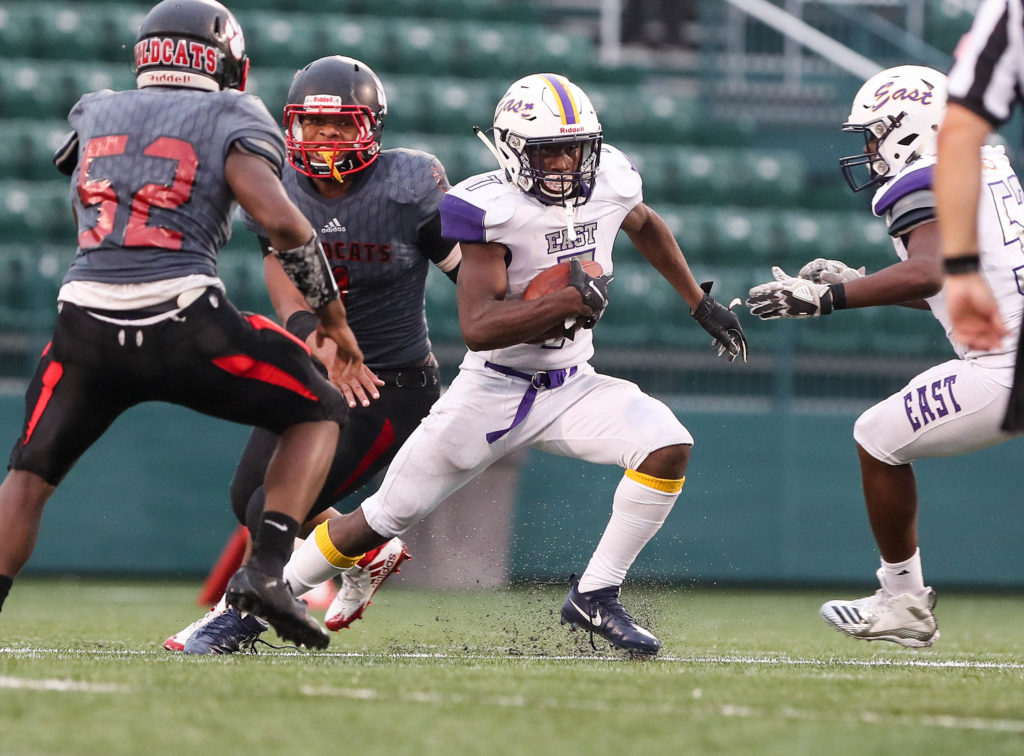 By BILLY HEYEN

Seven McGee smiled as he led his East High School football teammates onto the field on opening night. After all, McGee was back home in Rochester, leading out familiar faces, many of whom had been his teammates last year, too, when the Oregon commit had starred for the Eagles. On this late summer night, though, McGee wasn't wearing shoulder pads or a helmet. He wouldn't join them between the lines.

McGee's not hurt. He's not academically ineligible. McGee is simply waiting on paperwork from a school he attended last spring in California. Without it, transfer rules may prevent McGee from playing for the same school he played for last year.

McGee's case is undergoing an appeal with Section V, according to the Democrat and Chronicle's Stevie Johnson. Without paperwork that proved McGee had attended Narbonne (California) High School for a short time, the NYSPHSAA's transfer rules leave him ineligible. It didn't matter that he never played football, or any sport, while at Narbonne.
VIEW MORE CHRIS CECERE PHOTOS HERE.

We'll save the transfer rule discussions as a whole for another day. As all of Rochester awaits the outcome of McGee's appeal, I've got to say: It should be an easy one — let McGee play.

The spirit of the transfer rules, which became more stringent within the past five years, is to prevent team-hopping that puts other schools at a competitive disadvantage. The way the rules are written, you couldn't have a bunch of Aquinas and Bishop Kearney basketball juniors all transfer to McQuaid as seniors and play (without moving to McQuaid's district) on a star-studded team.

In case it wasn't obvious right from the top, McGee is doing nothing of the sort. He made the move many athletes make in this day and age, heading to a prep school to try and be as ready as he could the day he steps on Oregon's campus. It didn't work out, though, and the running back came home, to compete in the same colors he did in 2018.

This situation has gained notoriety in part because of McGee's talent. In 247Sports' composite rankings, he comes in as the No. 2 RB in the Class of 2021 across the country. It's a shame that each day this appeal goes on, Rochester misses a day to see McGee's abundant talent. That's not the whole point, though.

High school athletics isn't just about winning and losing (although the 16-year old version of me would wholeheartedly disagree). You gain lifelong friends and learn a multitude of lessons — teamwork, discipline, the value of hard work. It's one thing to feel unfairly disadvantaged by an athlete finding loopholes in the system, but that's not this case.

McGee isn't gaming the system. Right now, the system's gaming him. There's just not a provision written in the transfer rules to account for an athlete returning to the same school they competed for. The rules are probably intentionally vague, but that hurts McGee.

Outwardly, at East's first two games, videos show McGee to have embraced the fullness of high school sports. He's cheered on his teammates, flashed his talent in warmups, even drawn a penalty flag on an opponent for getting chippy on the sideline.

McGee should be on the field, though, displaying his ability for family and friends in the city he grew up in. Who knows what magical moments have been missed by McGee's unfair absence? Hopefully, common sense prevails, and McGee won't have to remain on the sidelines for the same team he suited up for in 2018.

All indications are that McGee has shown an understanding of what high school sports are all about. I can only hope that the people reviewing his appeal get it, too.