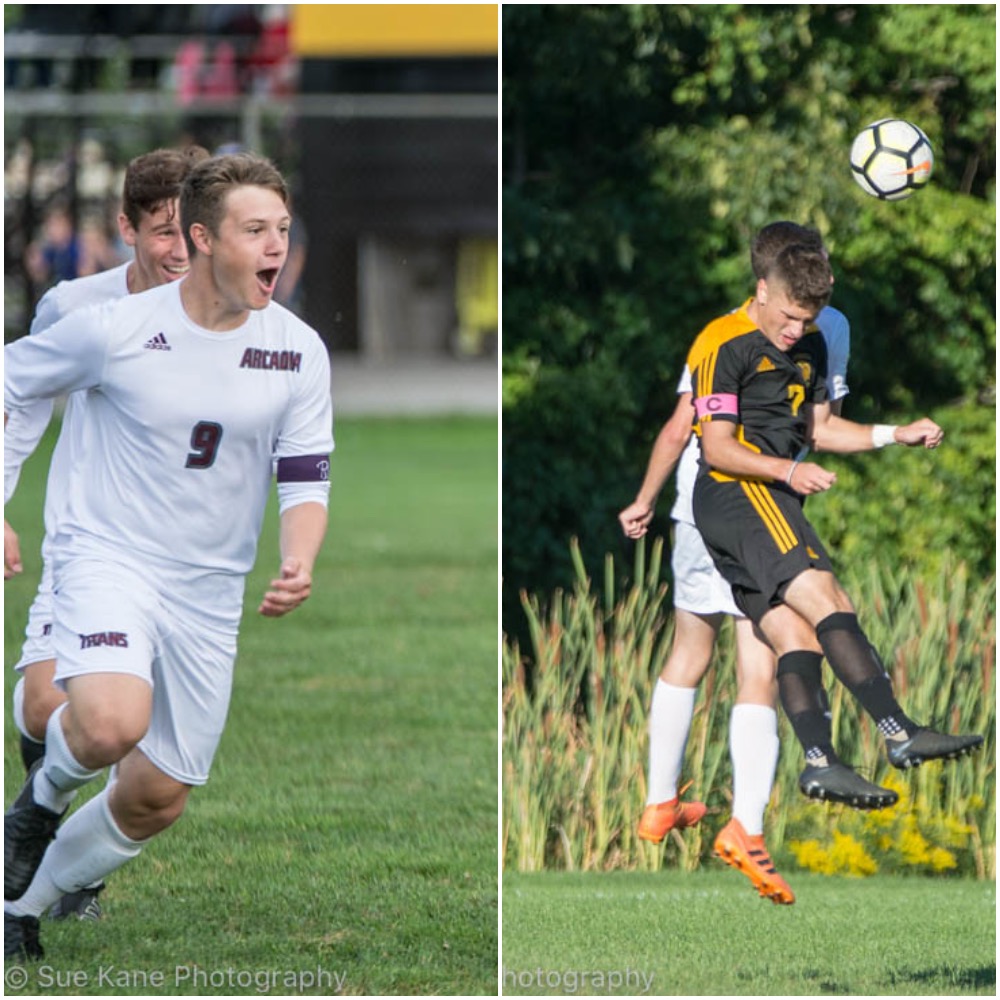 By PAUL GOTHAM
Former Greece Arcadia Titan Tyler Lewandowski traded maroon and white for blue and gold. Greece Athena Trojan CJ Takatch left behind black and gold to wear brown and white. One thing that hasn't changed: the Greece, New York natives will line up on opposite sides of the field.
When St. Bonaventure men's soccer hosts Canisius Tuesday afternoon, Lewandowski and Takatch will add another chapter to their personal rivalry.
"Going at it against him is always fun," Lewandowski said recently by phone. "We like to have bragging rights."
Arcadia and Athena played to a pair of draws in 2018, but Takatch considers the 2016 Class A1 finals when Athena downed Arcadia, 3-1 as one of his fondest memories in high school.
"It'll be interesting lining up on the other side of the field again," Takatch commented. "We talked about it a little bit. Both of our families are going to come out, probably. It'll be nice to see him again. Haven't seen since about a week before I left (for school in mid-August).
Scheduled for a 7 PM start from the Marra Athletics Complex on the campus of St. Bonaventure University. The game can be seen on ESPN+ and live video stream.
The two squads enter the contest with identical records of 1-3. St. Bonaventure holds 25-18-7 advantage in the all-time series between the two schools. Canisius, though, has won the past four meetings including a 4-nil decision last season in Buffalo.
"We haven't really talked about it, but we're both obviously excited to see each other again on the pitch whether it's together or against each other," Lewandowski said.
The two haven't always been rivals. They attended Pinebrook Elementary School and started playing together with the Greece Buccaneers U8 travel program. Recently, the two have teamed together with the Rochester Football Club (RFC) for the past three years.
Now that relationship will continue on collegiate playing fields.
"We've known each other almost our entire lives," Takatch said. "It just puts everything together, how hard we've been working together. We constantly push each other. It just shows how hard we've worked. It really means a lot to us that we made it this far."
Takatch hoped the two would play together in college and when he announced his commitment last summer, he called his RFC teammate that same night.
"It's kinda funny because he had committed to Bonaventure a lot earlier than I had committed to Canisius," Lewandowski recalled. "I was on the phone with him the night he committed and posted it on social media. He was like 'Come to Bonaventure.' It didn't work out that way."
Fellow RFC teammate, Ethan Grover (Warsaw) joined Lewandowski with the Golden Griffins.
"Every time during practice someone would bring up Bonaventure versus Canisius they'd all gang up on me and say they were going to beat us," Takatch noted. "We'll see what happens."
A three-time first team All-County performer with Athena, Takatch earned All-State and All-Greater Rochester honors his junior and senior seasons.
The 2017 Monroe County Division III Player of the Year, Lewandowski set an Arcadia program record with 65 goals and 24 assists. He earned second team All-State his junior year and third team as a senior.
Taktach has seen action in two of SBU's four games. Lewandowski has taken the field three times including one start.
"It's pretty easy adjusting to everything," Takatch stated. "The guys were really welcoming. Everyone helped us out making the adjustment to this level. It's definitely a step up from what were used to. That's for sure."
Along with Grover, fellow Section V alum Deu Awuok (Bishop Kearney) plays with the Canisius XI. Taktach joined Cuneyt Vardar (Webster Thomas) and Max Ogden (Greece Odyssey) on the Bonaventure squad.
The familiarity continues for Taktach later this season when Bona travels to play Duquesne featuring fellow former Athena Trojan, Dylan McDermott.
David Grana also from Greece Athena is in his junior season at Saint Joseph's, another Atlantic 10 school. The Bonnies and Hawks are not scheduled to meet during the regular season.