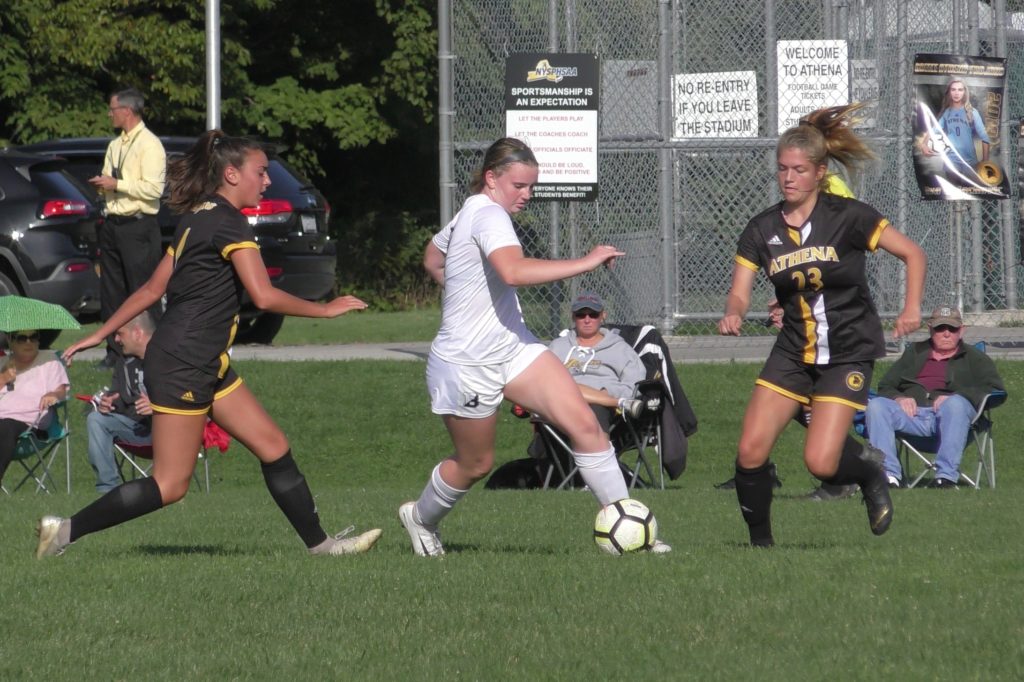 By PAUL GOTHAM
ROCHESTER, N.Y. — Rita Kladstrup is good for her word.
So when the Brighton girls' soccer coach addressed her team at halftime on Thursday, the Barons knew what to expect.
And the players didn't like the possibilities.
Juliette Frischmann and Maggie Cregan netted second-half goals, and Brighton came from behind to beat Greece Athena, 2-1.
"We've been working on our mental toughness," Kladstrup said referencing Brighton's first game of the season when they took an early only to need overtime to pull out a victory. "We said after we score a goal we have to work on how do we be mentally prepared to relax, take a breath. I feel like today we showed we are getting there."
Trailing 1-0 at halftime, Frischmann took a Sutsadah Khounpachamsy pass in stride along the left wing, went in one-on-one and beat the Athena goalkeeper to level the match with 17:12 remaining.
17:12 remaining: Juliette Frischmann levels the match. @BCSDSports GSOC 1 @AthenaHigh 1 pic.twitter.com/5N3pBAWGw7

— Paul Gotham (@PickinSplinters) September 12, 2019
Cregan connected on the game winner 13 minutes later.
"We have a saying waves," Cregan explained. "If we do something wrong, we just wave it goodbye. We just knew that we could beat this team and we got this. We went out there and did it for each other."
The freshman forward curled a corner kick from the left flag inside the near post for the game winner.
Maggie Cregan is of Irish descent. The @BCSDSports GSOC forward used some English on this. Barons lead @AthenaHigh 2-1 with 4:02 remaining. pic.twitter.com/7uGRK2mKW5

— Paul Gotham (@PickinSplinters) September 12, 2019
"I saw that there was a little opening in the first," Cregan said of a corner kick she took earlier in the match. "I wanted to try it on the second corner. I knew if it didn't go in then Shannon (Samsonik) or Amelia (Adiutori) or Juliette would have been there, so I just tried it."
"She's a player who can really score from the corner," Kladstrup said. "She's done it often. She's crafty and creative."
Brighton improved to 3-2 on the season and snapped a mini two-game skid.
"It was just lighting a fire for them to make them believe," Kladstrup said. "They just need confidence."
Lighting a fire?
"Coach K said if we lost, we were doing sprints," Cregan commented with a wide smile. "Her sprints are terrible. I hate them, so we were not going to lose."
"I think it was the sprints they were going to do all day tomorrow," Kladstrup said laughing. "Maybe that resonated with them.
"I have to stick to my word. At halftime, I said 'I can scream at you all day, but I think the only thing that's going to do this is if you guys know you're going to be running.' I haven't done that in like seven years."
Brighton's Leilhana Abusbaih made seven saves including a point-blank attempt in the opening moments of the second half.
Sophomore Ashley Accorso scored her first varsity goal to give Athena a 1-nil advantage in the match's 33rd minute. Jade Talone assisted on the play.
Ashley Accorso gets @AthenaHigh GSOC on the scoreboard with an assist from Jade Talone. 7:15 to go in the half Athena 1 @BCSDSports 0 pic.twitter.com/EW4G8rsJo2

— Paul Gotham (@PickinSplinters) September 12, 2019
Brighton plays at Wayne on Saturday. A 4 PM start is scheduled.
Athena travels to play at Pittsford Sutherland on Monday. A 7 PM kickoff is scheduled.