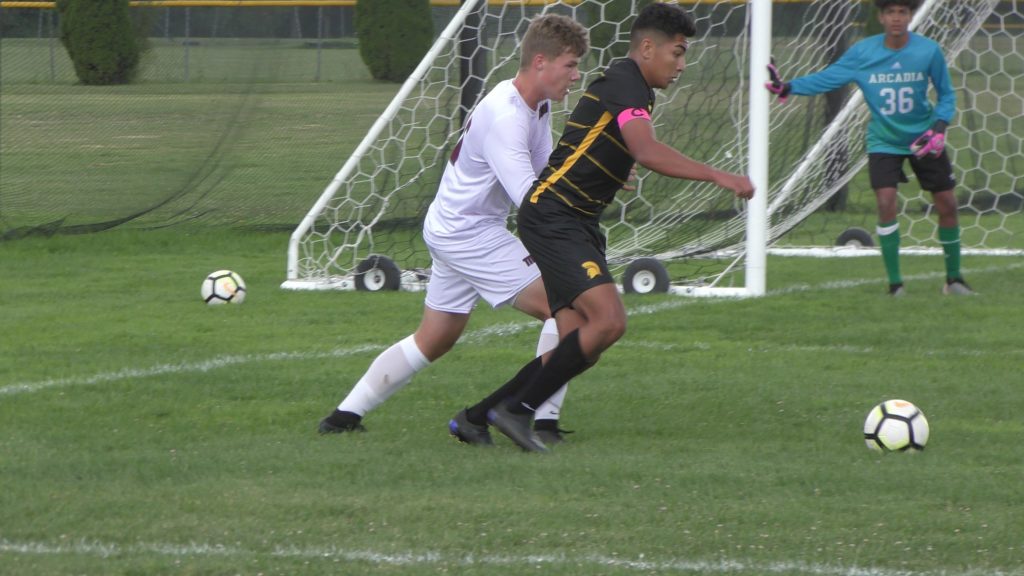 By PAUL GOTHAM
ROCHESTER, N.Y. — Three different players found the back of the net, and the Greece Athena Trojans improved to 3-0-0 on the season with a 3-nil victory over cross-town rival Greece Arcadia.
Othman Belhseine connected on his team-high third goal of the season to start the scoring in the 15th minute. The marker was the senior attacker's 36th of his career, putting him at the top of the program's all-time scoring list.
"It feels amazing, unreal to be up there with some of the greats of the program like CJ Takatch and Ryan Lindeman," Belhseine said. "I couldn't do it without my teammates of course and my coaches who helped me along the way. It's unbelievable."
The play started at midfield where Mike Loiacono took a free kick. Dylan Rice one-timed the ball to Belsheine who slotted it inside the right post.
"I thought he was going to shoot it like he does with all his free kicks," a smiling Belhseine said of Loiacono. I trusted Dylan. I saw Dylan, and I know what he can do. He had a nice back heel to me. I just kinda shielded off the defender and then went to the corner with it."
25:01 Othman Belhseine gives @athena_soccer a 1-0 lead pic.twitter.com/O0JffuHvxZ

— Paul Gotham (@PickinSplinters) September 7, 2019

Vic Alongi added to the lead five minutes before halftime when he redirected a a cross from Ryan Fitzgerald.
"Vic's got two goals this year," Athena head coach Mike Butler said. "He gets in on everything. He's such a scrapper. He gets on every head ball, and he's always around it in the box."
Fitzgerald gathered a 50-50 ball on the left side, beat a defender and found Alongi in the middle of the box.
Ryan. Fitzgerald. Making it look easy sets up Vic Alongi. @athena_soccer leads 2-0 pic.twitter.com/mMpXtTr3UE

— Paul Gotham (@PickinSplinters) September 7, 2019

"The ball was played to the back post and it went too far," Fitzgerald explained. "I got it on the outside and faked like I was going to play it back to our left back. I cut it inside and saw Vic making that run. I slotted it and it was an easy finish for him."
A year ago, Athena and Arcadia played to a pair of ties.
"The rivalry is always hard," Butler noted. "We always have great games with them. We did win 3-zip, but it was closer than that. The second half, the first 20 to 25 minutes we were good. We had the ball. We moved it. We possessed."
Gabe Taylor denies Mike Loiacono. 18 to go in the half: @athena_soccer 1 @SoccerArcadia 0 pic.twitter.com/m6KnlLtnbr

— Paul Gotham (@PickinSplinters) September 7, 2019

Athena has outscored its opponents by a combined tally of 7-0 in the early going this season.
"Our defense has been playing well," Butler said making note of Loiacono, Mark Maio and Brennan Schmitt. "They are not giving up shots. They're rock solid. They've been all-league, no question. The goaltending's been good even though we're sharing it which makes it hard. But they've been good."
Maio scored the third goal of the game with an assist from Mike Tracey.
Mark Maio takes advantage of a second-chance opportunity. 14:33 remaining @athena_soccer leads 3-0 pic.twitter.com/0GEto6sMWY

— Paul Gotham (@PickinSplinters) September 7, 2019

Arcadia (1-1-0) hosts Brockport on Wednesday for a 4:30 PM start.
Athena travels to Pittsford Mendon for a 7:00 PM start on Wednesday.