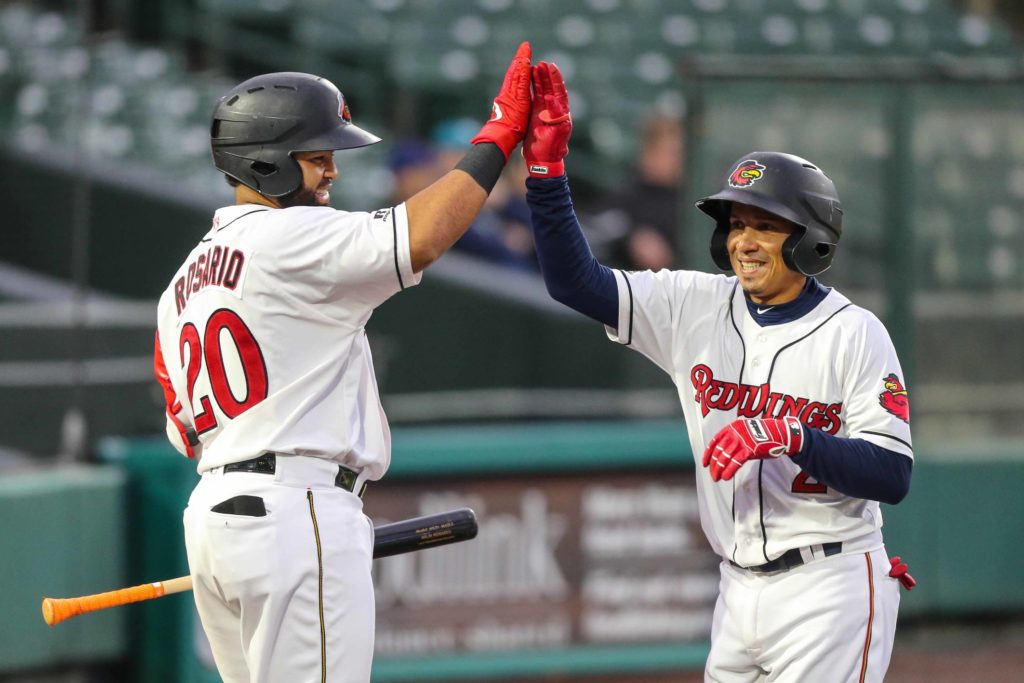 By CHUCKIE MAGGIO
ROCHESTER, N.Y. — Denny Bentley was eating lunch when he got the news that he was being called up to Class A Cedar Rapids. After a whole two days with the Kernels, Bentley's coaches interrupted his game of catch in a Beloit, Wisconsin outfield to tell him he was going to finish the season in Triple-A.
"Really? That's awesome," Bentley responded.
When Major League Baseball rosters expand from 25 players to 40 on Sept. 1, it impacts the entire organization. Even pitchers who haven't pitched above rookie ball.
Bentley, infielder Yeltsin Encarnacion and pitcher Alex Schick were transferred to Rochester on Sunday after the playoff-bound Minnesota Twins added six Red Wings to their big league roster. Bentley and Encarnacion had the ability to play in the Red Wings' rain-shortened 7-3 loss to Syracuse in front of 6,140 fans at Frontier Field.
Bentley, the Twins' 33rd round pick in the 2018 Major League Draft, did not allow a hit in two innings on Sunday, his Triple-A debut. He struck out two batters on sliders and issued one walk, throwing 15 strikes in 26 pitches. The southpaw acknowledged some nerves, as the highest level he had previously pitched at was rookie level Elizabethton, but he was a suitable bridge to experienced reliever Ryan O'Rourke. Despite waking up at 4:30 in the morning to make the trip from Tennessee, Bentley still had sharp stuff.
"It felt kind of weird, not gonna lie… I haven't even sniffed A-ball yet, let alone Triple-A, so it was a great opportunity. I'm blessed, speechless," Bentley commented. "(Pitching in front of the fans) gets me going, for sure. I'm ready to go, pumped, got the goosebumps going and I pitch better with more fans anyways. I'm thankful to get this opportunity."
Encarnacion played one game for Rochester in July, ripping three singles at Scranton, but this was just his second game above Class A Advanced in Fort Myers. The Azua, Dominican Republic native got the Red Wings' seventh inning rally started with a one-out ground rule double that narrowly missed being a home run. Encarnacion scored Rochester's first run three plays later, when Alejandro De Aza doubled him in from third. The Wings had a three-run seventh to tie the game before Syracuse put four on the board in the eighth.
"Yeah, I thought the ball was going to pass the wall," Encarnacion replied through a translator. "But I was only thinking about running hard, as hard as I can. After the bounce I just stopped at second…
"I felt excited for the game, but at some point I was calm because I could help the team and that's what I was focused on."
Bentley and Encarnacion are each just 21 years old and each have work to do on the Single A and Double-A levels before they can think about being Rochester regulars. For now, being called up is an enjoyable experience to cap to the 2019 season.
"I felt good. I feel that this is going to help me through my career," Encarnacion said. "So it's really good for me to share time with these guys who have a lot of experience, to help me to grow as a player… I will work hard next year to try to get in this spot again next year."
"We'll see what's going on, because I didn't even get to play in any type of A-ball yet," Bentley reiterated. "But it's a great opportunity. I loved every second of it."