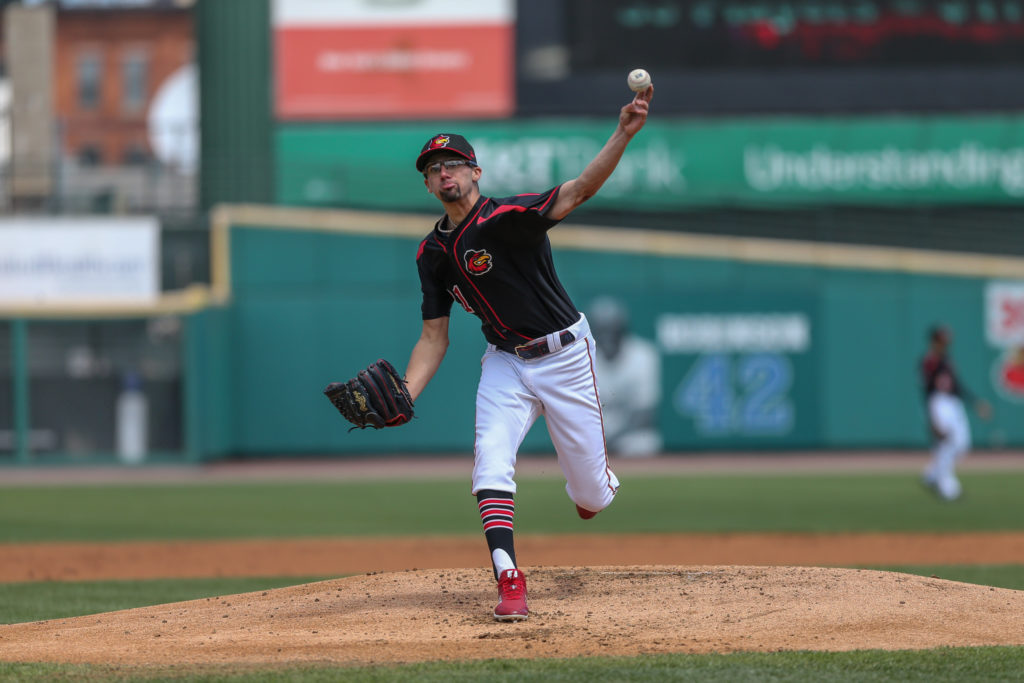 By KEVIN OKLOBZIJA
This is not an affiliation year; the Rochester Red Wings and Minnesota Twins still have 2020 remaining on their working agreement.
But Derek Falvey, chief baseball officer for the Twins, is in town to take one last look at possible Sept. 1 callups as the International League regular season winds down.
Here's a Friday six pack from Falvey's chat with the media:
His view on that age-old balance of development and winning
"I do think winning matters," Falvey said. "You have to teach guys how to win.
"You kind of spend the first portion of a minor league player's career really focusing on their individual development and then you continue to build more the team focus level by level."
That said, development still trumps all
If you're a pitcher, you can't go into a major league game and introduce a new pitch. Taking a test drive with your experimental four-seam fastball is a recipe for disaster.
But throughout minor league baseball, that's sometimes what games are for. That's how players perfect the circle change, the slider, the whatever.
"(Sometimes) you're developing a skill or a pitch that you need to develop," Falvey said. "You know it might not be your best pitch but you have to go out and compete with it.
"That's something you have to do at the minor-league level in order to get up to the big-league level."
On the Twins-Red Wings marriage
This is Year 17 of the working agreement between the organizations. There would need to be a dramatic shift in philosophy or treatment for a renewal not to happen next summer.
Wings CEO Naomi Silver said Rochester Community Baseball is pleased with the relationship. The Twins, too, are content, and part of this visit is about making sure everyone is on the same page.
"It's a chance to connect with Naomi, Dan (Mason, the general manager), Gary (Larder, chairman of the board) and their group here," Falvey said.
On how pitchers are used — or not used
There have been times throughout the summer when it was clear a starter, or a reliever, was no where near their limit, yet manager Joel Skinner went to the bullpen.
Or times when a struggling reliever was still brought into a clutch situation, even though executing stressful pitches hadn't been his specialty.
It's all about learning. For the player, who learns from being in those situations, and for the organization, which can learn what a pitcher is capable of doing.
"What you're trying to do at the minor league level mirrors what we're trying to do at the major-league level and that's get guys to pitch meaningful outs during the last nine outs of the game," Falvey said. "Whichever order those are in (is) sometimes less important than making sure the match-ups are right."
He said it's not so much that Skinner can't use a pitcher.
"It's less about, 'Hey, he needs to pitch.' It's more limiting how much he pitches," Falvey said. "More often than not, the way restrictions are placed from a player development side of things is less about 'Hey, he needs to pitch,' it's more limiting a how much a guy's pitching.
"Maybe a guy's doing side work as a pitcher and he's really going to get after it in a 30-pitch bullpen session to try to execute that third pitch development; maybe that's not a night he's available. It's never typically that guy needs to pitch that hasn't if we don't think he's going to be effective that night."
From horrible to respectable
The Red Wings were 20-33 on June 3 and were about as exciting as the fourth game of the NFL preseason schedule.
But the Twins moved some players out, brought some players in, and some of the holdovers got hot.
Friday's victory put the Wings one game over .500. They have a chance to finish above .500 for the 11th time in the Twins era. On Memorial Day, anyone who said that was possible would have been drug-tested. And then re-tested.
"When you get off to a slow start it always seems like you're trying to dig out of a hole," Falvey said. "I think the team really showed resiliency. A lot of guys really stepped up and played really good baseball."
Who goes up?
There is less intrigue about the Sept. 1 callups this year than perhaps in past years. It's not like recent years where there was speculation about guys like Jose Berrios or Byron Buxton.
That's one reason Falvey is here. "Certainly some of the call-up conversations are part of the process now," he said.
Utility player Willians Astudillo is surely headed up (.432 average, 1.104 OPS). He might be the only position player.
From the pitching staff, Zack Littell and Devin Smeltzer are pretty much gimmes, Kohl Stewart and Lewis Thorpe are strong possibilities, and Trevor Hildenberger has a chance.
Smeltzer started on Friday against Syracuse and departed after just two scoreless innings (one hit, three strikeouts). The Twins obviously want him available on Sunday, if they need him.
Hildenberger lost his job in the Twins bullpen in May and, because of injuries, has appeared in only 12 games with Rochestesr. But since rejoining the Wings last week after rehab in the Gulf Coast League, he has appeared in four games (seven innings, no runs, one hit, one walk, four strikeouts). On Friday he pitched two scoreless innings, the seventh and eighth.