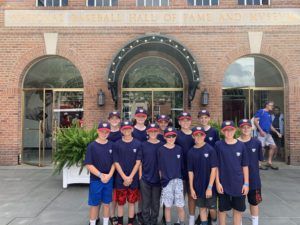 COOPERSTOWN, N.Y. – AJ LaLoggia and Tyler Cannon combined to hit nine home runs while Jacob DiCicco allowed one earned run over seven innings of work on the mound to lead the Webster Warthogs to a 6-0 mark in pool play of the national 12U tournament being played at Cooperstown Dreams Park, this week.
LaLoggia finished 18-for-21 at the plate. Joey Presutti saved three crucial games for the team. Presutti, Connor Fulkerson, Trevor Leroy and Drew Rosa also belted one home run apiece.
With the wins, Webster secured a 10-seed in tournament play that begins Wednesday.
The Warthogs hit over .500 in victories against teams from Connecticut, Massachusetts, Michigan, New Jersey, Pennsylvania and Washington.
Webster has 31 wins on the season.
The tournament consists of 104 teams from across the country.