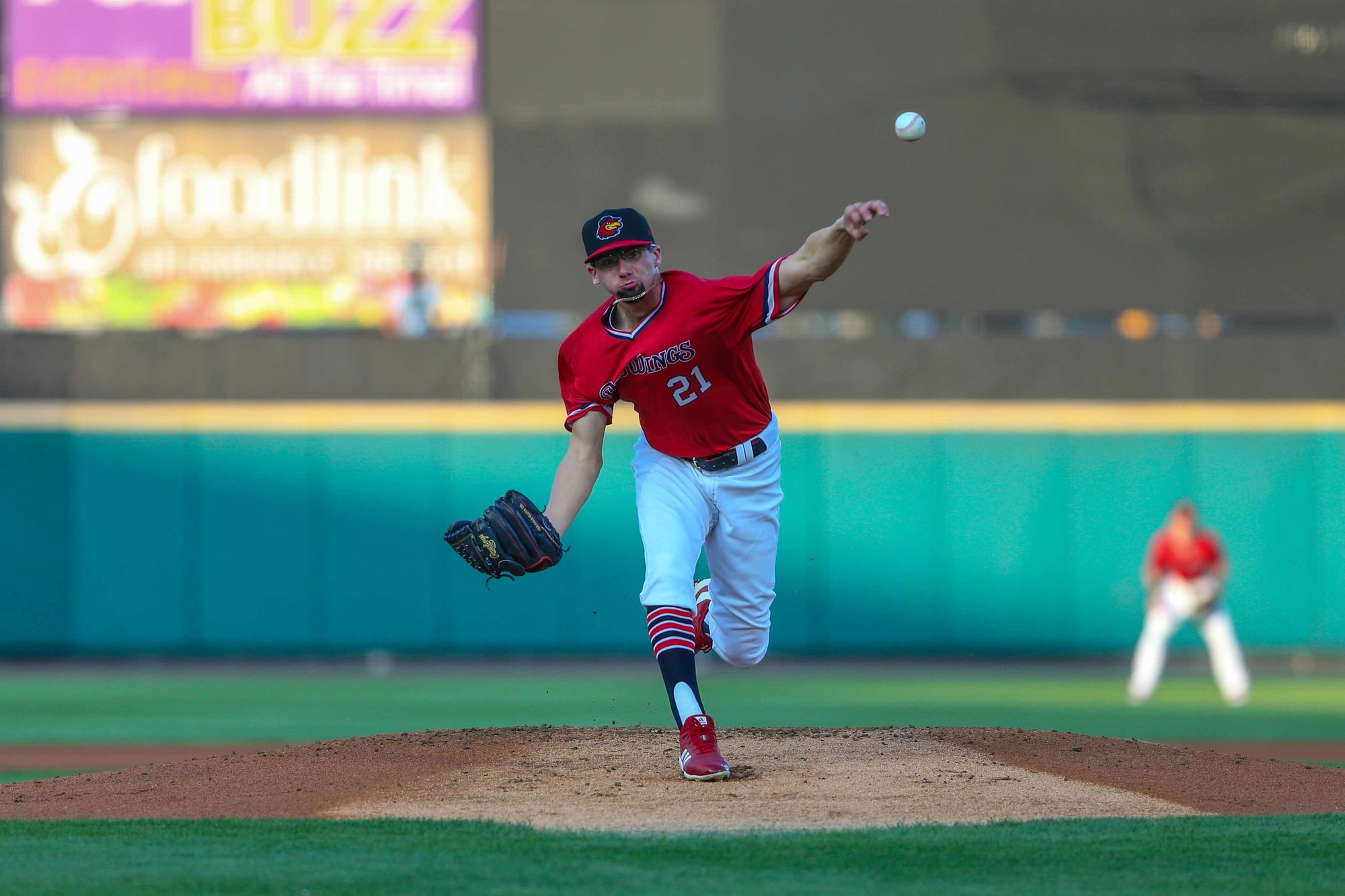 By CHUCKIE MAGGIO
ROCHESTER — Toronto Blue Jays top prospect Nate Pearson had a clear pitch count mapped out for him in his first Triple-A start on Tuesday. Pearson would throw seven innings or 100 pitches, whichever mark came first.
Those guidelines, standard procedure for pitchers in 2019, made the seventh inning Pearson's last at Frontier Field on Tuesday night. Though he had only thrown 88 pitches and surrendered just three singles while cruising through a shutout, his successful follow-up to Buffalo Bisons teammate T.J. Zeuch's no-hitter on Monday night had come to a close.
Even if Pearson was throwing a no-no himself, he would have been pulled. The 28th overall pick in the 2017 MLB Draft is too valuable to the Blue Jays' brass to overwork in the minor leagues. Bisons manager Bobby Meacham can either follow orders or lose his job.
The directives Toronto general manager Ross Atkins put in place were understandable, but also may have left the door open for the Rochester Red Wings in the International League playoff race.
When Pearson departed, Buffalo was up 1-0 and had held Rochester scoreless for 16 consecutive innings. The streak quickly evaporated in the eighth when Bisons reliever Ty Tice couldn't get out of the eighth, allowing a hit and walking three batters, including the tying run. After Kirby Snead replaced Tice with the bases loaded, catcher Andres Sotillo issued a passed ball for the go-ahead run.
Rochester's abundantly dormant offense had life and added insurance, scoring twice more on a Wilin Rosario single. Trevor Hildenberger allowed just one baserunner to close the ninth and the Red Wings won 4-1 in front of 7,959 fans at Frontier Field.
Rochester's win coupled with Pawtucket's victory over International League North division leader Scranton Wilkes-Barre closed the Red Wings' division deficit to just three games. Rochester (64-63) trails Buffalo by just one game for third in the north and hosts the Bisons for two more nights.
Red Wings starting pitcher Devin Smeltzer did not enjoy any run support and did not register a decision for the third time in five games. Smeltzer's one earned run, Patrick Kivlehan's home run in the second, was the only significant blemish of his performance. The lefty allowed five hits and just the one run in six formidable innings. He only struck out three but only walked one.
When Smeltzer hit the showers, his bullpen was the antithesis of Buffalo's. Jorge Alcala tossed two hitless innings and struck out two in his first Triple-A appearance, eventually earning the win for his efforts amid Rochester's comeback. Hildenberger has just one earned run on his ledger in his last three Triple-A outings.
Pitching kept the Red Wings afloat while proving to be one of Buffalo's two downfalls along with insurance runs.
"I've got a lot of faith in the guys behind me coming in," Smeltzer commented. "Alcala's a young guy and he's got electric stuff, so it's fun to watch him work. Hildy's been out for a while rehabbing, so seeing him come in and compete is awesome."
"We picked up four walks and still, a walk is a quality at bat," Skinner assessed of his lineup. "They made some tough pitches and our guys laid off, so you have to give some credit to the hitters at times, also. Rosario getting that hit to put the extra two runs on the board was big."
Skinner gave a lot of credit to Pearson, who threw multiple 99 mile-per-hour fastballs and shut Rochester down without requiring many strikeouts. He also declined to acknowledge any momentum shift with the call to the bullpen, choosing to credit his hitters instead.
"I just think we were able to draw walks. We don't put any thoughts into it or why this, that or the other," Skinner said. "They had one swing of the bat and had one run, I mean there wasn't much difference to the game except for we finally were able to get the line moving. That's the best way to put it."
Even after being no-hit and shut out for the first seven innings of Tuesday's contest, Skinner said the strategy doesn't change for his team on a day-to-day basis. The two-three-four tandem of Drew Maggi, Ramon Flores and Willin Rosario each recorded a hit, as did Ronald Torreyes and Mike Miller at the end of the batting order.
Sometimes you get no-hit, sometimes you tie a game on a bases-loaded walk and take the lead on a passed ball. During the playoff charge, that's baseball at its pure weirdest.
"(Maggi) hit the ball hard and (Zander) Wiel hit a line drive to third too, hit that ball hard," Skinner said. "These guys found the barrel tonight a couple times. It's just that we didn't get anything to show for it early. But then we were able to string and rally together in the eighth."