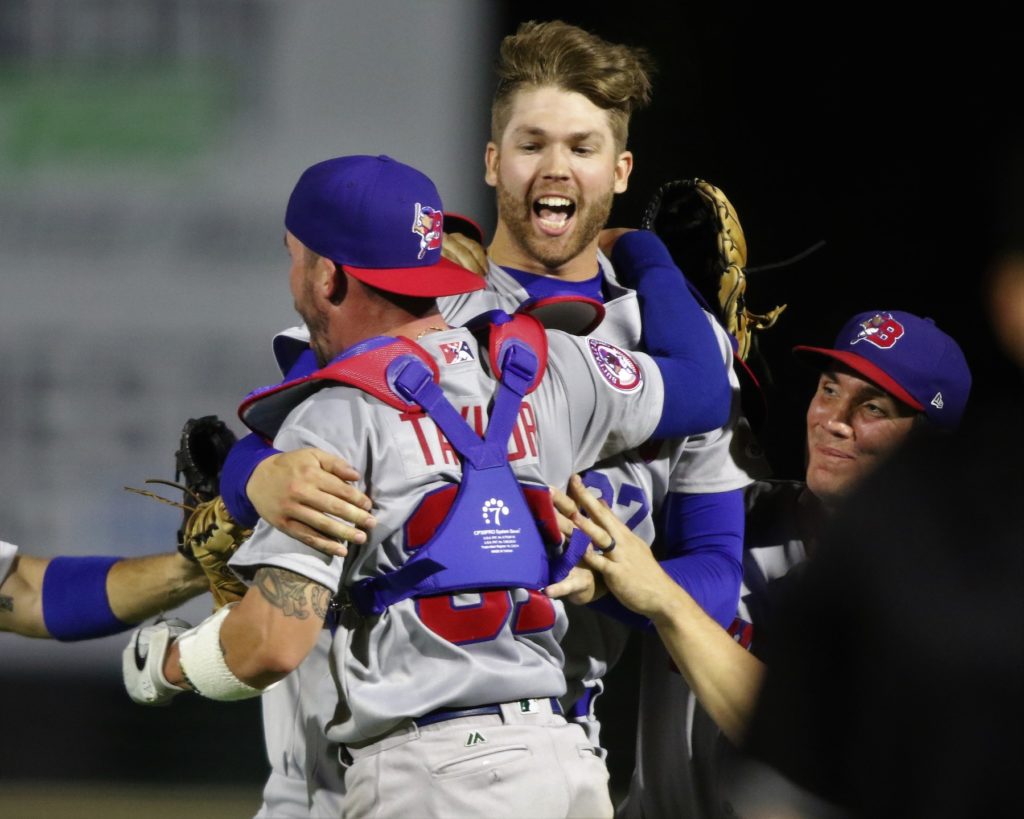 By KEVIN OKLOBZIJA
The lighted zeroes on Frontier Field's left-field scoreboard were, in reality, all the same size.
But as the innings went by, and hitter after hitter for the Rochester Red Wings failed to make solid contact on Monday night, that one zero in the hit column grew larger with every out.
Especially for Buffalo Bisons right-hander T.J. Zeuch.
For a guy who had never thrown a no-hitter — not at William Mason High School in Mason, Ohio; not in three seasons at the University of Pittsburgh; and not in his 3 1/2 seasons in the Toronto Blue Jays organization — the pressure was mounting.
Back in Mason, where his parents, Lisa and Tim Zeuch, were streaming the game on MILB.com, the nerves were even more frayed.
"They said they stopped talking to each other in the seventh inning," T.J. Zeuch said.
VIEW MORE JOE TERRITO PHOTOS HERE. 
Ah, but boy do they have a lot to talk about now. Zeuch completed the first opposing no-hitter at Frontier Field in 13 years with a one-two-three ninth inning as the Bisons blanked the Wings 3-0.
When Zeuch calmly grabbed a softly hit chopper back to the mound by Drew Maggi and threw to first baseman Jordan Patterson for the final out, it touched off on-the-diamond pandemonium.
With possible history in the making, most in the crowd of 7,086 had stayed until the end. The vast majority watched the Bisons mob Zeuch, then applauded the 23-year-old Toronto Blue Jays prospect gleefully sauntered to the dugout.
"He had his stuff, he was feelin' it and he just had the presence on the mound," Bisons center fielder Jonathan Davis said.
Zeuch also had Davis behind him in the ninth inning. The only ball hit by the Red Wings that required anything other than ordinary defensive effort came with one out in the ninth.
Leadoff hitter Ian Miller slapped a looping liner to center that, off the bat, looked very much like a hit.
"But I saw JD come sprinting in and I knew he was going to get it," Zeuch said. "He gets everything out there."
He was right. Davis, doing his best Usain Bolt impersonation as he raced straight toward the infield, laid out and snared the ball just above the grass.
"When the ball was hit I said, 'It's either going to be a triple or I'm going to catch it," Davis said. "Me and T.J. have been playing with each other for three years. We won a (Arizona) Fall League championship together. He's a great guy and an even better teammate. With a guy like that on the mound, you're going to give it everything you've got."
The Wings had just two baserunners. Mike Miller walked with two outs in the third and Zander Weil was grazed on the jersey by a pitch with two outs in the eighth.
There weren't many hard-hit balls, either. Maggi lined to second leading off the fourth inning and Tomás Telis lined to left with one out in the seventh.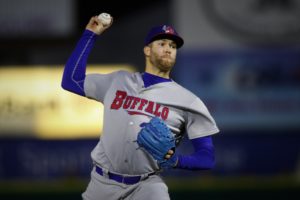 Zeuch struck out just three, which is one reason he was allowed to still be pitching in the ninth. His pitch count was at 101 after eight innings and he finished throwing 114.
"I wasn't sure what my pitch count was at but I felt I had been pretty efficient," he said. "I felt Bobby (Meacham, the Bisons manager) would let me go out for the ninth and if there was a hit, we'd see after that."
Zeuch, the Jays' first-round pick (21st overall) in 2016, has been in Triple-A only since June 22. His season was derailed in spring training by a lat injury, and he didn't make a rehab start until June 11 with Class-A Dunedin. Monday was his 11th start for Buffalo.
It was also his first with catcher Beau Taylor behind the plate. Taylor was claimed off waivers by Toronto from the Oakland A's on Friday.
"It's the first time he ever caught me; it's the first time he'd ever seen me pitch," Zeuch said. "I'd say he did pretty well."
For the Red Wings, they could only tip their cap in respect.
"When you induce that many ground balls (15) and mis-hits, kudos to him," said Wings manager Joel Skinner, whose club is running out of time in their improbable chase for a playoff spot. With 14 games remaining, they are four games behind front-running Scranton/Wilkes-Barre in the International League's North Division and three behind Buffalo and Syracuse.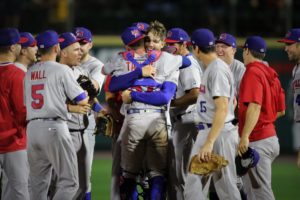 Of note:
» This was the 10th nine-inning no-hitter in Wings franchise history. Jeremy Cummings of Scranton was the last, on Sept. 3, 2006, at Frontier Field. The first six all took place before 1911.
» The last Bisons no-hitter was thrown by Bartolo Colon in Buffalo on June 20, 1997, over New Orleans.
» The only other nine-inning no-hitter at Frontier was a combined effort by four Wings pitchers (Jeff Manship, Jake Stevens, Kyle Waldrop Jim Hoey) over Lehigh Valley on July 6, 2011. Trevor May and Logan Darnell combined on a no-hitter against Durham in 2014, but the first three innings were played in North Carolina before the game was suspended. The final six innings were played in Rochester.