Rayson Miller lost its final game of the season on Tuesday. (Photo: Trina VanNewkirk)
By BILLY HEYEN
Rayson Miller had it all lined up. Lukas Haefner, RM's ace, had been pulled early on Saturday so he'd be eligible to pitch Wednesday in a potential championship series. A lot of pieces had to fall into place for that to work out. But something no one on Rayson Miller could've expected is what made that Haefner usage a moot point: The schedule changed.
At the conclusion of Rayson Miller's Monday win, they expected to play Hamburg on Tuesday afternoon with another game awaiting Tuesday evening against Saugerties. That's what the schedule the state had provided RM coach Tom Sapienza with the week before had laid out.
But around 9 p.m. Monday night, after three-time defending state champions Rockland had defeated Saugerties, a state Legion representative notified Rayson Miller that they'd instead play Rockland on Tuesday, pointing to a national bracket that each state is supposed to use. That's all fine and dandy, except that that's not the bracket they gave Rayson Miller.
"Kind of frustrating" is how Rayson Miller's Maxx Countryman described the situation in a text Tuesday morning. He went on to say that they wouldn't have pitched Hayden Smith (RM's usual No. 2 pitcher) in Monday's game if they had known Rockland was nearer on the horizon.
Message I just received from Rayson Miller's Maxx Countryman. RM was unaware that they'd be playing Rockland today, and wouldn't have pitched Hayden Smith yesterday if they had known before yesterday's game. @PickinSplinters @jml5798 pic.twitter.com/vy2u2Yj96c

— Billy Heyen (@Wheyen3) July 30, 2019
Growing up, kids are told that life's not fair. This shouldn't fall into that bucket, though. In some way, the organizers messed up.
The state tournament, when asked via Twitter direct message on Tuesday morning, wouldn't recognize that they'd sent out an alternative bracket to Sapienza. They pointed to the national bracket as if that had been the assumption all along. But up until Tuesday morning, the tournament website also reflected the bracket Sapienza received.
I'm in no position to say if there's any funny business going on here. I really hope there isn't. Mistakes happen. But you've got to own them when they do.
Rayson Miller had a tough enough go of it last season in a losers' bracket that combines with pitch-count rules to be remarkably unforgiving. By the time they'd reached the championship series against Rockland, they were out of reliable arms. This year, RM had bulked up. They'd added more pitching. There was enough to allow Sapienza to take a chance on keeping Haefner eligible for a potential championship game one against Rockland. 
Instead, Rayson Miller was forced to play an undefeated team while in the losers' bracket, a logical fallacy if there ever was one. 
Reminder that this is the copy of the schedule I received. Rockland is District 9. Follow their path and tell me how they end up playing Tuesday with no losses. They don't. pic.twitter.com/LiGlqDxKOc

— Billy Heyen (@Wheyen3) July 30, 2019
Before going any further, it's important to acknowledge that as soon as Rayson Miller fell into the losers' bracket, the odds were stacked against them. The most likely path, in either bracket, to winning a state title would have then involved beating Rockland twice. So I'm not here to argue that Rayson Miller should somehow be crowned state champions. They simply deserved better.
There's no better representative of what American Legion baseball is meant to be than Sapienza. He revitalized the team at Rayson Miller Post 899 when his younger brother needed a club to play with, and he's been RM's coach for 46 years and counting since. He deserved better.
Rayson Miller's roster featured three players who attended each of the last two state tournaments and will now age out of Legion ball: Lukas Haefner, Maxx Countryman and Owen VanNewkirk.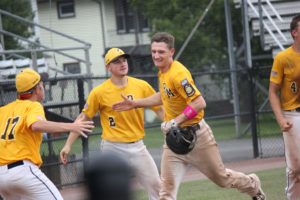 Haefner's arm wasn't at full strength last year at states. His potential Wednesday outing against Rockland would've been the culmination of his Legion career. He deserved better.
Countryman got a chance this year to play at states with his younger brother, Jesse, who he'd teamed with to help Avon win a 2018 state title. They deserved better.
VanNewkirk was Misericordia baseball's manager this past spring, not playing but simply wanting to be around the game. He deserved better.
One more Maxx Countryman text, about Legion baseball and Rayson Miller. "The hardest part about losing wasn't about how much you wanted to make it. It was about how much you wanted to make it happen for (coach Sapienza) and your teammates." @PickinSplinters @jml5798 pic.twitter.com/CEIj45ZmSO

— Billy Heyen (@Wheyen3) July 31, 2019
Eventually, everyone's baseball career ends. Back when I played, I hoped to walk-on to the team in college. I didn't make it. I wish someone had told me the last Legion game I played would be my last competitive game. 
Here's hoping each and every Rayson Miller player goes on to play as much baseball as they can in their lives. But some day, each and every one of them will hang up their cleats. It would've taken an impressive showing on Tuesday to extend their season, anyway. But Rockland was too much for a team who'd planned its pitching around facing the Pirates on Wednesday and not Tuesday.
When they look back, it's a shame they won't get to remember one extra day of baseball.