By BILLY HEYEN
Rayson Miller Post 899 heads to the American Legion baseball state tournament in Utica this weekend. It's the second-straight year at states for RM. As the prominence of Legion ball in Rochester has declined, Rayson Miller has remained a beacon of what it's all about. 
Last year, I was able to go and cover states, and I followed RM for much of the last two summers. I'll be stuck following from afar this time around. But before they go, I wanted to take a moment to reflect on a few of the things that make Rayson Miller's representation of Legion so great. 
And because baseball likes the number nine: Here are nine lessons Rayson Miller has taught me in the past two years.
Know thyself
Rayson Miller head coach Tom Sapienza has 789 wins in Legion ball, more than any coach has at the high-school level in New York state history. He's in his 46th season at the helm of RM. Over time, he's coached his sons, along with father-son duos, pro ballplayers and even other future Legion coaches. It's never been complicated for Sapienza. 
"I wake up that morning and it gets me going," Sapienza said last year. "I guess what I can tell you is if the situation ever gets where I wake up and I don't really care, it's time to go."
"It's intense, but the way I explain it to the guys, as an old guy, why do you think I do this?" Sapienza added. "And I ask them that. Every once in a while somebody will get it and say, coach, because it's fun. That's exactly why I do it."
Height doesn't measure heart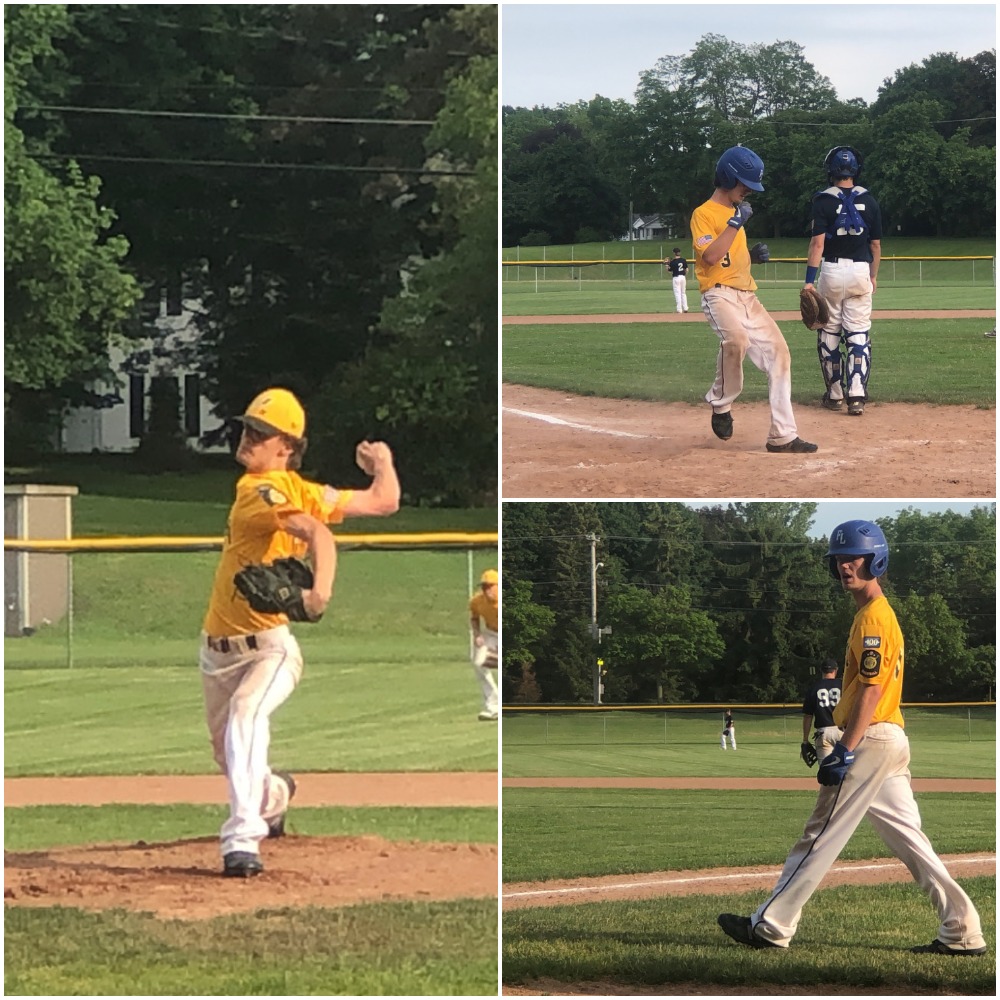 Rayson Miller's hardest-throwing pitcher is probably Lukas Haefner, who can reach the mid-80s with his fastball and couples it with a sharp curveball. Unlike many other teenagers with velocity, though, Haefner is 5-foot-9, and his jersey hangs off his body loosely. He makes sense in the Rayson Miller leadoff spot, where he always resides, but less so bringing the heat on the mound.
Haefner wasn't at full health entering last year's state tournament, but that shouldn't be an issue this year. He started game one of the district finals, certainly setting him up as RM's ace heading into states. Depending on how Sapienza wants to play it, that won't necessarily mean a game one start in the double-elimination tournament. But whenever Haefner takes the mound, expect him to come up big.
"He's absolutely remarkable," Sapienza said earlier this year. "He speaks to what's wonderful about baseball. You don't have to be a genetic mutant to play and play well."
When you bump into someone, laugh it off
Earlier this season, Drew Sanchez came racing around third, but his turn was a bit wide. He bumped into Sapienza, who was coaching third and waving him in, before racing home safely. Sanchez was ruled out due to coach interference, ending the inning and erasing his run. 
Afterward, though, the RM dugout laughed about it. There was obviously no ill intent, so why get hung up on it? Instead, it was a moment of levity on a warm summer evening.
As Sapienza strolled off the field, the 46-year head coach remarked, "That was new."
Ice cream is always a good reward
Before each season, Sapienza gives his players a packet of information. One piece of it lets them know how they can earn free ice cream. Then after each game, in RM's postgame huddle, he asks the players, "Who gets an ice cream?" They don't necessarily follow his list to a T, but the point is obvious. 
When a player gets a key bunt down, his teammates will remember that and point it out after the game. A 3-for-3 day might do the trick, or a good play in the field. It provides opportunities for jokes, too, like when Hayden Smith allowed two hits in the midst of a hot streak on the mound, and his teammates joked he hadn't earned an ice cream just for his shutout. 
Maxx Countryman called them "atta boy coupons." They're for free ice cream at a few area shops, like Pittsford Dairy and Dipper Dan's. After a doubleheader loss to James Cooke earlier this season, the players decided no one had earned an ice cream. So it surely tasted that much sweeter to hand out a bunch of coupons when RM bounced back a few days later. 
Make sure you've said what you need to say
Rayson Miller's pregame speeches are the stuff of legend. Once RM comes off the field from infield-outfield warmups, Sapienza gathers his team to the dugout bench and into a huddle. Then, he speaks. He might ask an assistant or player to add words. But the most notable aspect, at least from outside the dugout, is the length.
The speeches have delayed the home-plate meeting before games. But Sapienza doesn't want his team meetings to end before everything that needed to be said was said. 
Justin Smith played on the 1990 Rayson Miller district championship team. When asked last year what he remembered about Sapienza, the first thing he brought up were the speeches. 
"After he gave his pregame speech, I was like a machine, I was ready to go," Smith said. "… I wanted to get on that battlefield for Sap and I was gonna leave that battlefield victorious after the conversations he had with us."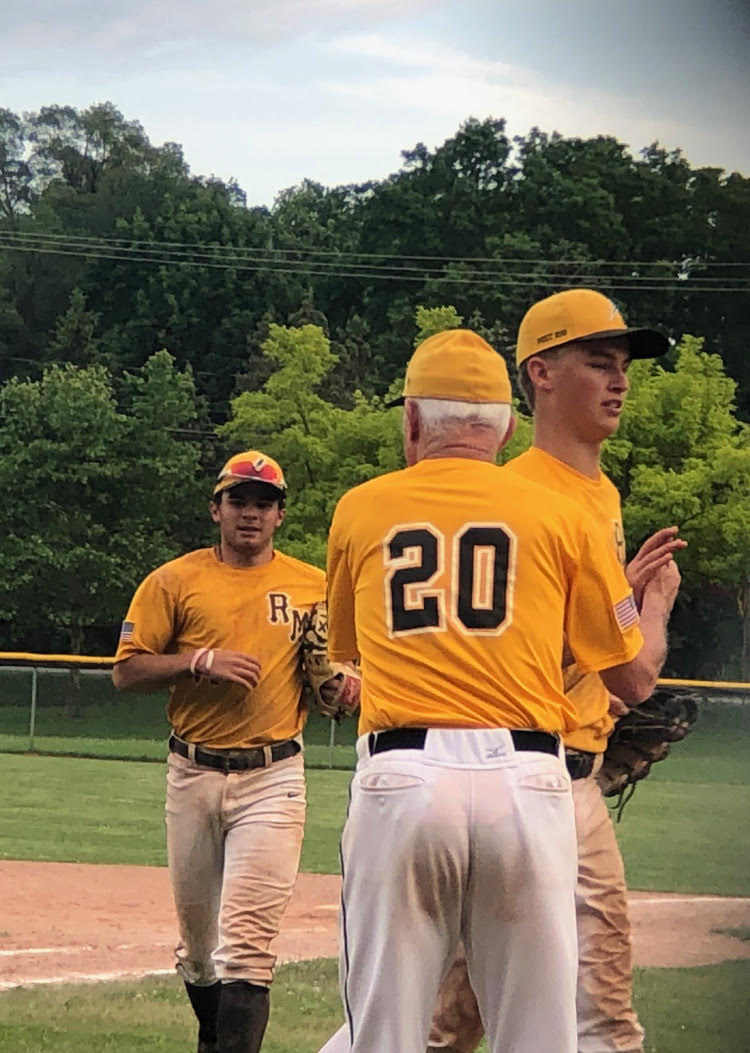 It's hard to miss a good whistle
When I played two years of Legion ball back 2014 and 2015, there was a coach who stood out to me for one main reason: He wouldn't stop whistling. Only after I returned to cover a Rayson Miller game in 2018 did I realize that was Sapienza. 
The whistles come almost act like punctuation to his sentences. "Two outs," whistle. "Your way, Maxx," whistle. You get the idea. 
There are definitely discussions to be had about the manners of whistling during most every day activities. But it never hurts to have a pure, loud whistle when you really need it.
Be consistent
Rayson Miller's Grant Rodriguez has been a solid cog in the middle of RM's order. But twice this season, I watched him slide into home and then tumble and roll. Really all that mattered was that he was safe both times.
Plenty of players slide the same way every time they hit the dirt. Consistency is generally a good skill in baseball. Rodriguez has just figured out how to consistently make his slides to the plate more fun.
One of these slides is Grant Rodriguez today. The other is from last week. Can you tell the difference? @PickinSplinters @jml5798 @rushathletics @rhvbaseball pic.twitter.com/rl9fDDTXJY

— Billy Heyen (@Wheyen3) July 2, 2019
Let people know you believe in them
With his team in the field, Sapienza often yells out to his catcher what he's thinking. Most commonly, Sapienza says, "They're all working."
His voice is certainly loud enough for the opposing batter to hear it, along with his own pitcher. Sometimes, the statement is more obviously true than others. But hey, that's the lesson: When a chance to instill confidence in your guys arises, take it.
There's no joy in finishing second
Rayson Miller had done everything it could last year at the state tournament. The pitch count rules and scheduling were very unfavorable to any team attempting to claim the trophy coming out of the losers' bracket. So when the Wednesday final came and went, and Rockland's offensive outburst against reserve pitching ended RM's season just short of the state title, it could've been easily pushed aside as not meant to be.
But the postgame team photo suggested nothing of the sort. The players didn't smile. They looked worn down, dirt on many of their pants that they'd been wearing for five-straight days of games. Just feet away, Rockland smiled and leaped for joy. 
The Rayson Miller returners surely remember that feeling, the sensation of being so close yet coming up short. From the beginning of this season, RM's players wanted to get back and overcome last year's loss. They knew, from moments after last year's final ended, that they didn't want to finish second again.