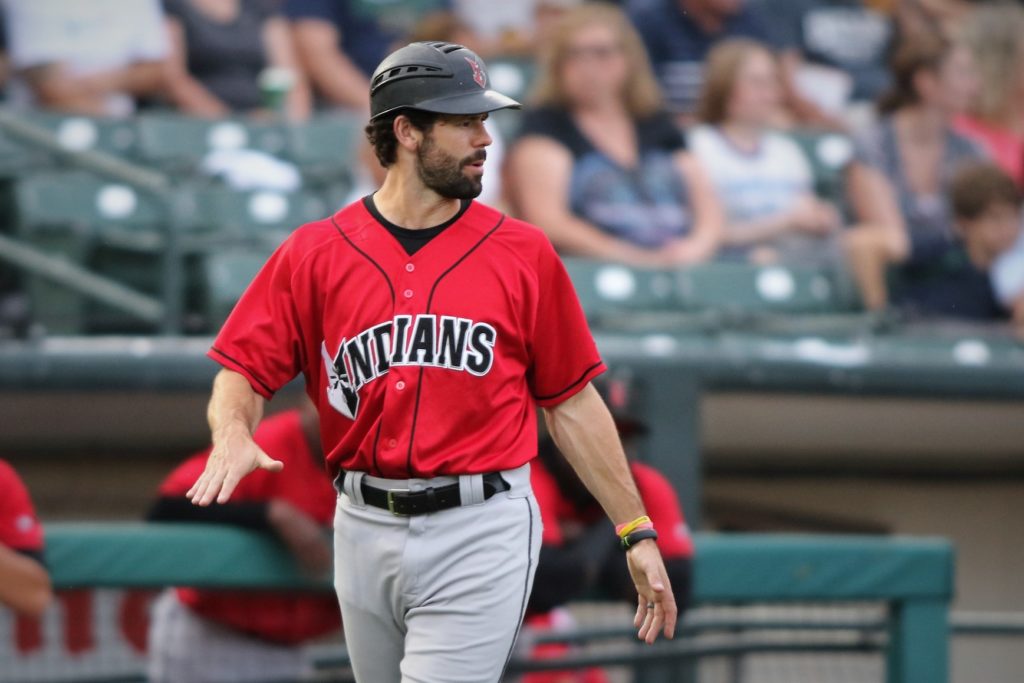 By KEVIN OKLOBZIJA
The home-run derby hoopla has subsided; Jon Schwind is back to just being the third base coach and assistant hitting coach for the Indianapolis Indians.
Which is just fine with him.
Oh, being the derby pitcher during the Major League Baseball All-Star festivities for slugger Josh Bell — his good friend with the Pittsburgh Pirates — was good fun. Real good fun, actually.
But now it's back to work and doing what he's paid to do: helping prospects with the Pirates make the necessary improvements to take the final career step. The 2008 graduate of Hilton High School is in his first season as a coach with the Triple-A Indianapolis Indians.
Considering his love for the game, and his desire to learn as well as teach, coaching was the natural next step once his playing career ended. The Pirates, who drafted Schwind on the 41st round in 2011 out of Marist College, knew that even when he was playing.
"They had talked about me coaching my last few years of playing, and I kind of knew that was my role," Schwind said. "Probably the last three years I was kind of in that role without being told. And I was comfortable and I knew that's where my path was headed."
He knew that even though he still believed in his abilities as a player. Except his body would never cooperate. During a seven-year career, he never played in more than 78 games. But even through the injuries, he always came back strong. In fact, while he didn't know at the time it would be his final professional at-bat, he homered for the Double-A Altoona Curve on Sept. 4, 2017.
"I still had aspirations of playing in the major leagues and that was what was strange at the end of '17," he said on Friday when the Indians and Red Wings opened a three-game series.
"I was hurt all year and got back at the end of August, kind of knowing this was probably the end because my contract was up, and I hit really well. I figured some things out and really started to understand how the body moves. So then I thought, 'Maybe I can still play.' "
VIEW MORE JOE TERRITO PHOTOS HERE.
There were, however, no contract offers so he returned to Rochester and spent 2018 coaching at the College at Brockport while also giving hitting lessons at Salmon Creek in Spencerport and Smash It Sports in Chili.
The Pirates then brought him to baseball's winter meetings and the 29-year-old Schwind eventually ended up joining the staff in Indy.
"It was something that I knew was probably in the future," said Schwind, the All-Greater Rochester player of the year in 2008. "It was kind of seeing where I wanted the path to go, my wife and I. I was able to be here (with Indianapolis) and help impact these guys and hopefully get them to their dreams of accomplishing getting to the major leagues."
He actually had been working with Pirates prospects before he was hired to coach. Having developed a strong friendship with Bell during their time in the Pittsburgh system, he invited the rising star to Rochester to train. A few other prospects also came to town to work with him.
"Rochester, New York, in the snow, it's almost a way for people to get away" Schwind said. "It's almost like something off the map. Kind of turn their cell phones off and just go to work. Guys came up here and they like it. It's quiet, there's not a lot of distractions."
Not that you can hide a guy who is 6-foot-2, 245 pounds.
"People would see him and I think they knew he was an athlete; he's so big, this guy with dreads," Schwind said.
Having Hit Trax at Smash It Sports provided visual tools.
"I was able to teach off of that, give some visuals — this is the generation, they want the reason why and tell me how to improve it. We can see some immediate results," Schwind said.
He's not taking credit for Bell's career-high 27 homers.
"That's him, that's a testament to what he works on," Schwind said. "He works hard and he studies things. It was just giving him some information to help him understand what his body was doing and understanding more from a movement-pattern perspective. He asks questions and he learns."
What Schwind will need to decide during the upcoming off-season is what to do next. He'll definitely coach, but it's a matter of what level, pro or college, and what makes most sense for he and his wife, Lindsay, who grew up in Greece. She's a nurse and her employer has allowed her to live in Indy and work remotely this season.
"I still love the college game and obviously it gives you some security with being in one spot, so that's something that's still intriguing to me," he said. "But professional baseball, you're helping guys reach their goals. I wouldn't say one is on top of the other. This is kind of where the path has taken me so far and when the season's over we'll be able to review. I've already seen both sides so I'll have a good conversation with my wife and see where the next path takes us.
"I love being around the game, I love being able to impact people and impact players that have aspiration," he said. "I think that's really what my focus has been on, to help people accomplish their goals and get where they want to be. If I'm able to do that, I feel I'm going to be in the game as long as I can."