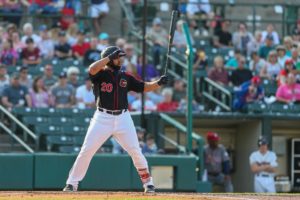 By DONOVAN MOFFAT
NORFOLK, V.A. – The Rochester Red Wings (46-49) cut an early four-run deficit to one run but were unable to complete the rally as the Norfolk Tides (36-59) took game two of the series 6-3.
Down 4-0 early in the contest, Zander Wiel stayed hot at the plate for the Wings as he hit his third homer in two games and fifth in the last four for his 18th of the year.
In the sixth inning, Wilin Rosario roped his 15th double and Jaylin Davis was hit by a pitch in the next at-bat and the stage was set. Wiel delivered a line drive bomb to left center field to cut the deficit to one.
The Wings threatened in the top of the eighth inning with runners at the corners with two outs but were unable to get the hit they needed and Rochester ended the inning empty-handed.
Cody Allen (0-1) opened the game and threw one inning and giving up two hits and a run and earned the loss. Sean Poppen took over from there and worked 5.0 innings and allowed three runs on three hits with two walks and five strikeouts.
Rosario and Tomás Telis led the Rochester offense with two hits apiece.
Drew Maggi, Ronald Torreyes and Jimmy Kerrigan also had a hit on the night.
Rochester native Chris Bostick went 1-for-3 on the evening with a run and a walk in the designated hitter spot for the Tides.
The third game of the series is scheduled for Wednesday with first pitch at 7:05 p.m.