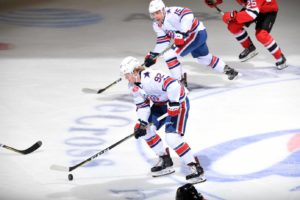 By KEVIN OKLOBZIJA
And so the Alexander Nylander era in Western New York has come to an end.
Rochester Americans fans are no doubt Google-mapping a parade route at this very moment.
Nylander arrived with high expectations and a high opinion of what he could do, which is just fine. There's nothing wrong with confidence. Unless you don't back it up.
Three years later, he leaves with little accomplished — 3 goals and 3 assists in 19 NHL games, 30 goals and 56 assists in in 165 AHL games. But he does take with him a still-full toolbox of skill; there's a chance he'll someday open it up and go to work.
It's a chance Buffalo Sabres general manager Jason Botterill was more than willing to take.
Botterill finally found a willing trade partner — the Chicago Blackhawks — for the multi-talented but incongruous Nylander. The deal was made Tuesday afternoon, with defenseman Henri Jokiharju coming to the Sabres. He was Chicago's first-round pick in 2017.
New Sabres assistant coach Don Granato surely had input in the deal. He spent the past two seasons in the same role with the Blackhawks and obviously knows Jokiharju well.
Botterill didn't draft Nylander but he got to know him plenty well in two seasons as general manager. He, like everyone, saw the flashes of talent. Nylander possesses a pretty good hockey IQ, there's some terrific passing ability and he has an NHL shot.
But so far we haven't seen enough drive or durability to think Nylander will ever emerge. At some point, winning on the ice requires you to go into the corner and win puck battles. Quick, which is the higher number: battles on the boards won by Nylander or comfortable seats in the War Memorial?
At some point also, in order to have success on the ice, you need to go through people and not try to dance around them. Nylander always chose the tango. Can you say turnover at the blue line?
The clincher on his future with the organization may have come in April, when a cut on his leg prevented him from playing in the Calder Cup playoffs. Not a broken leg. A cut.
As first-round draft picks go, this was clearly a big swing and miss by former general manager Tim Murray. Hey, it happens.
But Murray loved pedigree. When he evaluated talent, hockey-rich bloodlines trumped pretty much everything, and Nylander had strong puck DNA. His father, Michael, was a dynamic NHL player for 15 seasons. Brother William, Alex's elder by two years, tore up the AHL and is a potential star-in-waiting for the Toronto Maple Leafs.
Since Alex had shown great promise on the international stage with Team Sweden and in the Swedish League, he was an obvious selection for Murray. And he announced that pick right on the floor of KeyBank Center, too, in June of 2016.
But the building never became Nylander's permanent home. In his three years in the organization, he couldn't prove that he was NHL worthy. He was just 18 in Year 1, and he wasn't anywhere near ready for the NHL — let alone the AHL — but the Sabres signed him and sent him to the Amerks anyway. He didn't have the lower-body strength to adequately compete, or to gain separation, and it showed.
In Year 2, a lower body injury cost him most of the first two months, and then he was just so-so when he was healthy (8-19-27 in 51 games).
This season, as a 20-year-old turning 21 in March, he had every chance to shine on a roster filled with talent, but he was never really anything more than an ancillary component.
Which is why his time in the Sabres organization has come to an end.