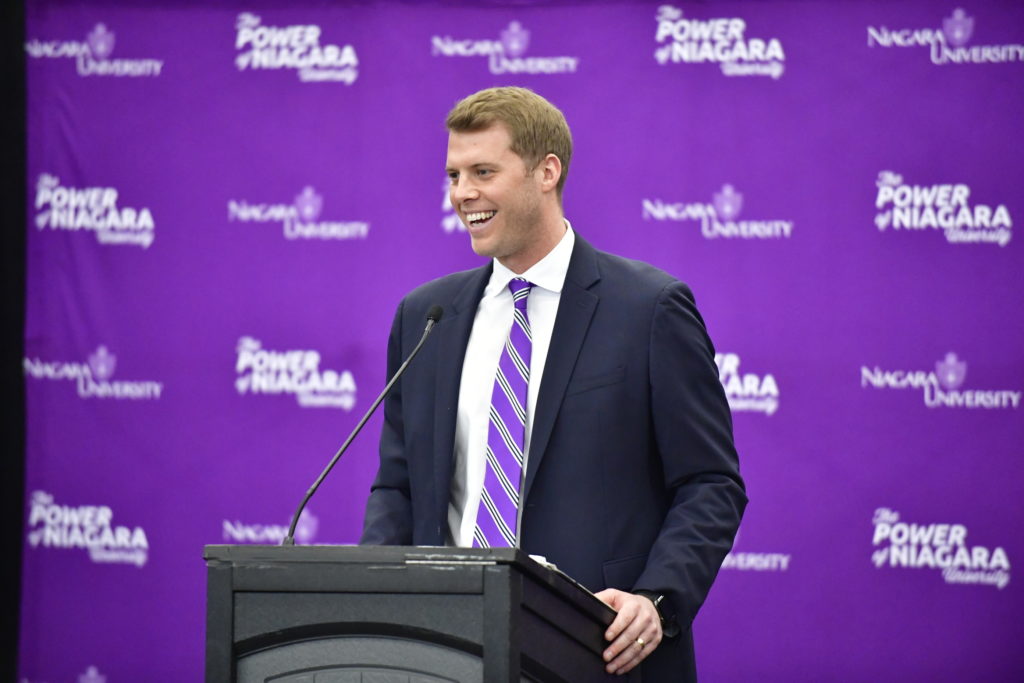 By MIKE BUNDT
The summer grind is often regarded as the quiet period of the college basketball calendar but don't tell that to Patrick Beilein.
The first-year Niagara head coach is looking to evaluate his program after a busy 12 weeks at the helm.
Beilein has filled out his roster with six incoming recruits, finalized his coaching staff and went on a multi-city caravan tour, meeting with Purple Eagles fans across the region.
He returned to the grind on Monday, meeting with players for the first time since the spring with the team coming back for summer session.
It's a period in which Beilein will be looking to examine what type of squad he possesses and what type of tweaks he'll need to make moving forward.
"We have a lot of work to do. What do we have now? We have to get to know our team better," said Beilein.
His analysis won't just be helpful for this year's team. He's also interested in looking at what Niagara's recruiting needs will be for 2020 and beyond.
One person that'll attract talented young recruits to Lewiston is assistant coach Greg Paulus. The former Duke point guard comes to Niagara after stints as an assistant at Navy, Ohio State, Louisville and George Washington.
A Syracuse native, Paulus looks at the Purple Eagles job as a homecoming.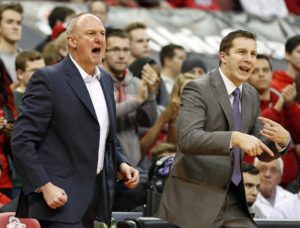 "I am thrilled to be back home in New York," said Paulus shortly after being hired "I am looking forward to being a part of a terrific staff, passionate community and creating a culture of development for our student-athletes to be successful on and off the court."
Beilein was originally looking for an older, more experienced coach before ultimately deciding on Paulus who he believes will be able to better relate with college athletes as a result of his prior experiences.
"I brought him in to challenge me to give me new ideas and I'm going to challenge him in ways to give him new ideas so it was a home run hire for us," said Beilein.
Beilein and his staff have a lot of work in front of them. They inherit a depleted roster with only seven returning players.
Two newcomers they're excited about are Shandon Brown and Kobi Nwandu.
Brown, a former three star recruit is transferring to Niagara after things didn't work out at George Washington while Nwandu comes to the Purple Eagles from Beilein's previous school, Le Moyne.
Nwandu's experience playing under Beiein will be an additional help as a player voice assisting the rest of the team transitioning to Niagara's new system.
While daunting, Beilein embraces the challenge in front of him and wouldn't have it any other way.
"I look at it as a lot like my dad did. You want to come back, you want to take a job to rebuild it and get it back to where it was."
That's his motivation. Beilein wants Niagara basketball to be at the same level as their peers across the region.
He knows it won't happen overnight but that's part of the challenge that excites him the most.
"We want to get to where Buffalo is and where St. Bonaventure is and that's the goal, to get up to their level," said Beilein "It won't be easy but I know there's no question, we'll do it the right way and pick it up to their level."
For the first time in nearly a decade, Niagara has hope heading into the future.
It's too early to say how things will play out but the process takes another step forward this week as the quiet summer grind bounces along.