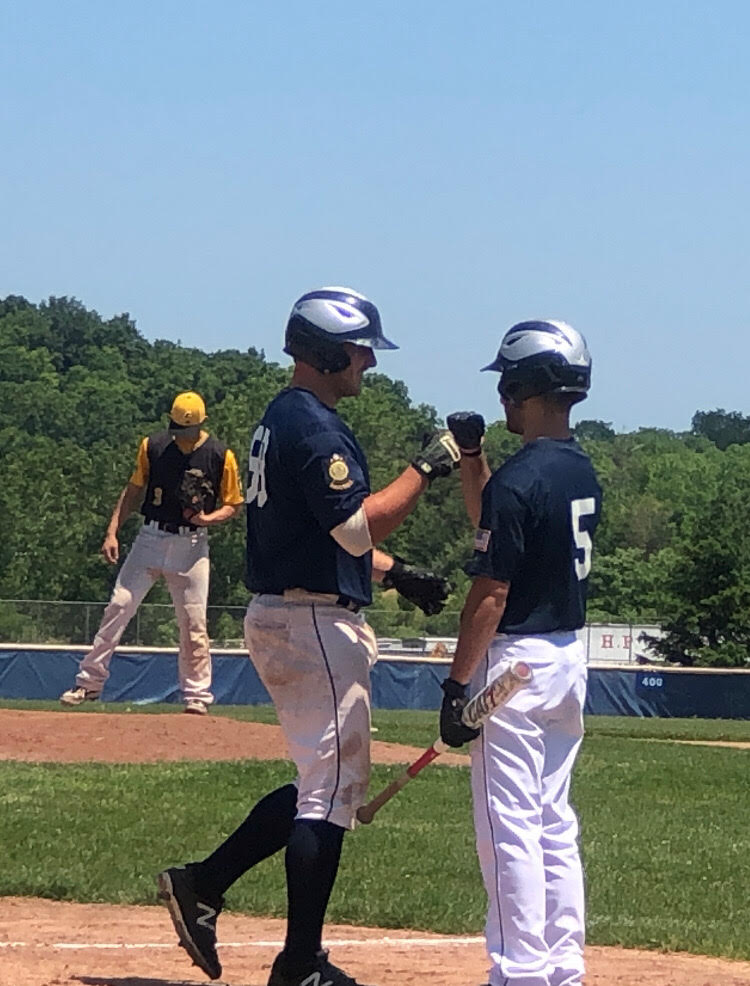 By BILLY HEYEN
VICTOR, N.Y. — On his walks to and from the mound, Owen Delforte rarely shows emotion. But on a strike three to end the fifth inning Sunday, Delforte let a fist pump go before strolling to his dugout.
It'd been a while since he'd pitched that effectively and deep into a ballgame, and the fist pump showed what it meant to him.
"I categorize him as a gamer," James Cooke head coach Joe Kurnath said. "He shows up, he pitches hard, throws hard. He's shown glimpses of being that good throughout his career here at Victor."
Strikeout and a fist pump ends a 1-2-3 fifth for Owen Delforte. He's allowed one hit through five, and James Cooke leads 5-0 heading bottom five. @PickinSplinters @jml5798 @vshsbaseball pic.twitter.com/1AoFZq8dMA

— Billy Heyen (@Wheyen3) June 23, 2019
Delforte joined with fellow 2018 Victor graduate Zach Carpin to lead James Cooke Post to a game one win over Rayson Miller Post, 7-5. Delforte pitched six scoreless innings before encountering a bit of trouble in the seventh. Carpin drove in three runs, doubling and hitting a home run. James Cooke started two players Sunday who'd already spent a year in college, and those were the two that delivered when it mattered.
READ ABOUT JAMES COOKE'S GAME TWO WIN HERE
Delforte's been working on building up arm strength after not playing school ball in the spring. One way to limit pitches on a still-strengthening arm is a quick first inning, like the seven-pitch, 1-2-3 frame Delforte got to start Sunday.
"A bit more mature Owen, who gets up there and gets the job done, pounds the zone then pops off the mound and comes back in," Kurnath said.
In the bottom half, Rayson Miller starter Peyton Parmeter struggled with control and a small strike zone. Around a few walks, Carpin drove a ball to right center to score a run. He ended up on second base after the throw in.
"I was trying to come in and battle," Carpin said. "He was a very good pitcher, so I was just trying to take it that way. And luckily I put enough on it where it got over his head out there."
Delforte went to work from there. He didn't allow a hit in the second or the third, working around a walk and then two more free passes to throw scoreless frames. A single in the fourth didn't move further than first base.
The fifth might've been Delforte's strongest inning, as he struck out two of the three batters on his fastball.
"He had everything working," James Cooke's Jake Chittenden said. "… It looked great. He looked real good."
Carpin had already provided more run support for Delforte. After Ryan Lukas led off with a single in the third, a strikeout left the runner on for Carpin with one out. He wanted to be aggressive after he'd been a bit more patient his first time up.
It was easy for Carpin to follow through on his plan when the first pitch was a center-cut fastball. He unloaded on it to left, someone on the James Cooke bench saying "gone" as soon as it left the bat, showing why Kurnath is happy to have a "legit cleanup hitter."
"I was just hunting a fastball right out of the gate," Carpin said. "…I got my pitch first pitch, and luckily I was able to put a good swing on it."
Zach Carpin @ZacharyCarpin goes deep to left field after a Lukas single started bottom three. The two-run homer makes it 3-0 James Cooke in the third against Rayson Miller. @PickinSplinters @jml5798 @vshsbaseball @CUKnightBase pic.twitter.com/RwFhodPPWH

— Billy Heyen (@Wheyen3) June 23, 2019
James Cooke tacked on more runs in the fourth. Will Tehan and Aidan Schlarbaum, who both played JV at Victor in the spring, ripped back-to-back RBI doubles to left field. Tehan delivered a run-scoring single in the fifth, too, and James Cooke took a 7-0 lead to the seventh.
"I was pretty excited to see that," Kurnath, also Victor's JV coach, said. "And honestly surprised that Aidan hit it so far over his head. Aidan hit line drives all year, but to see him get a hold of one and send it to the fence, it was pretty special."
The wheels fell off a bit in the final frame for James Cooke. Delforte got two outs but couldn't retire what was to be his final batter. Jesse Countryman, Lukas Haefner and Owen VanNewkirk all drove in runs for Rayson Miller. But Brendan Popielec was able to get a popout to third to end it.
After the conclusion of game one, the teams took about half an hour to recharge before the second game. In that time, Carpin and Delforte headed over to Carpin's car to sit and eat, with the only requirement seeming to be that Carpin's vehicle had air conditioning. After the way the two veterans had played in game one, they'd both earned some time to cool off.