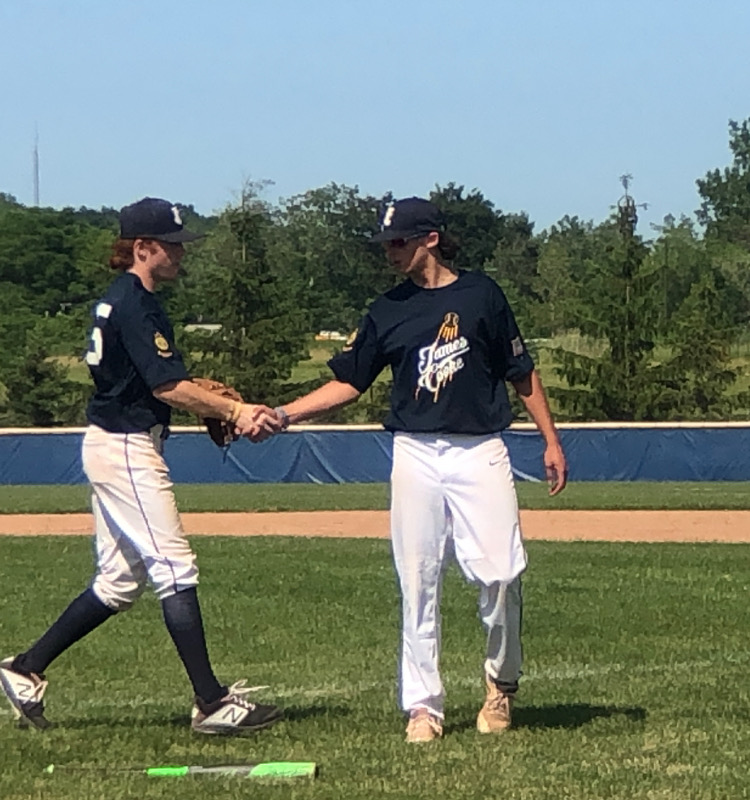 By BILLY HEYEN
VICTOR, N.Y. — After Owen Delforte had pitched a stellar game one for James Cooke Post, Jake Chittenden knew he had to deliver, too. The last thing he wanted to do was ruin a game one win with a poor follow-up performance on the mound.
"I really wanted to match it," Chittenden said. "You don't want to lose the second game after you already blew them out the first game."
Not to worry, though. Chittenden delivered a two-hit shutout for James Cooke in game two of a doubleheader sweep of Rayson Miller, 1-0. The Victor rising senior did walk five batters while striking out three. At the start of Sunday, Rayson Miller hadn't lost. But by Sunday evening, Chittenden had ensured James Cooke would hand the defending state runners-up their first two losses of the Legion season.
"Gives us a lot more confidence," Chittenden said. "We're ready for anybody."
READ ABOUT JAMES COOKE'S GAME ONE WIN HERE
Rayson Miller had put up five runs in the seventh inning of game one. That could've led to a hot start right into game two. But Chittenden was able to induce two outs in the air and a groundout to third, working around two walks for a scoreless first.
From there, the righty settled in, utilizing a crafty arsenal to keep the Rayson Miller bats off balance. Each fastball Chittenden threw was a two-seamer, diving down and in to right-handed hitters. His changeup had similar action, similar arm speed, but just more drop at the end. And his curveball, nearly 12-6, took even more speed off but had control all game.
"Everything was working today, yeah, real good," Chittenden said. "Everything was really loose today."
On a few occasions, Chittenden even dropped down to a sidearm release to deliver his pitch, a shift from his usual over-the-top mechanics. Regardless of what he tried, though, it worked.
Chittenden faced three batters in both the third and fourth, benefiting from a caught stealing and a double play in those frames. He didn't allow a hit until the fourth, when a two-out single led to no damage.
"It's very impressive, especially from a younger guy," James Cooke's Zach Carpin said. "He definitely showed some stuff today. It was pretty awesome."
Chittenden works around his first hit allowed for three grounders and a scoreless top four. Still zeros in game two. @PickinSplinters @vshsbaseball @jml5798 pic.twitter.com/JcfHhcuKeI

— Billy Heyen (@Wheyen3) June 23, 2019
James Cooke pushed a run across in the bottom of the fourth. Ryan Lukas led off with a single into left, which was followed by a hit from Carpin and a hit by pitch. That set up Jared Signorelli to drop a single the other way into right and score a run. James Cooke was unable to pad on with the bases loaded and none out — a popout and groundball double play ended the inning.
With the way Chittenden was going, though, that lack of insurance didn't matter. He was well aware of the 1-0 scoreline and what that meant for each and every pitch he threw to a powerful lineup that'd entered the day with 42 runs in five games, Chittenden said.
"It's pretty easy to win a game when you only have to score one run," Carpin added.
Signorelli drops it in to right, 1-0 James Cooke in bottom four. @PickinSplinters @jml5798 @vshsbaseball pic.twitter.com/n1MgDbV54K

— Billy Heyen (@Wheyen3) June 23, 2019
After getting that run, Chittenden worked around a two-out walk in the fifth, then threw a 1-2-3 sixth. There wouldn't be need for a reliever in game two.
Rayson Miller led off the seventh with an infield single. But then Chittenden used his curveball for a swinging strikeout and the first out. A flyout to left meant two away, and then a lineout to right ended the ballgame.
"I know they're a great hitting team, and I can't feed them high fastballs," Chittenden said of his approach. "I gotta work them with different pitches and change their timing."
After the game, one of Chittenden's James Cooke teammates remarked "first interview!" as Chittenden answered questions. Considering James Cooke just leaped past Rayson Miller into first place in the standings on the back of a two-hit shutout from Chittenden, it might not be his last.
"I like that Jake improved as the game went on," James Cooke head coach Joe Kurnath said. "… I was pretty happy that Chitt really settled down late in the game."