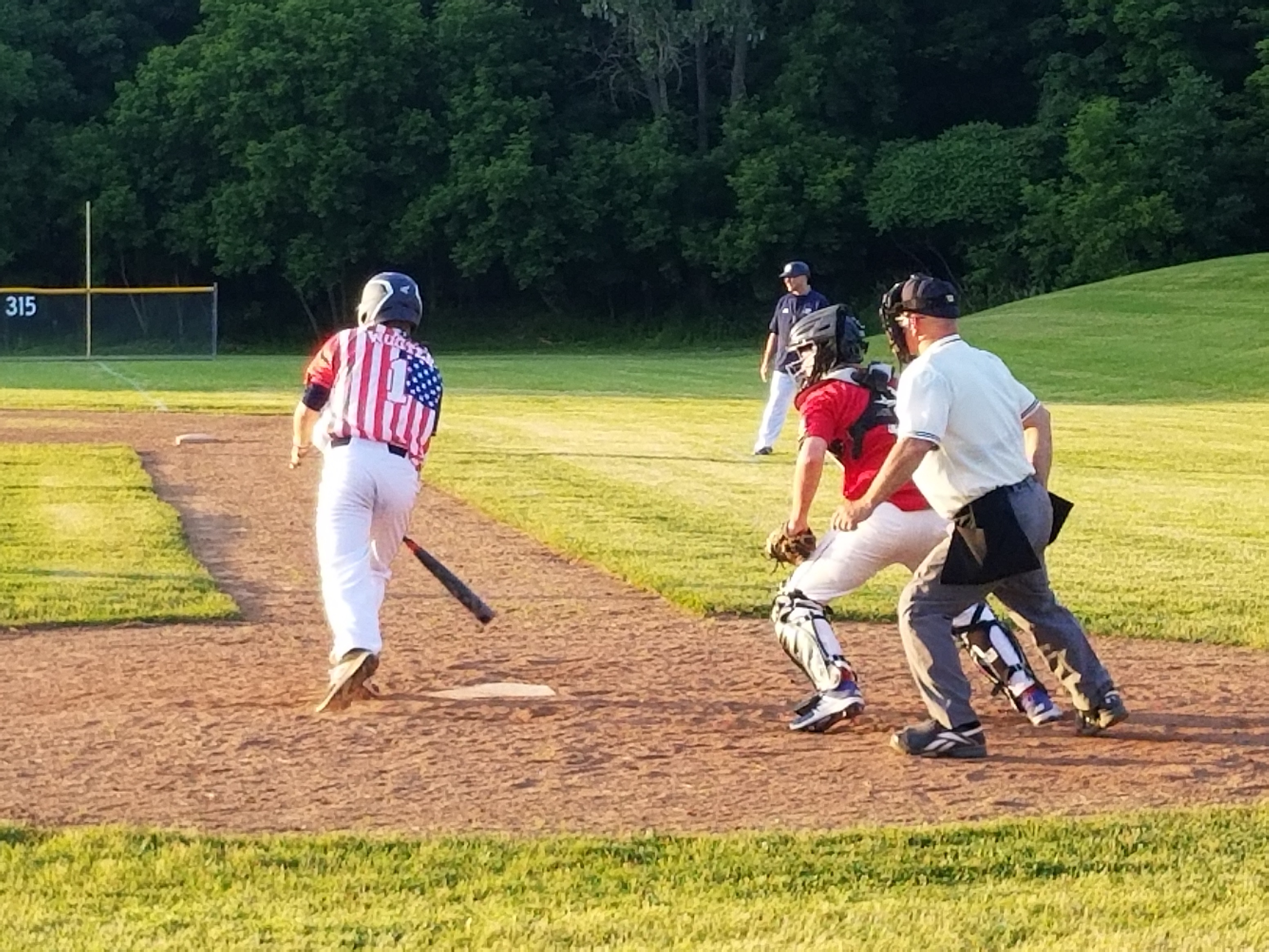 By JOHN LIKANJE
FAIRPORT, N.Y. – Going into Wednesday evening's game, Braman Post had lost their first six contests by a combined score of 64-12. Dave Pasternack's squad turned the tables, rallying for a pair of runs in the bottom of the fifth inning to win their first game of the season, 8-7, over Brooks Shepard Post at Fairport High School.
"We hadn't been hitting well the first couple of games," Pasternack explained. "I think the fact that we were able to hit is huge."
Trailing 7-6, Sebastian Friedman launched a leadoff double to the fence in left center on the first pitch he saw. Zack Hosmer laid down a bunt and reached first base on a throwing error by the pitcher, allowing Friedman to score the game-tying run.
Joe Thompson (Webster Schroeder) singled to center field and moved to third base on a fielder's choice. On a 3-0 count, Corey Spooner (Webster Schroeder) lifted a fly ball which was caught in center field. Thompson tagged up from third base and raced home as the game-winning run.
"I figure he was looking fastball," Pasternack said about Spooner's approach at the plate. "He (the Brooks Shepard pitcher) threw a curveball earlier in the dirt, so he was definitely looking fastball. Looking for something to drive and he was ahead in the count. Did a good job putting some wood on it."
For the game, Spooner was 1-for-3 with two runs scored. Friedman, Hosmer and Marty Williams (Williamson) all went 2-for-3 at the dish. Friedman crossed the plate twice and Hosmer and Williams once.
Alex Savory (Sodus/Finger Lakes Community College) doubled to right field and drove in Spooner and Williams to cut Braman Post's deficit to 3-2 in the opening frame.
Loveless tied the game at five apiece with a single to center field in the second inning. Williams was awarded the victory after hurling a scoreless top of the fifth and striking out a batter on 11 pitches.
"I think we're a pretty good team," Pasternack said. "We've been playing some pretty good defense, and I think we're going to continue to do that. As long as we keep getting timely hits and we're getting together as a team, it's going to be fun."
For Brooks Shepard, Aaron Jenks (Fairport) poked a two-run single through the right side and brought in Pat Unger (Fairport) and Derek Watson (Fairport) for a 7-6 lead in the fourth inning. For the game, Jenks was 2-for-3 with three RBI and a run scored.
Perry Wheeler, Jr. singled twice, drove in a run and crossed the plate once. Matt Adams and Unger both connected for a base knock and an RBI in three at-bats.
Michael Protz (Fairport) and Watson both were 1-for-2 at the dish. Watson drew a walk and scored a pair of runs. Protz crossed the plate once.
Braman Post will play a doubleheader with Wayland Post starting Sunday at 11:00 a.m. at Wayland-Cohocton High School. Brooks Shepard has a doubleheader with Irondequoit Post Sunday at 3:00 p.m. at Eastridge High School.