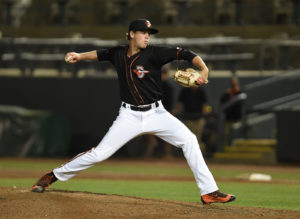 By PAUL GOTHAM
The 2019 Advanced-A Carolina League All-Star Game will have a Section V flavor to it.
Steven Klimek (Greece Arcadia) and Adam Scott (Canandaigua) will be be among the squads on Nymeo Field at Harry Grove Stadium, June 18th for the league's summer classic.
Klimek (Frederick Keys/Baltimore Orioles) has made 17 appearances out of the bullpen in 2019. The fifth-year pro is 4-1 on the season with an ERA of 2.48. A 33rd round pick in the 2015 MLB Draft, Klimek has struck out 31 and walked 18 in 32.2 innings of work this season. Opposing batters are hitting .190 against the right-hander. Klimek has nine scoreless outings in his last 10 appearances (21.2 innings).
Scott (Lynchburg/Cleveland Indian) has struck out 74 and walked 20 in 57.1 innings logged in this his second pro season. A fourth-round selection by the Indians has made 12 starts this in 2019. With an ERA of 3.45 he is tied for seventh in the league. Scott's WHIP (walks + hits/per inning) of 1.36 is 12th in the Carolina League.
Klimek and Scott join another Section V alum Greg Cullen (McQuaid Jesuit) who was recently named to the South Atlantic League (Class A) All Star Game. Cullen was named league player of the week earlier this season.
Other Section V alums:
Logan Harasta (Webster Thomas) made his first appearance of 2019 on Monday night. Harasta worked an inning of relief for the Arizona-League Giants Orange. A seventh-round pick in 2017, Harasta made just one appearance that season after being sidelined due to injury.
2019 MLB draft pick Tanner Cooper (Canandaigua) will start his professional career with Rookie-League Greenville.
Danny Mendick (Pittsford Mendon/Monroe CC) made his first appearance as a pro at Frontier Field. It was a proud moment for his grandfather.
Also in affiliated baseball: Chris Bostick (Aquinas), Victor Cavalieri (Northstar Christian), Ernie Clement (Brighton) and Cody Eckerson (Palmyra-Macedon).
Cito Culver (Irondequoit) recently signed with the independent league Sussex County Miners after asking for his release from the Rockland Boulders.

Grant Heyman (Pittsford Sutherland) plays with Rockland.