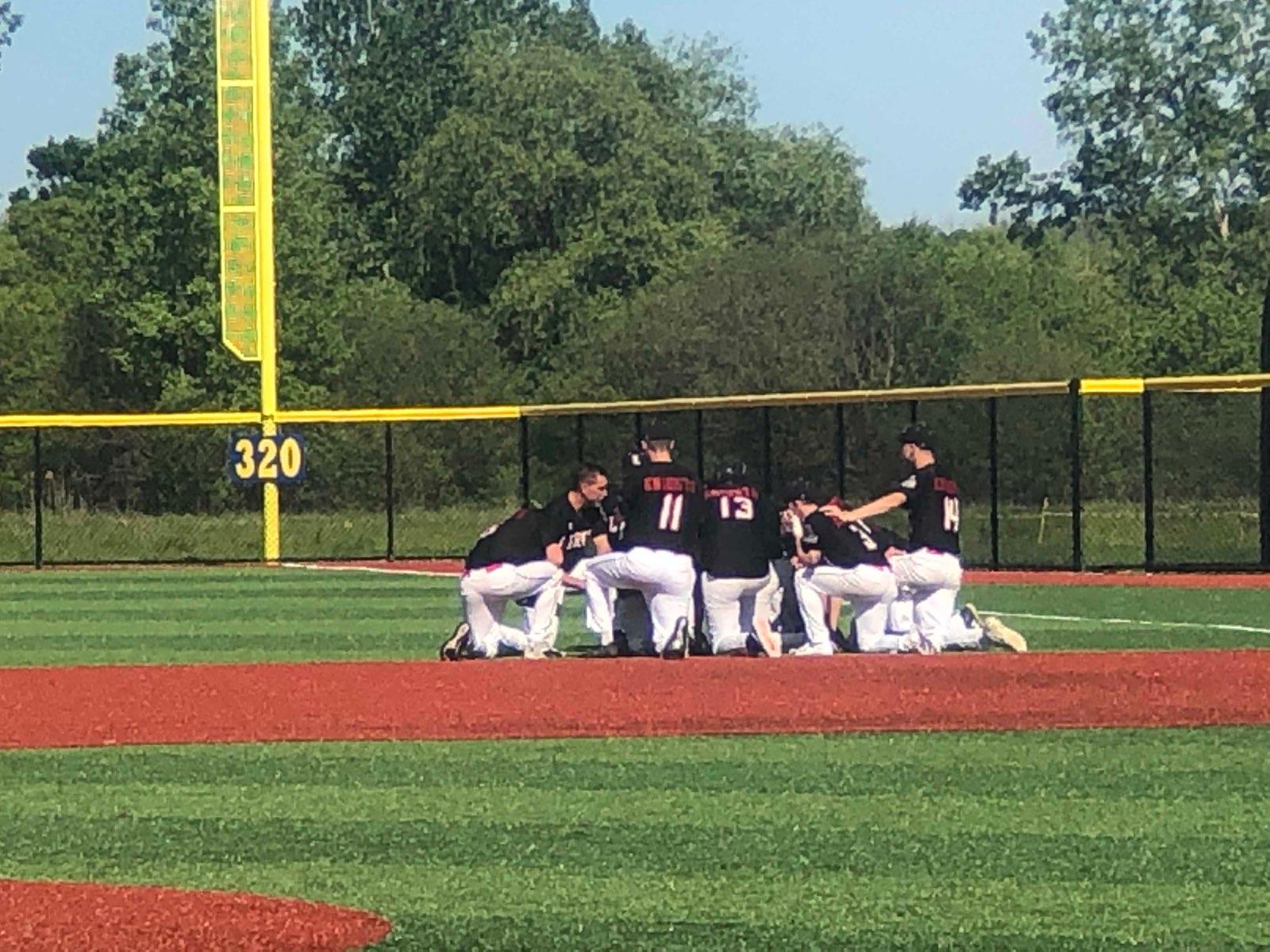 By JOHN LIKANJE
LOCKPORT, N.Y. – The LeRoy Knights were facing a Medina Mustangs team that had surged for 14 runs in their last game, including 10 in the opening frame. Ieon Koukides' squad could not keep a lid on the Mustangs' offense, allowing nine runs in the third and fourth innings combined in a 10-2 loss in the New York State Class B Far West Regional at the Lockport Sports Annex.
"These guys ended up with 18 wins this season," Koukides said after the game. "Nothing to frown upon. They proved a lot of people wrong. There isn't anyone around here that gave us a chance to go as far as we did this year."
After giving up a run in the first inning, the Knights sent six men to the plate and rallied to tie the game in the third.
Senior center fielder Tyler Slaven was hit by a pitch. Junior shortstop Giavanni Caccamise reached on a fielder's choice. Ryan Friend got on base on a groundball which was bobbled at shortstop. With one out and the bases juiced, senior first baseman Reece Tresco singled on the first pitch he saw to right field and drove in Slaven to knot the game at one apiece.
In the sixth inning, Tresco doubled down the left field line and slid into home plate on Kenny Saunders' base knock.
For the game, Tresco was 2-for-3 at the dish with an RBI and a run scored.
"Reece did a great job today," Koukides said about his senior first baseman. "He's done it for me since he was a sophomore. He's clutch. Reece has made a great impact on this program and all these underclassmen as well. I'm going to miss him."
Cole Heaney and Tom Saunders both connected for a hit in three plate appearances.
Despite allowing six baserunners, Kenny Saunders battled and pitched 2 2/3 scoreless innings. The sophomore right-hander struck out one batter, got five outs in the air and two on the ground.
"Kenny's a sophomore, led our team in batting average this year," Koukides explained. "He's an infielder that we made into an outfielder this year. He's done everything I've asked him to do. I have no doubt if I brought him in that he'd keep them off balance and do his job."
For the Mustangs, AJ Seefeldt singled in his first three at-bats, drove in four runs, stole a base and crossed the plate twice. The sophomore second baseman sprayed the ball to all three fields, singling to right in the first inning, center in the third and through the left side in the fourth.
AJ Seefeldt drives one through the left side for @medinasports. He's 3-for-3 with four RBI and Medina leads 6-1 in the fourth. @PickinSplinters @jml5798 pic.twitter.com/AmMLfWhPhv

— Billy Heyen (@Wheyen3) June 8, 2019
Brian Fry, Chris Goyette and Trevor Luthart all collected a pair of base knocks and reached base in three of four at bats. Fry stole a base and scored three runs. Goyette crossed the plate on Zach Fike's infield single in fourth for a 9-1 lead.
Brian Fry, star sophomore for @MedinaSports, is 2-for-2. Doubled his first time, singles this time. @PickinSplinters @jml5798 pic.twitter.com/m7uCRUBKtU

— Billy Heyen (@Wheyen3) June 8, 2019
Then Chris Goyette drives two more home with a single into left. @MedinaSports lead 8-1 in bottom four against LeRoy. @PickinSplinters @jml5798 pic.twitter.com/pkjRD3gy6X

— Billy Heyen (@Wheyen3) June 8, 2019
Trevor Luthart back up the gut to score two more with two outs for @medinasports, and the Mustangs are fired up in bottom three. After three, 5-1 Medina leads @Leroy_knights. @PickinSplinters @jml5798 pic.twitter.com/nEieH1fovs

— Billy Heyen (@Wheyen3) June 8, 2019
Junior center fielder Nate Sherman drew two walks, stole a base and scored a pair of runs.
Sophomore designated hitter Corey Saj singled, was hit by a pitch, stole a base and crossed the plate once.
Freshman right fielder Joe Cecchini was hit by a pitch and stole a pair of bases, including home plate to give the Mustangs a commanding 10-1 advantage in the fourth inning.
On the mound, Luthart hurled a complete game on 105 pitches. The junior right-hander allowed two runs, six hits and fanned seven batters. Luthart retired nine consecutive hitters between the third and sixth innings as well.
"Trevor did what he's been doing all year long," Mustangs head coach Jon Sherman said about his junior pitcher. "He throws strikes, he throws hard, his ball has good movement on it. He really doesn't think a lot out there. He just does what he has to do."
"His money pitch is his fastball," the head coach continued. "When Uncle Charlie's working, he's unhittable. His curveball isn't there all the time, so his money pitch is his fastball."
LeRoy ended their season with an 18-5 record, Livingston County Division Two title and a Class B2 sectional championship. The 2019 LeRoy varsity baseball team advanced farther than any other squad in the program's history as well.
"I'm extremely proud of every one of those guys in that dugout," Koukides said. "My seniors, it's hard to say goodbye to them. They've made history forever in LeRoy. I don't hang my head at all."