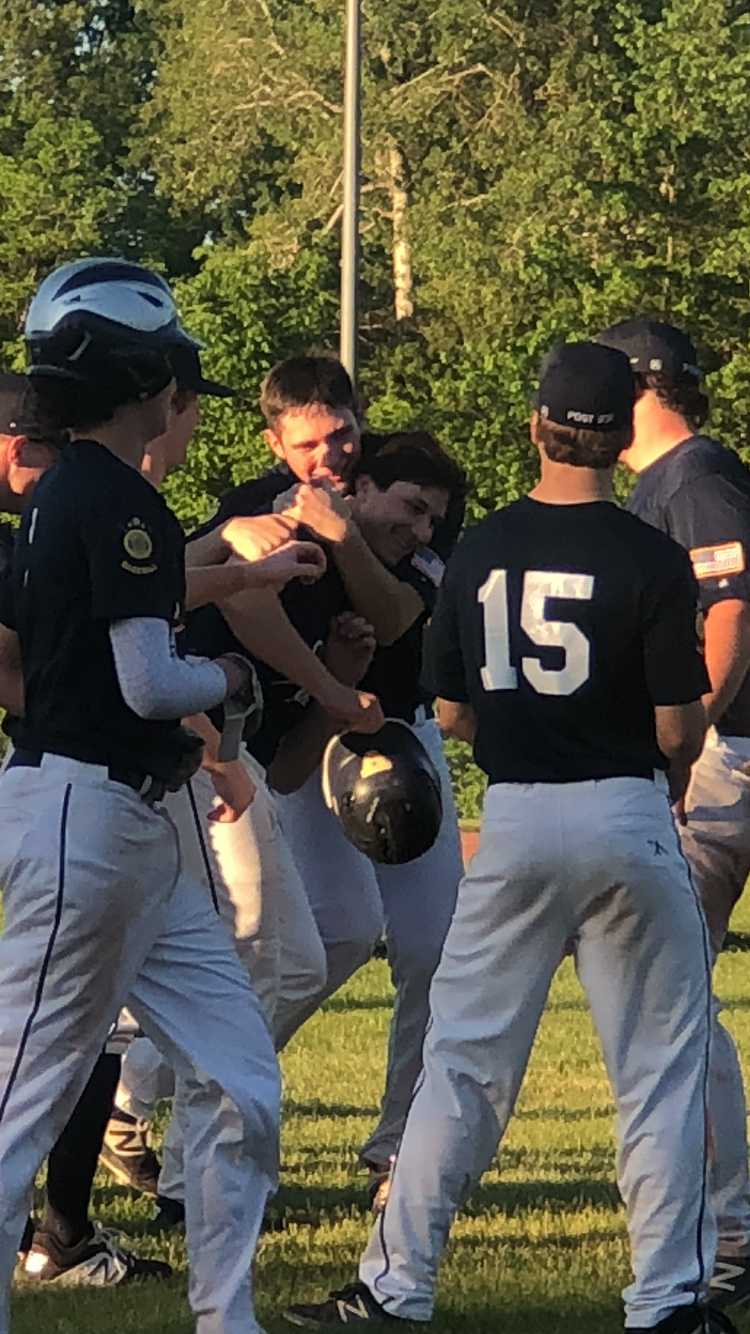 By BILLY HEYEN
PENFIELD, N.Y. — Some days in baseball, everything seems to go right for one team. Friday night was that time for James Cooke Post in early season American Legion action against Braman Post. James Cooke won both games of a doubleheader at Bachmann Field, 13-4 and 20-5.
To say the bats were alive would be an understatement: 29 hits and 33 runs across 11 innings at the plate is hard to exaggerate. The James Cooke pitching, while not dominant, got the job done for the big offense.
The James Cooke player that sums up that day is Brendan Popielec (Victor). He finished the day 3-for-5 at the plate, singling, tripling, homering and reaching on an error. Popielec drove in six runs, and he also threw three innings on the mound, allowing three runs. Here's a look at how Popielec's day was a microcosm of the James Cooke sweep on Friday night.
At-bat one: Three-run HR
Popielec estimated afterward that he'd had about three at bats in the varsity season for Victor. None of those ended in a ball leaving the yard, although he did hit a home run in a preseason scrimmage, he said.
So when Popielec stepped up late in game one, it was in an inning with multiple James Cooke pinch-hitters. The bench had been discussing how the batters should approach their potentially lone chances at the plate. Someone had suggested, offhandedly, that one of them should try and homer. With the amount of in-game pitching seen this season by Popielec, it seemed unlikely, to say the least.
But he got a fastball, center-cut, and turned on it to left center. It felt "amazing" off the bat and carried all the way over a high fence. A three-run home run would've been more probable for a number of the James Cooke starters. But it was the pinch-hitting reserve who knocked one out.
"Seeing him grow and get a hold of a ball for once is kind of nice," James Cooke coach Joe Kurnath said. "Being patient up there and just believing in his swing to trust his swing and let the ball travel, and then he can send it a mile."
He wasn't the only offensive firepower, obviously. Brennan Prather (Penn Yan) doubled and tripled in game one. Kaden Helmer (Victor) doubled twice himself.
The homer was Popielec's first at bat in what turned out to be the relatively tame James Cooke offensive output of game one. He grounded out to end the sixth. But that home run got the player who'd barely hit in games of late feeling good about himself.
"I think there was a lot of luck to do with it today," Popielec said. "I was feeling myself and things happened."
Brendan Popielec (@vshsbaseball) just yanked a three-run ???? to left field and it's 10-4 James Cooke in the sixth. @PickinSplinters pic.twitter.com/BD4UggsLFe

— Billy Heyen (@Wheyen3) June 7, 2019
At-bat three: Three-run triple
Popielec's third turn at the plate came in the top of the first in game two, after a homer and groundout in the same inning of game one. James Cooke had already sent six players to the plate, scored three runs, and not made an out. Popielec got another pitch down the middle and took advantage, again.
This time, it was a little more out over the plate than the homer pitch. So Popielec sat back and drove it to dead center, where it carried beyond the outfielder and to the wall. All three runners scored as Popielec wheeled around for a triple.
"A little bit more outside than the first one," Popielec said. "Saw it, really liked it."
Talk about just a part of a bigger inning, though: Popielec got to hit with no outs and the bases loaded because the first six James Cooke batters went walk, single, double, single, single, single. They ended the inning with seven runs on the board before Popielec took the mound to pitch.
In the second, James Cooke scored five, then one in the third and five more in the fourth. They finished the day with two runs in the fifth inning.
"It definitely picks up our energy through the summer," Popielec said of the run-scoring. "Starting off like this, it's pretty nice."
Brendan Popielec (@vshsbaseball), have a day. Bases-clearing triple over center, 6-0 James Cooke without an out yet in game two. Popielec is 2-3 with a 3B, a HR and six RBI on the day. @PickinSplinters pic.twitter.com/NzVBYxbjr1

— Billy Heyen (@Wheyen3) June 8, 2019
Popielec's three innings on the mound
Popielec struggled with his control a bit. It's early in the summer, and everyone's had a bit of time off on the bump.
Game one starter Owen Delforte (Victor/MCC) hadn't pitched since last spring after not playing ball in his first year of college. It showed in his command, but he was effective enough across two-plus innings. His reliever, Brennan Prather (Penn Yan), lasted the longest of the James Cooke pitchers on the day, and after an early rough patch, found his groove.
Popielec consistently fell behind in counts but worked his way back in them. Working exclusively from the stretch, the righty found his most success working up and out, striking out two batters in the second that way.
11 bat for James Cooke in the first and seven runs cross. 7-0 as Popielec takes the bump. @PickinSplinters @vshsbaseball pic.twitter.com/Nha4TPc26Q

— Billy Heyen (@Wheyen3) June 8, 2019
Victor JV pitcher Aidan Schlarbaum threw the final two innings and fit right into the story of the James Cooke arms' day: Fall behind, allow a couple of runs, escape without too much damage.
"Some of these guys, it's their last hurrah," Kurnath said. "Some of these guys, they're trying to prove it from high school to college. Some of these guys want a spot on varsity. And even some of my guys, JV to varsity next year. They're all just trying to prove themselves."
It was one of those days, though, where the James Cooke pitchers didn't need to be perfect. They just needed to do what they did: Limit damage and provide some length to prevent too high of pitch counts. Just as Popielec's early blow meant his work on the mound didn't need to be historic, so did his teammates' bats ensure that no James Cooke pitcher felt too much pressure on Friday.
At-bat four: Blooper
Popielec referenced feeling lucky in regards to his home run and triple. But those balls were scalded. The hit that was visually the most lucky came in game two's second inning.
On a 2-2 count, Popielec reached out a bit to pop a ball up into shallow right field. It didn't have tons of height, though, and it was placed right where it needed to be to fall in for a hit, his third of the day.
With 33 runs came a lot of well-hit balls, but Popielec's wasn't the only blooper, either. Helmer's first double blooped in to right. An RBI single late in game two fell behind the pitcher's mound into no-man's land. One fly ball into center was lost in the sky by the Braman fielder and fell in for a hit.
The 29 hits weren't all crushed. But just as on Popielec's third knock, luck seemed on James Cooke's side Friday.
"I picked all these guys for a reason," Kurnath said. "Knowing that they could swing… The only way to get better is to take hacks when you get a chance."
At-bat five: E6
Popielec's final at bat of the day came after he'd completed his third and last inning on the mound. He led off the bottom of the fourth and took a cut at the second pitch he saw.
But he finally swung like a player who hadn't had a lot of in-game hacks lately, rolling over to the shortstop on a friendly hop up toward the glove. But it was mishandled and Popielec beat it out.
In game one, most of James Cooke's run-scoring had been self-supported, along with some walks. Braman Post committed only one first-game error. But game two was a different story: Braman had eight errors, including five in the fourth, starting with the one on Popielec's simple groundball.
The rough Braman fourth inning, in which James Cooke managed just one hit but pushed five runs across, didn't affect the game's outcome. James Cooke had scored more than enough runs without it. It also didn't affect Popielec's day too much, besides allowing him to come around and score once more. Instead, it just added to the type of day it was, a day where most things James Cooke did turned out in its favor.
That was a shift from James Cooke's season-opener, when they allowed just one hit but surrendered five runs in the fourth inning of a loss to Doud Post. Friday provided a glimpse at the way baseball can be fickle. One day, it was James Cooke being hurt by a rough inning, but a few days later, James Cooke did all the benefitting.
"I wanted to keep Victor boys together and have these boys play together and grow up together and build that camaraderie," Kurnath said. "… It's just nice to have these guys play together and play well together as brothers."
And there's no better way to sum it up than Brendan Popielec. He had a few big hits and a few lucky at bats. He pitched well enough to let the offensive outburst hold up. For Popielec and his team, it was one of those good days.
"Being under the lights, this is a nice way to kickstart it all," Kurnath said.
FINAL: James Cooke sweeps doubleheader with Braman, 13-4 and 20-5. @PickinSplinters @vshsbaseball pic.twitter.com/IIgXEK2SbG

— Billy Heyen (@Wheyen3) June 8, 2019