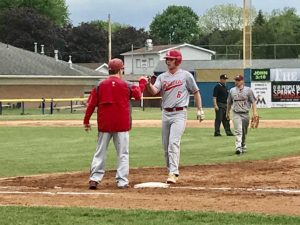 By BILLY HEYEN
Tanner Cooper was selected by the Cincinnati Reds in the 35th round of the Major League Baseball Draft on Wednesday with the 1044th selection. Cooper starred at Canandaigua Academy before heading to Stony Brook. This past season, Cooper's sophomore year, he dominated at Finger Lakes Community College. Cooper's committed to Penn State.
As a senior at Canandaigua, Cooper pitched to the tune of a 0.43 ERA and was named All-Greater Rochester. He also made third-team all-state as a junior and first-team as a senior. The Braves took home sectional titles in both Cooper's junior and senior seasons.
Cooper was a two-way star at FLCC this spring as a sophomore. He batted .411 with 16 doubles, nine triples and eight home runs, driving in 71 runs in the process. On the mound, Cooper pitched 72.1 innings, racking up 136 strikeouts to go with a 1.62 ERA.
Cooper is cruising through three with 7 strikeouts. Fr. OF Al Xapsos gives @FLCCBaseball the lead with an RBI single in the bottom of the third.

After three complete, FLCC leads 1-0#PBRGroundForces @PBRNewYork pic.twitter.com/wFInqz0Gvu

— PBR_NY_Scout_Weitzel (@ny_pbr) May 11, 2019
As a commitment to PSU, Cooper will have the choice between signing a professional contract or heading to play for the Nittany Lions. If Cooper signs, he might report to either the Reds rookie teams in Goodyear, Arizona; Billings, Montana; or Greenville, Tennessee.
In November, Cooper said of his commitment to Penn State: "I really feel like I'm going to be able to develop myself as a player there. Every college player aspires to be a pro guy. That's something that they can help me get along the way."
Cooper's selection marks the 13th-straight year a Section V alumni was chosen in the MLB Draft. The full list of former Rochester ballplayers taken in the draft can be found here.