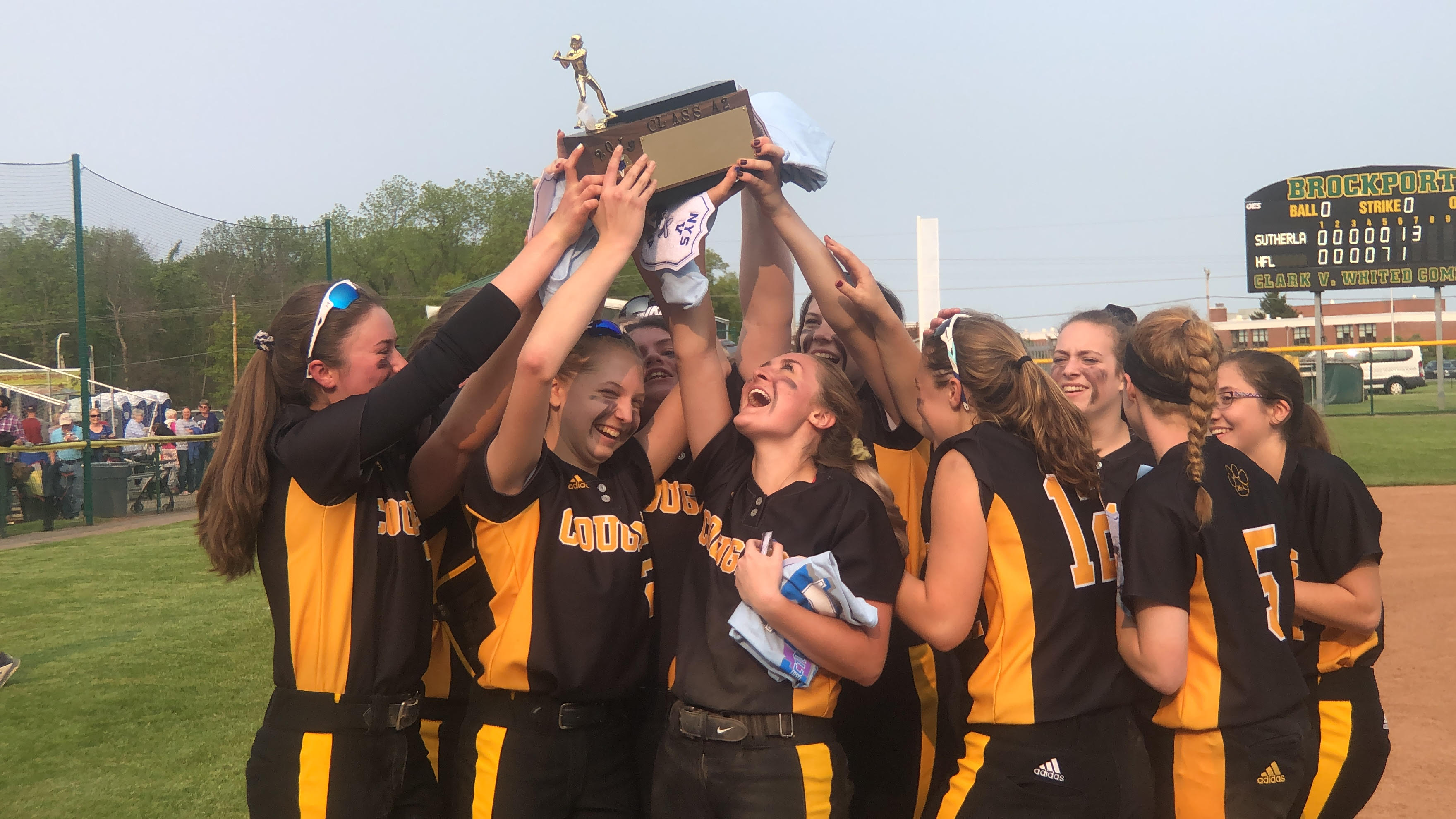 By BILLY HEYEN
BROCKPORT, N.Y. – Never before had Honeoye Falls-Lima softball players gotten to experience the elation they felt early Friday evening.
That's when a popup to the right side went for out number three in the Section V Class A2 final. Gloves were thrown to the ground. Cougars lept into each other's arms in celebration, the first-ever in HF-L history.
"First thing I said when I started softball at school was that I want to put more numbers up on our banner," HF-L pitcher Quinn Adcock said. "And this is the number I wanted the most."
And your Section V Class A2 🥎 champion is @HFLCSDAthletics @hflsoftball17 @HFLHS @HFLCSD. 8-4 over Sutherland. @PickinSplinters pic.twitter.com/MVqoowXUWg

— Billy Heyen (@Wheyen3) May 31, 2019
With an 8-4 win Friday over Pittsford Sutherland, Honeoye Falls-Lima claimed the first sectional softball title in school history. Adcock did the duties in the circle, putting up zeros long enough for her teammates to finally break through. In the fifth, HF-L exploded with seven runs to break it wide open, and Adcock finished the job with a complete game and 11 strikeouts to earn tournament MVP.
"All season, we've been preparing for this," Adcock said. "I came into the game knowing we could win. We proved to ourselves all season that we could be whoever we put our minds to be. And we came into this game knowing that we wanted it, and that's what I had in my mind the whole time."
From the outset, it looked like an old-fashioned pitchers' duel. Adcock pounded the zone with first-pitch strikes, getting ahead on nine of the first 12 hitters she faced. On the other side, Sutherland eighth-grader Addison Bernas matched the first four zeros of Adcock.
Both outfields made plays to keep runs off the board – HFL caught a two-out fly in the third to strand two Knights' runners, and Zoe Lehtonen slid for multiple catches in center for Sutherland to keep the Cougars off the board.
"Their outfield is outstanding, they can swallow (pop flies) up no problem," HF-L head coach Smith said.
When HF-L played Sutherland early in the season, the Cougars couldn't stop popping up, Smith said. They wanted to take a line-drive approach to the plate in the final, and although runs didn't come across early, they felt better about their swings.
In the fifth, the adjusted approach paid off. A bunt hit started the inning, then Morgan Bellevia ripped a double to right field to break the deadlock.
"As soon as the first ball was hit to go over there, everyone started to think that we actually have a chance at this," HF-L centerfielder Kailey Lincourt said. "So it just started to build up, and it just started to go, and we were on a roll from then."
After HF-L had expanded the lead to 3-0 in the fifth, Mariana Spitz came to the plate with the bases loaded. She doubled the advantage, launching a fly ball over the center fielder and clearing the bases, as the last two runners crossed the plate within feet of each other. Two hitters later, Lindsey Cody went up the middle to drive in one more, completing a seven-run frame.
"We don't focus on winning or losing," Smith said. "We focus on playing well. That's what I told them. 'You've got a great lead now, but we still have to play well, we have to have error-free defense,' and that's exactly what we did to get the win."
This bases-clearing double earlier was Mariana Spitz. @HFLCSDAthletics pic.twitter.com/6jSgia7tzy

— Billy Heyen (@Wheyen3) May 31, 2019
Adcock didn't want to think about how the game state had changed, though. In her head, she tried to imagine it was still tied at zero. Sutherland started to solve her, to an extent, pushing a run across in the sixth. But just as she did best all game, Adcock painted the outside corner for a swinging strikeout to escape further damage that inning. Her performance was "lights out," Smith said afterward.
Olivia Friedlander led off the bottom of the sixth with a double for HF-L and was able to come around to score, adding one more insurance run for Adcock. The early outburst turned out to come in handy, as the Knights added three more runs in the seventh for the final margin.
"I wish I could say I'm surprised, but I could see it coming with this group," Smith said. "They are a very, very hard working and a very talented group."
After receiving the sectional trophy, the Cougars attempted to pose for pictures before the P.A. could announce the all-tournament team. The photos would have to wait, though, and who could blame them? This was new.
So they delayed their poses for a few minutes, although the smiles never left the Cougars' faces. And after Adcock received her MVP plaque, the photographs could resume.
HF-L took plenty, along the first-base line and then off behind the dugout. The Cougars put on their new sectional champion shirts and wore their just-received medals. Then, they beamed for the cameras, creating snapshots and memories that were the first of their kind.