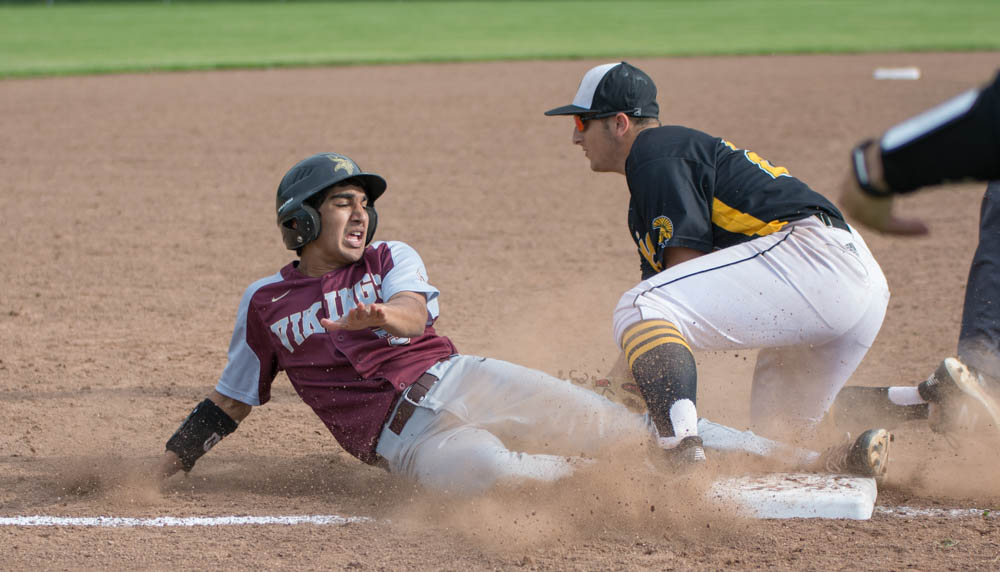 Class AA
No. 6 RUSH-HENRIETTA 0
No. 2 PENFIELD 2
With proficient pitching from both sides, Penfield was able to take advantage of a Rush-Henrietta error in the fifth inning and score the game's only two runs to advance to the Class AA Finals. Senior pitcher Sonny Burch struck out seven and walked one during his complete-game shutout of the number six seed. Rush-Henrietta's pitcher, Patrick Sherron, was just as impenetrable, giving up five hits and striking out two. The two Penfield runs came unearned due to a mishandle from the opposing first baseman. Bobby Bradley and Gage Ziehl were the two to drive in runs off a single to center and a sacrifice fly, respectively. Ryan Novy, Daniel Stapleton and Nathan Sobko each went one for three while Bradley was the only player to have a multi-hit game, going two for three. Daniel Tirabassi and Anthony Lang split the only two hits for Rush-Henrietta. Penfield will play McQuaid on Friday, June 1, for the Class AA Championship.
No. 4 HILTON 2
No. 1 McQUAID 5
Top-seeded McQuaid relied on Ryan O'Mara on the mound and at the plate to beat four-seed Hilton to advance to Saturday's Section V Class AA final against Penfield. O'Mara rode a slider-heavy repertoire to efficient innings and groundball outs. At the plate, he delivered two run-scoring hits. The senior made sure his team, a senior-heavy bunch, would get another crack at Frontier Field on Saturday. READ MORE
Class A1
No. 4 PITTSFORD MENDON 3
No. 1 GREECE ATHENA 4
Casey Saucke's quick hands took his bat barrel down and out of the strike zone to hammer the first pitch he saw from Colin Smith — a good pitcher's pitch, Smith said — on a line over the fence in left field. READ MORE
No. 3 CANANDAIGUA 4
No. 2 IRONDEQUOIT 0
Seth Vigneri's third inning grand slam provided all the offense needed as Canandaigua advanced to the finals. READ MORE.
Class A2
No. 4 EASTRIDGE 9
No. 1 HONEOYE FALLS-LIMA 1
Kyle Egan struck out eight and allowed one unearned run on four hits and one walk over seven innings as Eastridge advanced to its first sectional final since 1990. After surrendering back-to-back singles to lead off the third inning, Egan retired 11 of the next 12 batters he faced. The junior threw first-pitch strikes to 19 of 29 hitters. Trailing 1-0 in the fifth, the Lancers answered with two runs to take the lead. Caleb Delly walked to start the stanza. Egan bunted for a hit, and Austin Simone worked another walk to load the bases. Keenan Calenzo brought home the first run with a sacrifice fly, and Jayden Fayad doubled in the go-ahead run. Eastridge tacked on six more runs in the sixth. Egan, Dylan Hanley and Jacob Russo all got on base with singles in the sixth. Egan finished 2-for-3 with an RBI. Simone had two hits, two RBI and two walks while Delly had a hit and also drove in two runs. Eastridge plays Pittsford Sutherland on Friday, June 1, for the Class A2 Championship.
No. 3 PITTSFORD SUTHERLAND 10
No. 2 EAST 0
Ethan Hurwitz slid into home plate on Robert Nolan's grounder to second base for a 2-0 edge. John Messina and Provenzale tripled on back-to-back pitches as the Knights expanded their advantage to 6-0. READ MORE
Class B1
No. 4 BATAVIA
No. 1 LIVONIA
GAME POSTPONED: RESCHEDULED FRIDAY 5/31
No. 7 GREECE ODYSSEY 0
No. 6 GENEVA 5
Class B2
No. 4 WELLSVILLE
No. 1 WATERLOO
RAIN DELAY: GAME FRIDAY 5/31
No. 6 ATTICA
No. 3 DANSVILLE
RAIN DELAY: GAME FRIDAY 5/31
Class C1
No. 9 WARSAW 5
No. 4 WILLIAMSON 2
No. 3 CUBA-RUSHFORD 2
No. 2 GANANDA 9
Starting the game with just one run in the first four innings, Gananda's bats woke up in the latter innings to propel the Blue Panthers over the Cuba-Rushford Rebels. Trailing by one in the bottom of the fifth, Gananda capitalized on the removal of Cuba's ace, Daniel Emerson, after giving up two walks and a sacrifice bunt to start the inning. Nate Pinney took the mound in relief of Emerson and saw the first six batters he faced reach base. Zach Ciprich, Jaylen Castrechini, Tim McCLare and Luke Ciprich all registered a hit in the five-run inning. Gananda added three more in the sixth using a two-run triple from McClare and a sacrifice fly from Patrick Walsh. Senior pitcher Zach Ciprich went the distance for the Blue Panthers, giving up one earned run on five hits, five walks and eight strikeouts. Pinney, Ben Frank, Kaden Moyer, Andrew Clement and Curtis Shaffer all had a hit in the game for the Rebels. Gananda will take on No. 9 Warsaw for the Class C1 Championship on Saturday, June 1st.
Class C2
No. 12 CAL-MUM 4
No. 1 LYNDONVILLE 9
Using a six-run first inning, the Lyndonville Tigers took an early lead over Cal-Mum which would eventually be enough to propel them into the Class C2 Finals. In the first, Lyndonville was casually given an effortless advantage. Three walks, three errors, and a fielder's choice in the inning gave the Tigers an easy three runs. Eventually, bat and ball connected when Devin Rounds doubled and Matt Hess singled in the inning, both driving in a run. Cal-Mum produced all its runs in the sixth, but wouldn't be enough to overcome the deficit. Lyndonville will play Bolivar-Richburg on Saturday, June 1.
No. 7 BOLIVAR-RICHBURG 13
No. 3 GENESEO 2
The Class C2 semifinal matchup featured a hit parade from both sides, yet concluded with a lopsided score. Bolivar-Richburg took a four-run lead in the first inning and would be all it needed to earn its spot in the finals. With two outs to start the first, Hudson Evingham singled, Logan Bess was hit by a pitch and Micah Crump was walked to load the bases. All four baserunners would cross the plate after an error by the third baseman and a double from Landon Danaher in consecutive plate appearances. Geneseo was able to answer with a run in the bottom half of the first after a Liam Miskell single. Crump struck out nine Blue Devil's and spread out their nine nine hits over seven innings of work to hold them to two runs. Junior Camden Graves had three runs batted in off of one hit and three walks. Danaher finished with two hits and three runs batted in as well. Jake Hamilton and Miskell were responsible for driving in Geneseo's two runs and combined for five hits. Bolivar-Richburg will face Lyndonville on Saturday, June 1st, for the Class C2 Championship.
Class D1
No. 5 BRADFORD/HAMMONDSPORT 1
No. 1 HONEOYE 6
No. 3 ARKPORT/CANASERAGA 5
No. 2 C.G. FINNEY 0
Class D2
No. 5 SCIO 3
No. 1 AVOCA 8
Jake D'Arcy got the game started when he put a ball in play and reached first on an error. Cam Loucks joined him on the base paths with a single, and then Cory Bolzan crushed a two-RBI double into the outfield and scored a few batters later on an error as Scio took the 3-0 lead. READ MORE.
No. 7 ELBA 1
No. 3 BELFAST 3
In the low-scoring affair for the Class D2 semifinals, it wasn't Belfast that won the game, it was Elba that lost it. Both teams opened up their offensive half of the first with a run each. Elba's run came from Caleb Scouten's single and Belfast's pitcher, Kevin McCumiskey, struck out the side to prevent anymore early damage. Belfast answered using an Elba error on the first pitch and a single from McCumiskey to drive in the runner. The tie was broken in the third after Adam Enders reached on a walk and scored off two errors in the following play. Belfast would add one more run in the sixth off a wild pitch from Elba's pitcher, Evan Hare. McCumiskey finished with 13 strikeouts, one earned run and one walk. Enders went hitless in the game, yet accounted for two of Belfast's three runs. Belfast will battle Avoca on Friday, June 1st, for the Class D2 Championship.