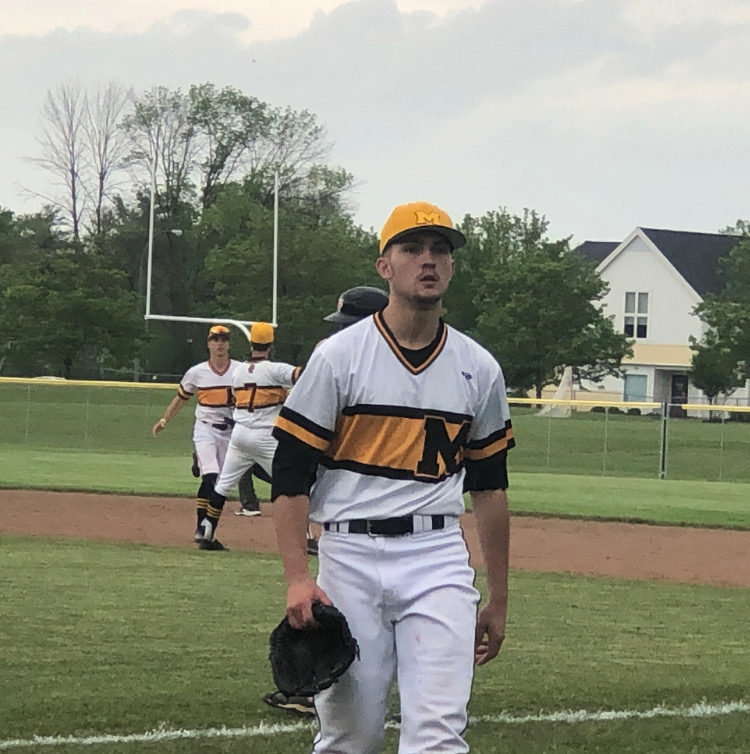 By BILLY HEYEN
ROCHESTER, N.Y. — McQuaid's season ended a year ago with a Ryan O'Mara ball four, allowing Victor a walk-off walk for the sectional title. Thursday, O'Mara again threw the final pitch.
This time, it was high heat, strike three, a complete game for O'Mara to send the Knights back to the Class AA sectional final for the third-straight year.
"We've been waiting for that game since when the season ended last year," O'Mara said. "We've all had our mindset right for this game, and it's a great feeling just to get my team back there."
Top-seeded McQuaid relied on O'Mara on the mound and at the plate to beat four-seed Hilton, 5-2, to advance to Saturday's Section V Class AA final against Penfield. O'Mara rode a slider-heavy repertoire to efficient innings and groundball outs. At the plate, he delivered two run-scoring hits. The senior made sure his team, a senior-heavy bunch, would get another crack at Frontier Field on Saturday.
"Ever since last year, walking off that field against Victor, this is the only thing I've been thinking about," McQuaid catcher Ben Beauchamp said. "I can't even imagine losing another one of those games."
Tuesday, when a "lights out" Hunter Walsh threw a shutout for McQuaid in the quarterfinals, he tossed single-digit breaking balls. He relied on spotting his fastball to huge success. O'Mara is almost a polar opposite. He threw sliders on more than 50 of his 88 pitches on Thursday. It's his "plus pitch," McQuaid head coach Tony Fuller said.
O'Mara has more control of that breaking ball than anyone else Beauchamp has ever caught. For a strike, in the dirt, anywhere Beauchamp calls it, O'Mara can deliver it.
"It's efficient, it's really tight and it's almost as hard as a fastball," Beauchamp said. "It looks like a fastball out of his hand, and when he can locate it like that, there's not many kids that are gonna touch him."
Ryan O'Mara rides the breaking ball to a scoreless first. By my count, he threw 13 of his 18 pitches as breakers.

Austin Jennings takes the hill for @hiltoncadets @hiltonvbaseball.

Beauchamp hits for @mcquaidbaseball. pic.twitter.com/f5KlVUbRQD

— Billy Heyen (@Wheyen3) May 30, 2019
Two strikeouts in the first inning for O'Mara came on the slider, and Drew Bailey gave the Knights a 1-0 lead with an RBI single in the bottom half.
Then two of the three second-inning Cadets' at bats ended on sliders, for a groundout and a flyout. The day continued on like that, O'Mara trying to set up his fastball with his slider. He knows that the more he throws the breaker, the quicker his heater will seem.
"I like to attack like (the slider's) my primary pitch," O'Mara said, "and I like to make my fastball seem like it's a lot faster."
As O'Mara continued to cruise, the energized Knights of the first few innings struggled to push runs across after Keeler Thomas' RBI single in the second. It's a problem that plagued them in the quarterfinal against Fairport, an eventual 1-0 victory in which they simply couldn't tack on.
But it was O'Mara himself that made sure that wouldn't be an issue Thursday. Twice he came up with a runner in scoring position, and twice the right-handed hitter turned on a pitch into left field to bring the run home.
"I just wanna help myself out, just put the ball hard in play and good things happen," O'Mara said. "It's really good to help myself out. It helps me out on the mound a lot."
Hilton scrapped to push two runs across against O'Mara in the sixth. But in part because of his bat, McQuaid had a cushion.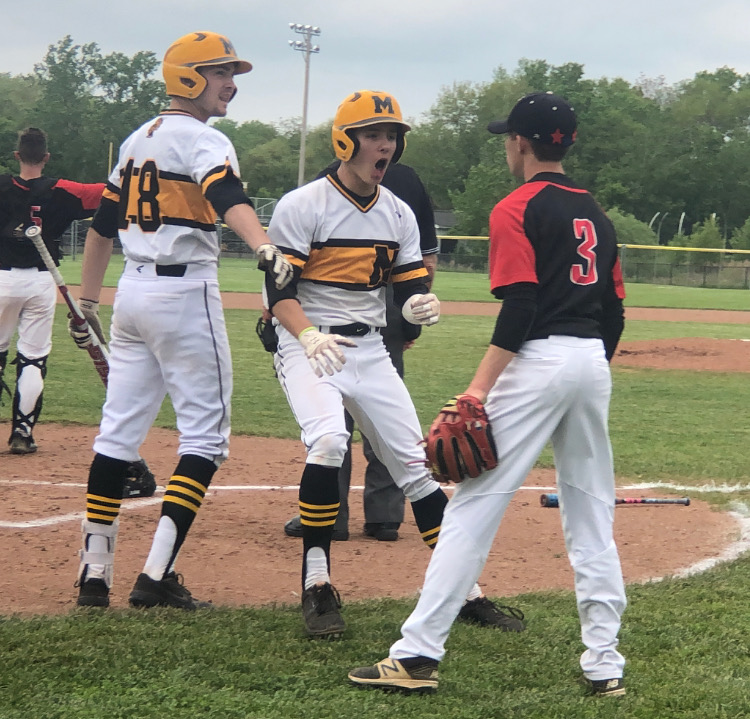 In the seventh, two of O'Mara's three outs again came on the slider. First, he threw one that Beauchamp caught and gunned out a runner attempting to steal second. Victory within reach at that point, Beauchamp played an air guitar in celebration. The very next pitch was a looking strike three on the slider for the second out.
And just as O'Mara explained afterward, the threat of the breaking ball brought him his final out. He threw two sliders over for looking strikes, then a third that was fouled off. So O'Mara went to his heater, up in the zone, apparent velocity higher than actual because of the three preceding sliders. The hitter couldn't catch up, and O'Mara had his postseason redemption.
"I know that's a huge confidence booster for him," Beauchamp said. "He started off strong this year, too, and he struggled through two starts, then his last two he's come out and been lights out."
There are four current Knights players who experienced a crazy comeback at Frontier Field to win the sectional title in 2017. There's another nine that were there last season, when Victor turned the tables with a walk-off win of its own. Saturday, at 10 a.m., McQuaid will take that field a third-straight season with the "brick," the sectional trophy, on the line.
The Knights' seniors have commencement rehearsal on Friday morning. On Sunday evening, they'll walk the stage for real. But on Saturday, they'll seek out something even greater, Beauchamp said.
"We all work so hard," Beauchamp said, "and I think everybody wants it more than anything in the entire world."