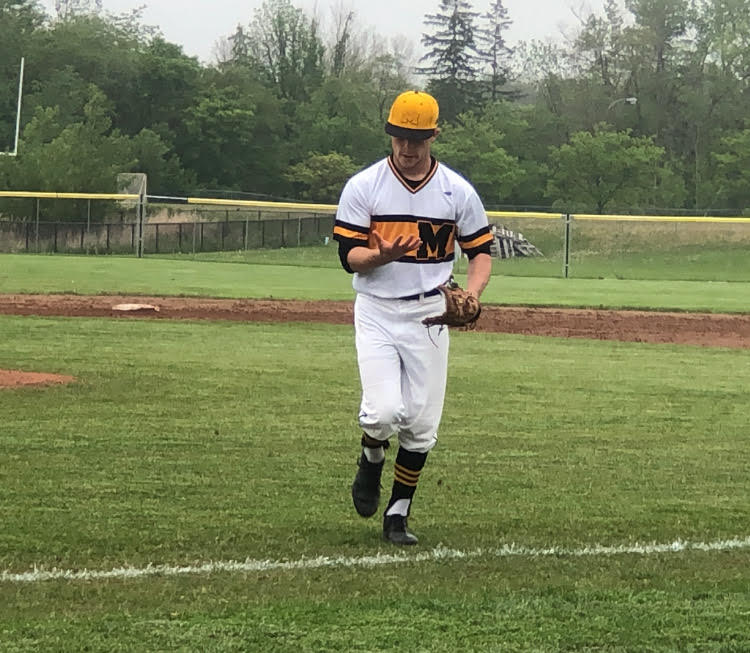 By BILLY HEYEN
ROCHESTER, N.Y. — After some of Hunter Walsh's pitches on Tuesday, McQuaid catcher Ben Beauchamp hopped out from behind the dish and shook his head side-to-side. They can't touch you, Beauchamp said his message was. Walsh knew that's what Beauchamp meant, and he proved his battery-mate correct.
"He was pretty close to untouchable today," Beauchamp said. "… He was lights out."
Walsh threw a three-hit shutout for top-seed McQuaid in a 1-0 win over nine-seed Fairport in the Section V Class AA quarterfinals. The Knights were able to push a run across in the sixth inning to help Walsh, who finished with 14 strikeouts, including a stretch of nine in-a-row midgame. The senior righty entered the outing with a 0.68 ERA, so he lowered that to an even further miniscule number, delivering to push McQuaid into a semifinal meeting with four-seed Hilton on Thursday.
"He's been doing that all year, but to do it on this stage…" Fuller said. "He's used to it. Four-year guy, this is his third year doing it. Really not surprising, but it's fun to watch every time he does it."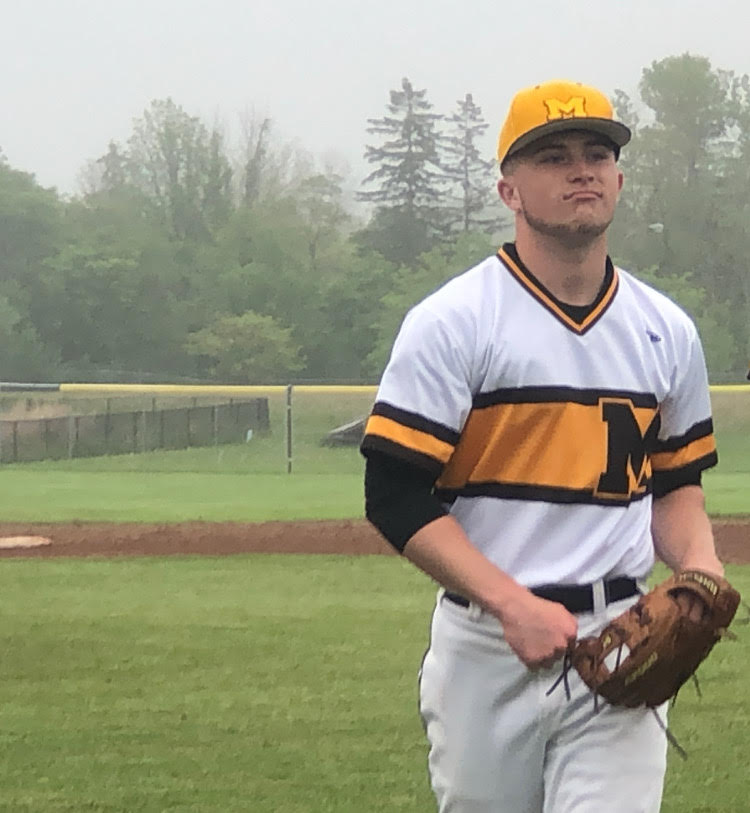 It was a meeting of aces on Tuesday: Fairport's Josh Van Bramer against Walsh, both seniors who've topped their teams' rotations all season. Van Bramer had just pitched against the Knights on Thursday and struggled a bit, but he had his good stuff on Tuesday.
Both pitchers relied on spotting their pitches on the outside corner of the plate, where the strike zone appeared a few extra inches wide. And both had the strikeout pitch working early.
After two innings, Walsh had struck out five and Van Bramer had punched out four. Van Bramer put up a few more zeros, but Walsh started to separate in terms of being untouchable in the middle innings.
Beginning with the last two batters of the second through the first batter of the fifth, Walsh struck out nine hitters in-a-row. All nine came via the heater, including three painted on the outside corner for looking strikeouts. Beauchamp said Walsh only missed three spots all game, a performance in which he threw more than 100 pitches.
As Walsh jogged off the field after ending the third on a strikeout, eight Ks through three, he looked down at his right hand. "It's hot," he repeated twice.
"For me, it's kind of just like, I'm in a zone," Walsh said. "I'm hitting my spots. Just had to keep going and keep working."
Nine in a row for Hunter Walsh. @PickinSplinters @mcquaidbaseball pic.twitter.com/yBD8dVWobG

— Billy Heyen (@Wheyen3) May 28, 2019
The scoreboard still showed two zeros, though, even as Walsh continued to cruise along. Beauchamp said it got "a little tight" in the middle innings as both teams had the game there for the taking.
Beauchamp led off the bottom of the fifth with a double, but a full-out sprawling catch in right field denied the Knights a run in that frame. Finally, in the sixth, they broke through.
Ryan O'Mara led off with a walk and then Charlie Merkley smashed a liner off the left-center fence for a double.
"Charlie's been swinging it all year, and I knew if he got a pitch in the zone he wasn't gonna miss it," Beauchamp said. "He's one that doesn't miss many fastballs that are mistakes, and I knew when he put a good swing on that, I knew something good was gonna happen."

In a pitchers' duel, it was fitting that the lone run didn't come off contact. Instead, a wild pitch brought O'Mara's pinch-runner, Nick Nugent, to the plate. The Knights burst out of the dugout and mobbed Nugent briefly. They'd gotten Walsh the only run he'd need.
The Red Raiders denied any more runs, escaping with two strikeouts and a groundout to keep the bases loaded and the deficit just one. Fuller admitted he was worried that his team hadn't tacked on insurance. And Fairport led off the top of the seventh with a single.
But then Walsh induced a grounder to his fellow senior Noah Campanelli for a 6-3 double play. And he got a flyout to Drew Bailey in center field to end it.
Hunter Walsh throws a three hitter with 14 Ks and @McQuaidBaseball advances to the AA semifinals with a 1-0 win over Fairport. @PickinSplinters @McQuaidJesuit pic.twitter.com/CQ3PlXl7Ux

— Billy Heyen (@Wheyen3) May 28, 2019
The Knights have been here before. They've made a habit of keeping sectional games close in the past three seasons. But they've also made a habit, with the exception of last year's final, of winning those close games. Tuesday was no exception, and on a misty, cold late-May day, McQuaid ensured its season would continue.
"This was a game for us where we just needed to survive, advance, and we can all take a collective breath and get back after it on Thursday," Fuller said.