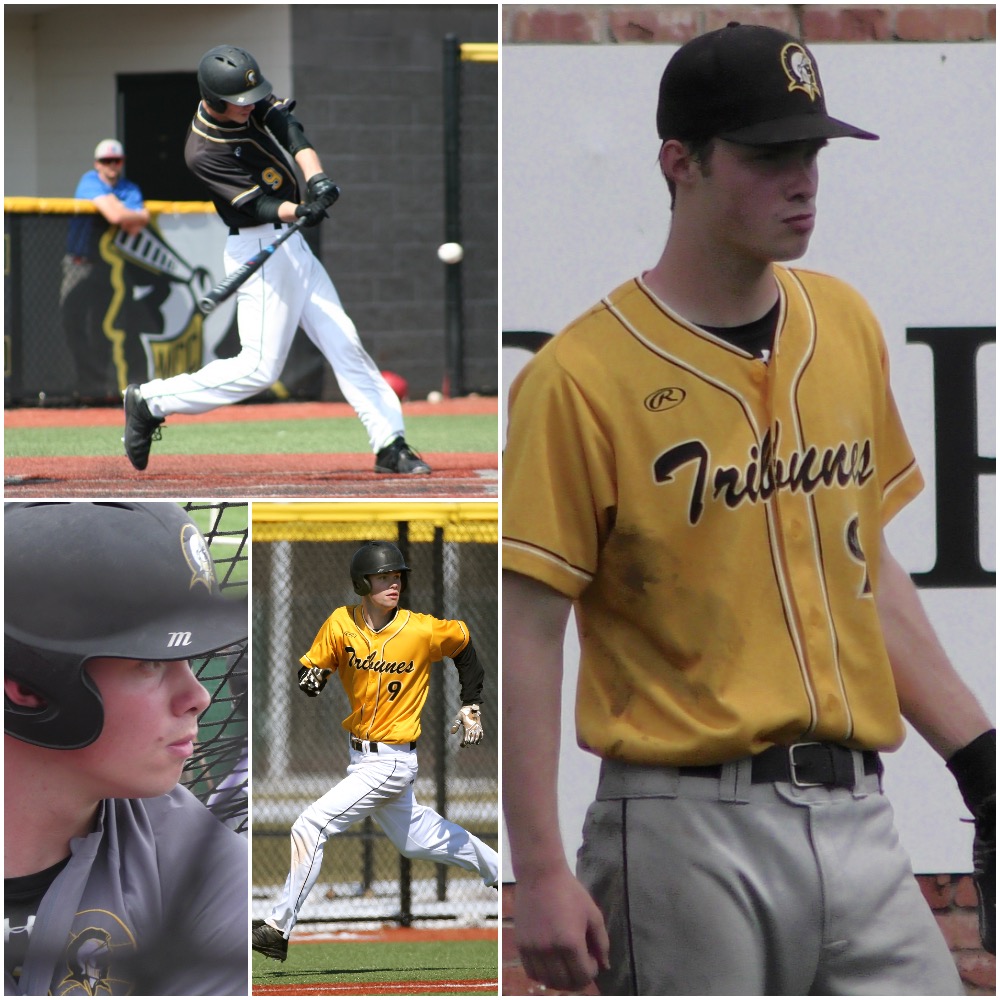 By PAUL GOTHAM
ENID, OK — TJ Lucey spent 45 minutes using a hair dryer Sunday night. No, the Monroe Community College outfielder wasn't working on his 'do. Rather he was getting himself prepared for the next day's game.
Heavy rains that caused flash floods in Northern Oklahoma left the outfield grass at David Allen Memorial Ballpark (turf covers the infield) soaked. Outfielders looking to plant feet and change direction were brought to their knees. The grass played more like ice with playing frequently sliding to spots. Mud-stained pants looked en vogue among those of the NJCAA Division II World Series.
Having logged nine innings in those conditions earlier in the day, Lucey made use of the hotel appliance to dry his game cleats.
"I'd say a good 20 minutes per shoe wiping them down and drying them and another 20-25 for each with a blow dryer. That was brutal."


Amid those variables, though, TJ Lucey shined. The Tribunes left fielder made three grabs on the day – none more special than the final out of the third inning. With a runner on second and MCC clinging to an 8-7 lead, Northeast CC's Derek Botaletto sent a fly ball into left that got caught in the wind.
Lucey turned, tracked, pivoted and gathered himself before going to his knees at the warning track to preserve the lead.
"I turned going to left center," Lucey said the next day during batting practice. "I saw it cutting, going with the wind. I kinda like drop-stepped and started heading toward the line. Just lucky I got there."
The redshirt sophomore made the play sound simpler than it was. NJCAA TV featured the clip on Twitter.
OMG! Look at this great catch in CF by TJ Lucey, IN THE MUD #SCtop10 @SportsCenter #NJCAABaseball @NJCAA @TribuneBaseball pic.twitter.com/z9jtdtxdUQ

— NJCAA TV (@NJCAATV) May 26, 2019
"It was kinda tough to do with all the water in the grass out there," Lucey added. "I was trying to take short, choppy steps so I could keep my balance, stay on my feet. When I finally got to the spot, I knew I had to launch."
The conditions allowed the Tribs left fielder to display on a big stage what has become commonplace over the past two seasons at Tribune Field on the MCC campus.
"Best defensive outfielder I've seen in my 14 years at Monroe," Tribune head coach Dave Brust said. "You have to see him on a daily basis to appreciate that. Our outfield is very tough to play because of the wind, because of the size, because of the amount of foul ground. And he makes it look easy. He makes hard plays look routine."
Lucey has had a reputation for playing special defense since his days at Fairport High School. As a senior, it was his play in the field that helped the then No. 6 Red Raiders advance to the Section V Class AA semifinals.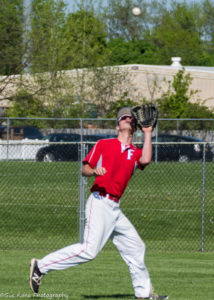 In Fairport's 6-3 win over then No. 3 seed McQuaid, Lucey gunned down the go-ahead run at the plate in the fifth. Two innings later, he made a twisting over-the-shoulder grab to send the game to extra innings.
"I've always loved playing defense," Lucey said. "I was always known in high school for being a solid outfielder. It kinda just transitioned here."
Brust recognized the young player's abilities and versatility early in his career utilizing him at left field and then at first base.
"He's got terrific hands," Brust noted.  "So when he comes into the infield and plays first base, you think he's been playing first base every day. When he goes back in the outfield, you're getting that range. He tracks balls at high level, and he throws well. He always hits his cutoff man."
"I got the reputation as being a good defensive player, so he moves me all-around the field," Lucey said. "It kinda gave me the opportunity to play a lot, so I'll take it."
Despite those contributions, Lucey found himself on the bench earlier this season.  After appearing in 29 straight games, Lucey watched from the dugout as his teammates took on regional foe Mercyhurst NE.
VIEW MORE SUE KANE PHOTOS HERE. 
"We missed him instantaneously," Brust said. "He polices the dugout. He's the guy making sure everybody is taking care of their business. In many ways, he's our quiet captain."
"I was disappointed, but I didn't see any wrong choice there," Lucey said referring to teammate Ethan Pasco (Saint Paul Catholic/Niagara Falls, ON) who took his place in the outfield. "He was coming back from injury. We were seeing how he would do. He played great. He was batting .600 at the beginning of the year before he got hurt."
Lucey finished the season hitting .319 with eight doubles and 36 RBI. He was second to only teammate Cas Sobaszek (Rush-Henrietta) with 28 walks. His on-base percentage put him at fourth among players seeing action in 40 or more games this season.
"What has to be appreciated with TJ is that he's coachable," Brust said. "He grown. He's turned into a good offensive player. He's a good baserunner. He's a smart baseball player. He has sneaky footspeed on the bases. He's been an everyday player for two years. That says a lot."