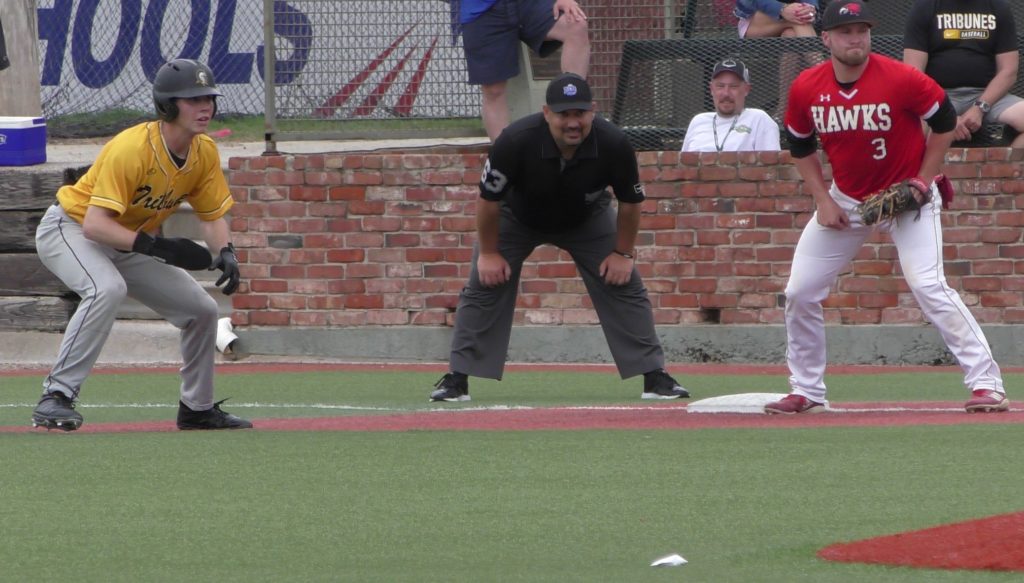 By PAUL GOTHAM
ENID, OK — Three different players collected three hits apiece, but it wasn't enough as the Monroe Community College Tribunes fell to Northeast Community College (NE), 13-12 in the opening round of the 2019 NJCAA Division II World Series at David Allen Memorial Park on Sunday.
Cas Sobaszek (Rush-Henrietta) drove in a team-high four runs including a two-run single in the third to give Monroe an 8-7 lead.
Trey Brown (Aquinas) connected on a two-out, two-run double in the fifth to give MCC its largest lead of the game at 11-8. Monroe held an 11-9 advantage going into the bottom of the eighth when Northeast struck for four runs – all with two outs.
First-pitch hacking: Cas Sobaszek delivers with his third hit, a two-run single, to give the @MCCTribunes an 8-7 lead going to the bottom of third. pic.twitter.com/HmazDr3bGM

— Paul Gotham (@PickinSplinters) May 26, 2019

Jose Ramos (Poinciana/Kissimmee, FL) went 3-for-5 with a double, two runs scored and an RBI.
Brennen Smith (Webster Thomas) came out of the bullpen with bases loaded and two outs in the fourth and struck out the first batter he faced. The left-hander worked four innings and left game in the eighth with runners on second and third, two outs and the 11-9 lead. The left-hander struck out eight and walked one.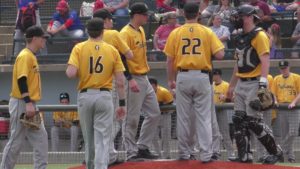 Sobasezek led the game with a single and scored from first when Sam Loew (Binghamton) tripled to right right field. Evan Magill (Notre Dame Catholic/Ajax, ON) made it a 2-0 game with a base hit to left field.
Trailing 7-4 after two innings, the Tribunes sent nine to the plate and scored four runs in the third. Brown started the stanza with a single. Magill walked, and Ramos brought home the first of the frame with a single.
Logan Martella-Tasick (Penfield) finished 1-for-3 with a pair of walks and three runs scored. Phil Ferranti (Webster Schroeder) and Sean Flannery (Wayne) both singled and scored.


Northeast's Drew Smith finished 4-for-4 including a solo home run, three RBI and four runs scored. Bryce Walker was 4-for-4 with four RBI and two runs scored.
Donovan Warren tied the game at 11 with a single up the middle. Derek Botaletto provided the game winner.
Heavy downpours in the area over the previous few days played a role in the outcome. Both teams took advantage of soggy outfield conditions to score runs when outfielders lost footing.
OMG! Look at this great catch in CF by TJ Lucey, IN THE MUD #SCtop10 @SportsCenter #NJCAABaseball @NJCAA @TribuneBaseball pic.twitter.com/z9jtdtxdUQ

— NJCAA TV (@NJCAATV) May 26, 2019

With the loss, Monroe will face elimination for the rest of the tournament. The Tribunes play Monday at 10 AM (CST) against an opponent TBD.