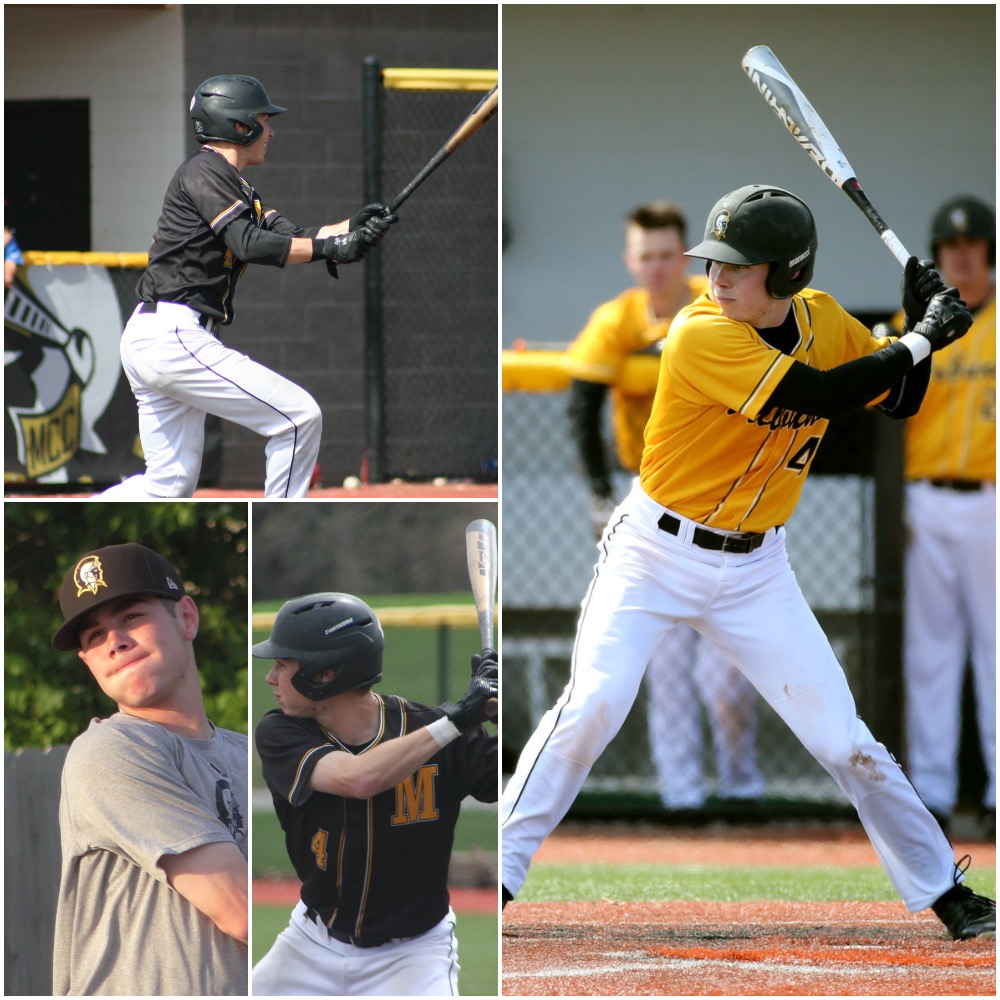 By PAUL GOTHAM
With the title giving a nod to the Rogers and Hammerstein classic song Oklahoma!, the first in a series chronicling the Monroe Community College baseball team's trip to the 2019 NJCAA Division II World Series.  
ENID, OK — The Monroe Community College scorebook reads 6-3 and L6. Two plays in two separate innings made by one player. The impact might be measured in the distance of 1,300 miles.
Monroe CC shortstop Cas Sobaszek (Rush-Henrietta) singlehandedly short-circuited a pair of SUNY Ulster rallies and the Tribunes went on to clinch a spot in the 2019 NJCAA Division II World Series.
"Both those plays, if they aren't converted, I'm not sure we're here," Monroe head coach Dave Brust said of his squad's appearance in the National Championship. "It's conceivable that we just get blown out."
With runners on second and third and three runs already having crossed the plate in the second inning of the opening game of the East District Championship, Sobaszek took away a sure hit. The sophomore ranged to his left, went to the turf, sprung to his feet and delivered a strike across the infield.
One inning later with a runner on first and MCC trailing 4-1, Sobaszek took away another sure hit up the middle when he dove and snared a smoked line drive off the bat of Senators' designated hitter Justin Rodriguez.
Momentum halted.
Monroe scored seven runs in the bottom half of the inning and four more in the next to pull away for the 20-11 victory.
"That line drive he caught with a full extension that's a play that not many people can make," Brust added. "On both plays, he just willed it to happen."
Two falls earlier, Sobaszek arrived on campus a player without a position.
"I was in right field, left field, first base and third base" Sobaszek said recalling the first semester of his freshman year. "Shortstop was eventually where I ended up."
And shortstop is where he has stayed.

"I wasn't convinced he was a shortstop except that every time we put him out there, the plays would get made," Brust noted. "Ultimately, you saw a really good athlete. You saw a young player who could make plays wherever you put him. What you liked about him, wherever you put him, he was happy. He loves to play."
Sobaszek has grown into the position.
"On every pitch he has something for the rest of our defenders," Brust explained. "We certainly move our defenses around, but he knows where to go. He knows where to be. He has command of what's going on with every pitch.
"He certainly has evolved into a high IQ shortstop."
It didn't come without adjustments for the sophomore season.
"He had to get rid of his double and triple pops in the mitt and his double and triple pumps before he throws and he has," Brust said.  He's made a lot of changes in cleaning up his play at shortstop, so that he could be a high-level shortstop.
"His arm is good. His range is good. But his will to make plays and his will to win are amazing."
His defense has kept him on the field and he has delivered on offense.
Sobaszek set an MCC program record when he scored his 118th run. He matched another record when he stole his 62nd base.
"It's amazing," Sobaszek said of the records. "All the success that's been through the program, it's great to be on the top of a category."
He will get a chance to break the record when Monroe takes the field this weekend at David Allen Memorial Park. Having dropped their only two games played in the world series a year ago, Sobaszek is one of three starters (along with Phil Ferranti and Sam Loew) returning to the Tribunes infield.
"Obviously, being there was an eye-opener," Sobaszek said of last year's experience. "You just use your baseball IQ. The more you play, the more you learn."
Monroe CC opens the 2019 NJCAA Division II World Series against Northeast (NE). Originally scheduled for a 4 PM first pitch on Saturday, inclement weather has delayed the game's start until 7 PM.
Monroe is making its second straight trip to the National Championship and third in the last four years under Brust.