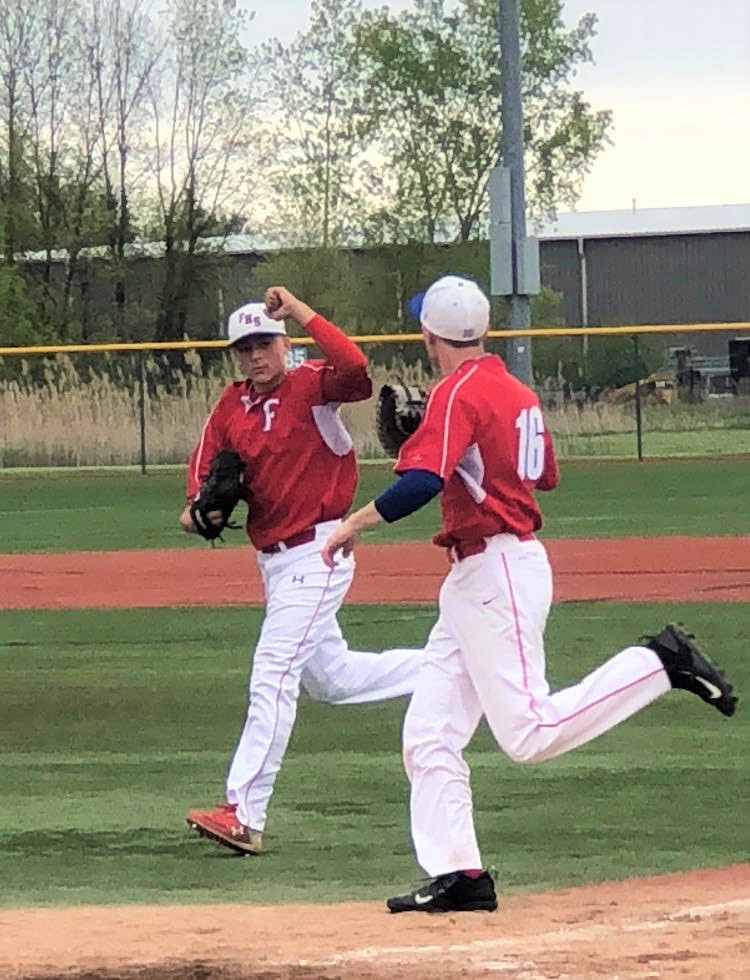 By BILLY HEYEN
WEBSTER, N.Y. – As Fairport starting pitcher Anthony Roides walked away from his postgame interview, his catcher, Tyler Holmes, walked over to answer a few questions. It was posed to Holmes that Roides had just completed a solid game.
"Oh, hell yeah," Holmes interjected.
Nine-seed Fairport will play another day thanks to Roides, who pitched 5.1 scoreless innings and finished 3-for-4 at the plate in a 6-1 win over eight-seed Webster Schroeder. The lefty kept his pitch count down, only tallying one strikeout but working the inner half to induce soft contact. Roides' performance sets up a Fairport rematch with Class AA one-seed McQuaid, which walked off against the Red Raiders on Thursday.
"I saw confidence," Fairport head coach Brian Reed said of Roides. "I saw him go out there on the mound and he knew he had it under control. He knew he had himself under control. When he pitches with that kinda confidence, he's tough."
Before Roides threw his first pitch on Saturday, a fan yelled from the third-base side.
"Let's go Anthony!" he shouted. "Have a game out there, kid."
Roides didn't waste time getting outs, inducing a groundout to his third baseman on the first pitch he threw. That followed with another grounder and a lineout for a 1-2-3 first inning.
The southpaw worked from the stretch no matter whether runners were on base, and that allowed for his lower half to get involved in his delivery. Each time he lifted his right leg, Roides leaned back, creating a torque that sent his hips rushing toward the plate and produced a followthrough of Roides' weight well onto his front leg.
"Just fill up the zone, let them hit it, that's all," Roides said of his approach. "… When the defense is making plays like that, it's hard to score."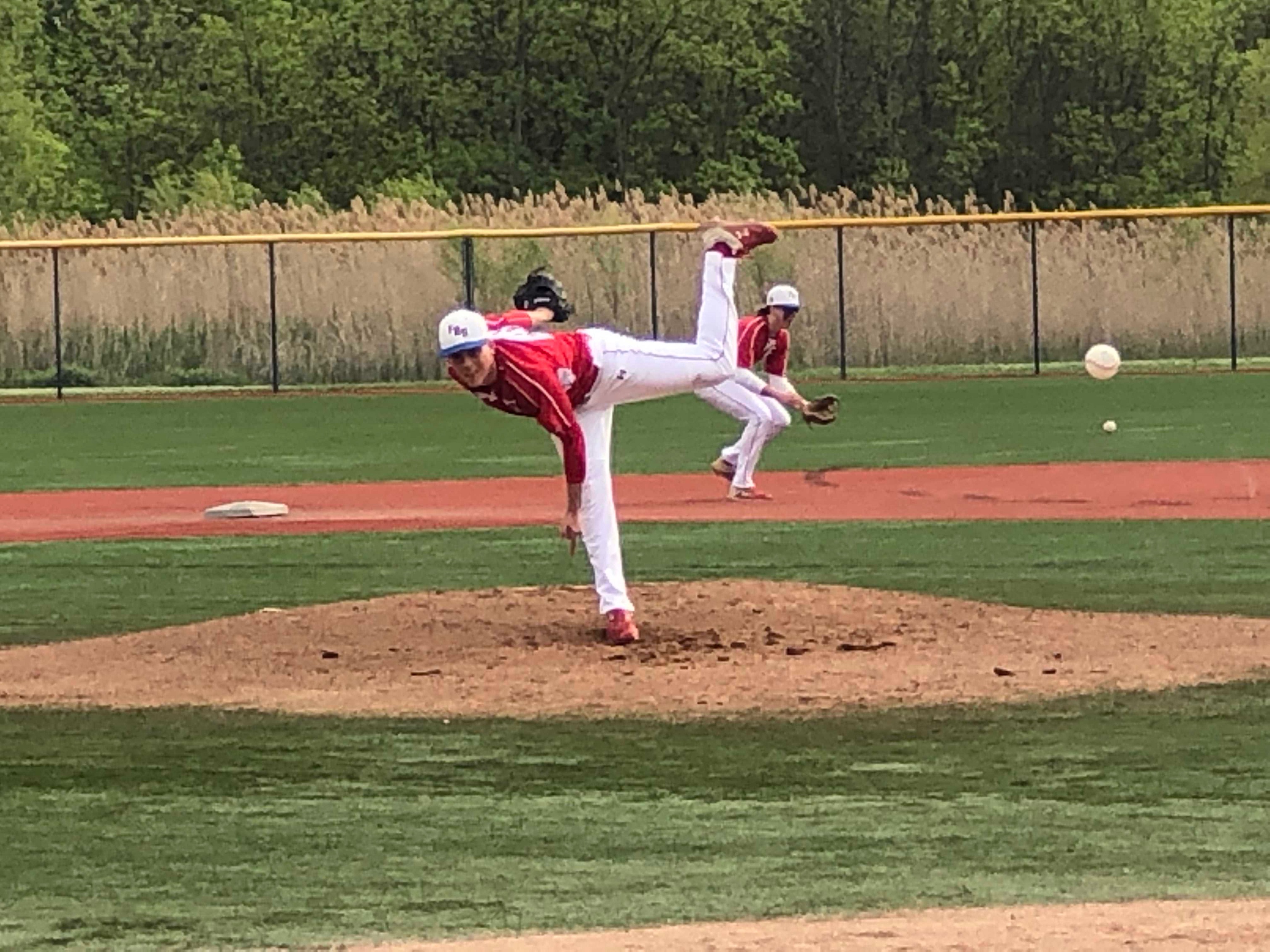 Roides didn't allow a hit until the third, when he worked around two singles to keep the Warriors scoreless. Fairport had broken through with two runs on a Derek Watson single in the third, and Roides helped his own cause in the fourth. On a 2-0 pitch, the righty hitter blooped a double into shallow left field to take a 3-0 lead.
Then in the sixth, as sprinkles of rain started to fall on a day with thunderstorms in the forecast, Fairport tacked on three more. Aaron Jenks led off the inning with a single into center and then stole second before Parker Houde drove him in with a single of his own up the middle. After a bunt, Roides was set up to do more damage himself, and he delivered.
This time, Roides jumped on a first pitch strike and lined it over the shortstop. Houde hustled home, and a wide throw allowed Roides to move all the way to third on the play, where he stood for just one pitch.
"This game, I was focusing on getting my foot down early and just seeing it," Roides said. "That's all, just seeing the ball well."
Anthony Roides helps himself again. 5-0 @FHSBaseballFY13 @FCSDSports in top six. @PickinSplinters pic.twitter.com/9eLTdhej09

— Billy Heyen (@Wheyen3) May 25, 2019
Tyler Holmes, Fairport's catcher, lined a single up the middle to score Roides, who jogged home while clapping five times. Holmes finished 2-for-3 with an RBI, a run and a stolen base.
"We've been focusing on hitting line drives back up the middle because we haven't been hitting a lot of line drives lately," Holmes said.
Holmes drives in Roides, 6-0 Fairport pic.twitter.com/EESLFNtVkP

— Billy Heyen (@Wheyen3) May 25, 2019
It continued to be Roides' day in the bottom of the sixth, as the first batter smoked a liner toward short that was reeled in for the first out. But after a curveball to get ahead 0-1 on the next hitter, some thunder sounded overhead and the game went into a near-hour rain delay.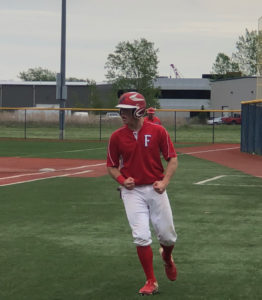 By the time the game was back on, Reed had decided to pull Roides; it'd be risky for him to try and get warm again after that amount of time.
"The rain delay's probably the only thing that stopped him," Reed said.
From there, the Red Raiders went with righthander Jake Conklin, who allowed a run in the sixth but escaped a bases-loaded jam. Conklin induced a line-drive double play in the seventh to seal the win for Fairport.
With the win comes a familiar destination for the Red Raiders: A trip to McQuaid to play the top-seeded Knights, on a field that just hosted a McQuaid win over Fairport on Thursday. The Red Raiders came back to take the lead Thursday before the Knights walked them off in the seventh. One more scoreless inning would've pulled the upset.
But all that was on the line then was home-field advantage for Fairport's game Saturday, which turned out not to matter in the result. Tuesday, it'll be a spot in the Class AA semifinals or a trip home. When Holmes was asked about McQuaid, he said that he knows Fairport can hang with them, then referenced the need for a good defensive game. But then, he summed up a daunting task more simply.
"We gotta play our best game of the year," Holmes said. "That's what it comes down to."