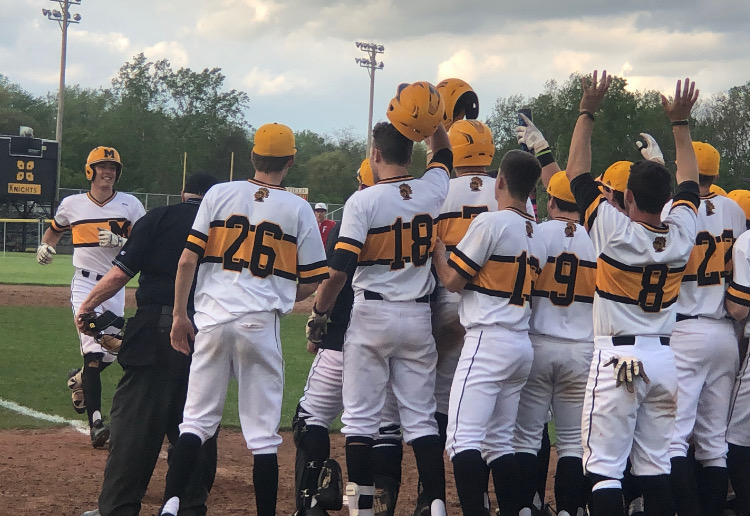 By BILLY HEYEN
ROCHESTER, N.Y. — The wind was blowing out all day, and on a number of occasions, it seemed like McQuaid hit balls that it should've carried out of the ballpark. On the game's final pitch, a swing by cleanup hitter Drew Bailey, he might not even have needed the wind.
Bailey turned on a first-pitch heater, sending it high and far and gone to left field. After the Knights blew an early lead on the final day of the regular season, Bailey delivered the blow that sent McQuaid into sectionals on a high note.
"It's awesome," Bailey said. "Not even just for me, for the whole team to have an experience like that going right into sectionals, couldn't be better."
Drew Bailey calls GAME. 3-run walk-off ???? to left field. @McQuaidBaseball wins 9-7 over Fairport and finishes the regular season 18-2. @mcquaidjesuit @PickinSplinters pic.twitter.com/jMNANmGlh9

— Billy Heyen (@Wheyen3) May 23, 2019
The Knights rallied to beat Fairport, 9-7, on Thursday evening. Bailey's walk-off homer pushed McQuaid to 18-2 in the regular season, their best mark this decade, and hammered home an already secured one-seed in the Class AA sectional bracket. It proved that a strong Knights' order will be a tough out in the postseason.
"We all know we can hit," Bailey said. "We all know we can hit against any pitcher that comes out here. We're never out of a game."
At first, the thought of a rally seemed far-fetched. McQuaid was swinging it right from the beginning, racking up three runs in the bottom of the first inning. The big blow came courtesy of Ryan O'Mara, a two-run double to the left center gap.
On the other side of the ball, senior catcher Ben Beauchamp was slinging the ball around early and often, helping out his freshman starting pitcher, Will Taylor. Beauchamp ended the first inning with a backpick and the second with another throw behind a runner that led to a 2-6-5-3 double play.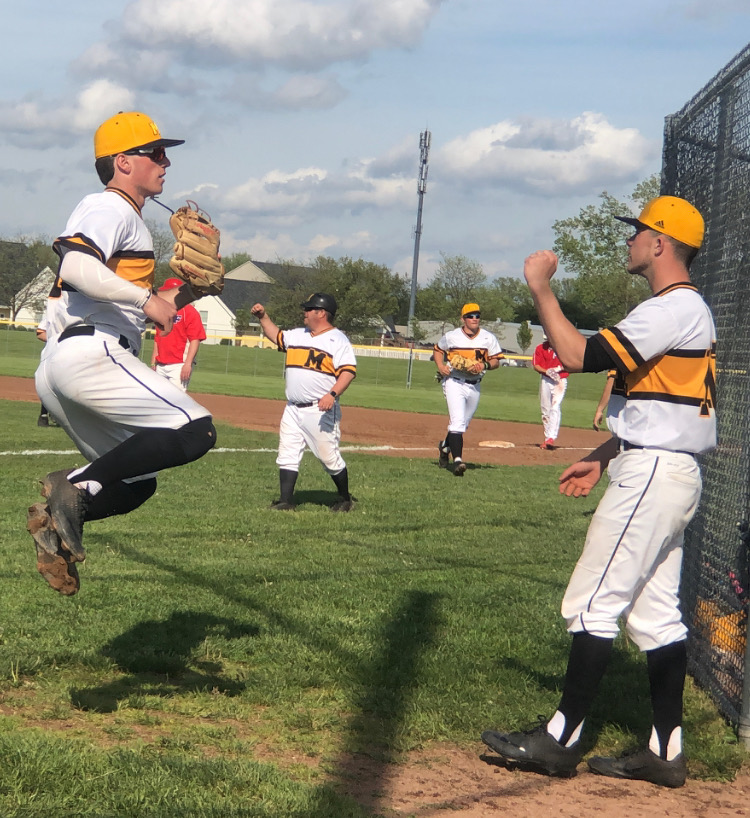 "Ben does that all year," McQuaid head coach Tony Fuller said. "He throws the baseball. He always looks for that extra out."
The Knights added another run in the second when Beauchamp tripled over the centerfielder's head on a 3-2 pitch. Noah Campanelli, another senior, followed that up with a run-scoring double to the right-center gap.
In the fourth, Zach Lee drove a liner into right field that scored O'Mara from second base after he'd walked with one out. McQuaid led 5-0, and even after conceding one in the fourth, added one right back on a Campanelli sac fly to lead 6-1 after four.
The wheels started to fall off in the fifth, though, as Fairport worked two runners on base for Josh Van Bramer. He turned on the ball to homer to right field and turn a five-run lead to two.
Josh Van Bramer just turned on one and we have a ballgame. 3-run blast for the Fairport lefty. 6-4 McQuaid in the fifth. @PickinSplinters @FCSDSports @FHSBaseballFY13 @JVB2019 pic.twitter.com/7f0431NZNS

— Billy Heyen (@Wheyen3) May 23, 2019
The Red Raiders pushed one more across after Van Bramer's homer to pull within one. In the sixth, they notched two more runs, both on wild pitches, to take a 7-6 lead with six outs to get. McQuaid, though, didn't waver in its confidence.
"Nobody's got any pressure on them because they know the next guy's got them if they don't get their own job done," Beauchamp said. "I think that's what really helps us stick together a lot of the time is that we don't gotta worry about being the hero because the next guy can be the hero."
When Beauchamp stepped to the plate in the bottom of the sixth with two outs, he found a pitch he liked and "got that one pretty good." His flyball to left center looked like it had a chance to go out, a blow that would've snatched the lead back. But it didn't even fall, caught in front of the fence instead. Beauchamp grabbed the helmet off his head in frustration and crouched near second base in disbelief.
That could've been the lasting image McQuaid took into sectionals: Beauchamp bent over near the middle of the diamond, a fist-pumping Fairport pitcher walking off the field. It wouldn't have changed the fact that the Knights were the one-seed or as deep as any team in the section. But it would've introduced doubt to a team that doesn't lack for confidence.
Instead, they had three more outs to use, and they didn't need any. Campanelli singled into right to lead off the bottom of the seventh. Tyler Griggs followed with his own single into right as Campanelli scampered from first-to-third. In, step Bailey. Out, goes the baseball, "a tank," Beauchamp called it.
The lasting image wasn't a disappointed Beauchamp, but instead a mob scene at home plate with him near the center. Instead of blowing a five-run lead, McQuaid heads into sectionals with a walk-off win.
"It's huge," Beauchamp said. "It's literally drastic opposites. That's black and white right there… If we can go off on something like that, mobbing our four hitter at home plate, that feels pretty good."