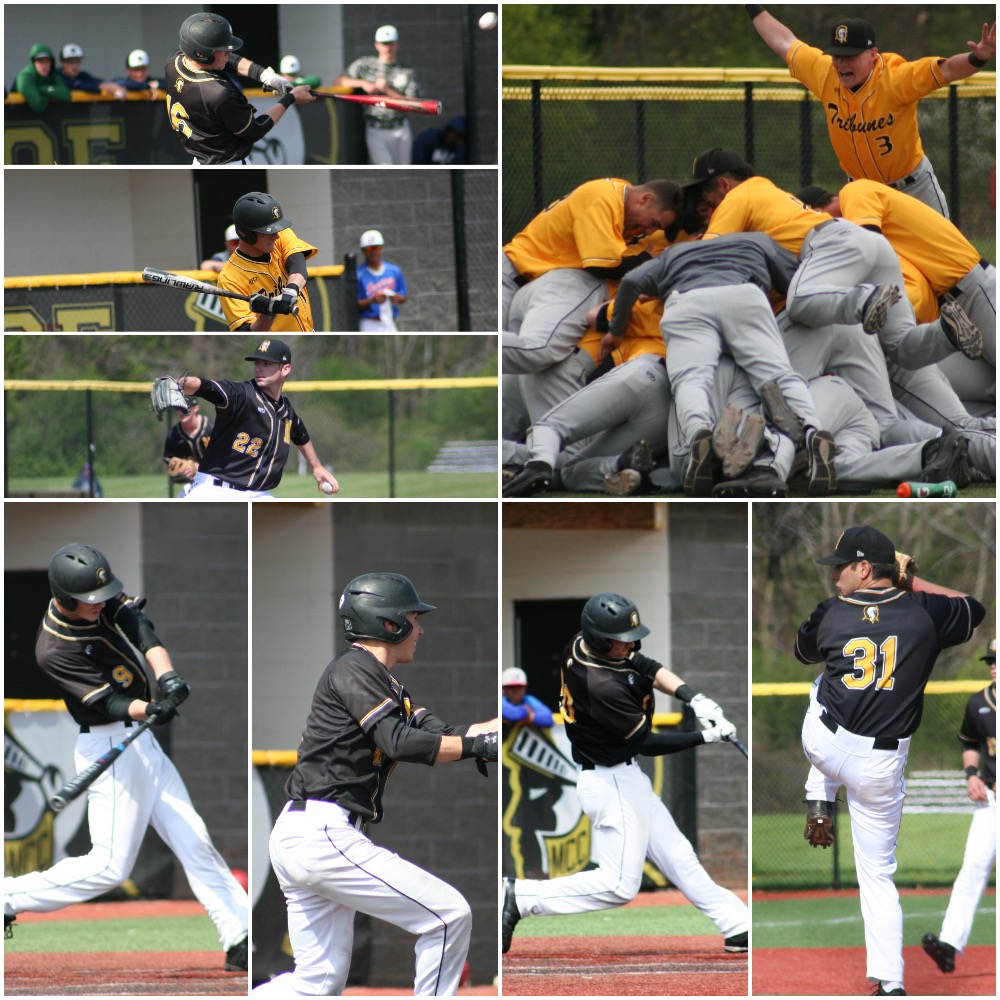 By PAUL GOTHAM
ENID, OK — Making their second consecutive trip and third in four years to David Allen Memorial Park, the No. 10 seed Monroe Community College Tribunes will open the 2019 NJCAA Division II World Series on Saturday against Northeast Community College (NE). A 4 PM CST first pitch is scheduled.
The trip to the NJCAA WS will be the 10th in Monroe CC program history and third under current head coach Dave Brust. The Tribunes are one of three schools making repeat appearances to the National Championship joining Madison (WI) and Northern Oklahoma-Enid.
Matt Petrossi (Fairport) hurled seven shutout innings to help Monroe CC (29-19) clinch the East District Championship with a 6-0 victory over SUNY Ulster last Saturday. Petrossi scattered seven hits, struck out five and walked one. The redshirt sophomore improved to 5-3 on the season and has thrown a team-high 57.2 innings while walking  just 15 batters.


Sophomores Cas Sobaszek (Rush-Henrietta) and Sam Loew (Binghamton) collected three hits apiece to pace an MCC offense which pounded out 21 base raps in a 20-11 win in the series opener. Sobaszek established a program career record with his 127th run scored over the past weekend. He matched another MCC baseball record with his 62nd stolen base.
Slugging a team-high .524, Phil Ferranti (Webster Schroeder) has collected 20 doubles this season to establish a Tribune record with 40 career two-baggers. A third team NJCAA All American last season, Ferranti has 25 extra-base hits and leads Monroe with 43 RBI.
Freshmen Trey Brown (Aquinas) and Sean Flannery (Wayne) lead the Tribunes hitting .367 and .364 respectively. Evan Magill (Notre Dame Catholic/Ajax, ON) checks in with a .361 batting average and 33 RBI.


Logan Martella-Tasick (Penfield) has hit three of Monroe's nine home runs. TJ Lucey (Fairport) has driven in five of his 24 RBI in the past four games. Ethan Pasco (Saint Paul Catholic/Niagara Falls, ON) has 14 stolen bases without being caught.
Brennen Smith (Webster Thomas) has struck out 57 in 42.1 innings of work. Chris LeVere (King George/King George, VA) has made 11 appearances on the mound with 10 starts. The right-hander has four wins. Liam Devine (John F. Ross CVI/Guelph, ON) leads MCC with 17 appearances and three saves.
Drew Smith paces a Northeast (34-18) offense which has hit 51 home runs on the season.  Smith has connected on 15 of those round-trippers and driven in 55 RBI. Jayden Sinju has eight home runs and 46 RBI. Freshman left-hander Cam Taylor is 9-2 in 16 starts. Alex Potter leads Northeast with 24 appearances and 11 saves.
The winner of Saturday's game will play Madison on Sunday.
Monroe made four trips (1976, '78, '80 and '89) to the World Series under hall-of-fame coach Dave Chamberlain. Skip Bailey led the Tribs to the 2007 World Series then hosted in Millington, Tennessee. Mike Kelly took the Tribs to the 2008 and 2009 series.