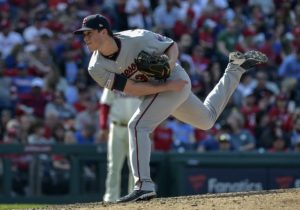 By KEVIN OKLOBZIJA
The final stat line for Trevor Hildenberger wasn't pretty. Again.
He pitched two innings — the eighth and ninth — and surrendered five hits and three runs as the Rochester Red Wings lost 5-0 to the Buffalo Bisons on Tuesday night.
But Wings manager Joel Skinner said that, despite the hits and runs, the slumping, side-arming right-hander did good things on the mound.
"He threw the ball well, he really did," Skinner said.
He said that because of the eighth inning, when he faced two good hitters in the heart of the Bisons order and retired the side 1-2-3 on 14 pitches. Socrates Brito struck out, Lourdes Gurriel Jr. grounded to second and Cavan Biggio fanned.
The ninth started out OK, too, though, with a soft line drive single by Anthony Alford that was probably only a hit because of the defensive shift. He was erased trying to steal and then Andy Burns struck out.
"Two out and nobody on and then a couple weak contacts and then they were able to hit it where we weren't and that's just baseball," Skinner said.
By the time he recorded the final out on a scorched line drive to left, Hildenberger had allowed five hits in the inning and the three runs on 27 pitches.
For the record, that's the eighth time in his past 10 appearances when the opponent has scored at least two runs and the seventh time the opposition has collected at least three hits.
Which is why the 28-year-old San Jose native is with the Red Wings after spending the past 23 months on the Minnesota Twins roster. He was optioned to the Triple-A Red Wings on May 15.
The demotion couldn't have been predicted in April. Hildenberger began the season as a mainstay in the Twins bullpen, making 11 consecutive scoreless appearances.
But then it started to go south. Pitches stayed up in the zone. Hitters began to square up more pitches. Runs began to add up. In his last 6 1/3 innings before his demotion, he gave up 13 runs and 17 hits.
Even when he joined the Wings, he didn't record outs. In his first and only appearance on the road trip, he struck out three but allowed three hits, one walk and four runs.
"It's a little bit of a reset for him," Skinner said. "He just needs to get back to the things he was doing. It's nothing other guys haven't gone through before.
"It's knowing yourself, doing what you do well and then getting back to that."
Notables from the loss:
** Stephen Gonsalves made his first start of the season and struggled to throw strikes. He had been on the injured list because of a left elbow/pronator strain. He allowed one hit, one run, walked five and struck out two while throwing 51 pitches (just 23 strikes) in his two innings.
** The Wings (15-25) already have been shut out six times, including five times in 18 games at Frontier Field. They were blanked on Tuesday despite having 11 baserunners (six hits, five walks).
** After creeping to within four games of .500, the Wings have dropped eight of 10 and are again 10 games under.
** Infielder Nick Gordon also came off the injured list. He'd been out since May 13 with an adductor strain. He went 0-for-5 in the leadoff spot with two strikeouts and stranded six runners.