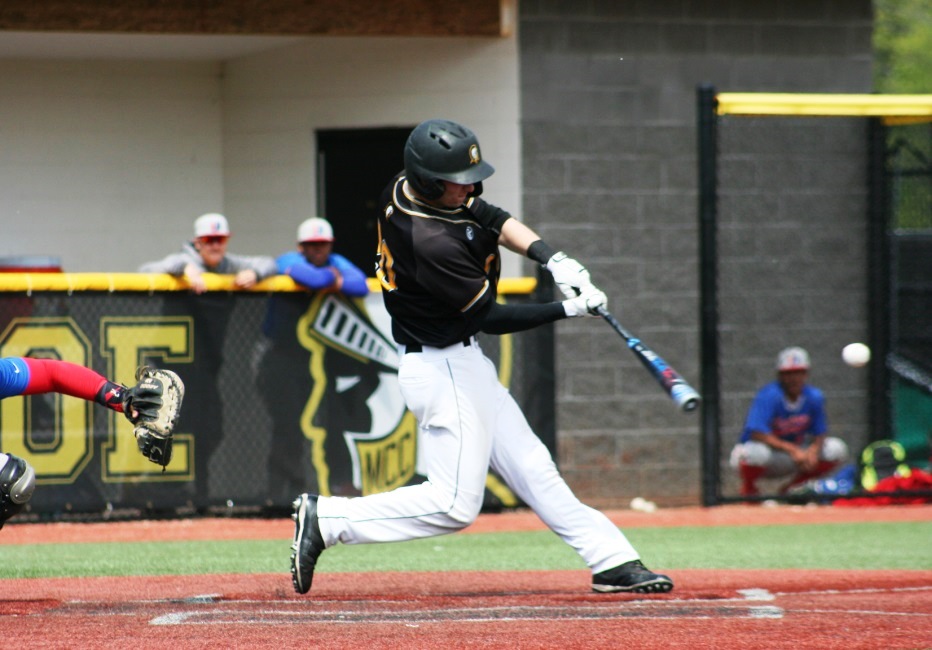 By PAUL GOTHAM
ROCHESTER, N.Y. — The Monroe Community College baseball team moved within one win of clinching a spot in the 2019 NJCAA Division II World Series with a 20-11 drubbing of SUNY Ulster Friday in the opening game of the East District Championship.
Seven different players racked up multi-hit efforts as the Tribunes pounded out 21 base raps in the contest.
Sean Flannery (Wayne) led the way going 4-for-5 on the day including an RBI single in the third inning when Monroe sent 11 to the plate and scored eight runs to take a lead they did not surrender.
Trailing 4-1, TJ Lucey (Fairport) led the decisive stanza with a walk. Cas Sobaszek (Rush-Henrietta) followed with a single through the right side of the infield. Sam Loew (Binghamton) brought in the first run of the frame with a double.
Evan Magill (Notre Dame Catholic/Ajax, ON) walked to load the bases. Phil Ferranti (Webster Schroder) drove in a run with a fielder's choice. Flannery followed with his run-scoring hit, and Ethan Pasco (Saint Paul Catholic/Niagara Falls, ON) added another run with a single.
Logan Martella-Tasick (Penfield) doubled home a pair of runs, and Lucey capped the outburst with an RBI single.


Monroe led 8-4.
The Tribunes added four more runs in the fourth, a run in the fifth and two more in the seventh to push the advantage to 15-4.
Brennen Smith (Webster Thomas) threw five innings in relief and picked up the win. The left-hander came into the game with a runner on second, one out and MCC trailing 4-1 in the third. He fanned the first two batters faced and finished with 10 strike outs for the game.
Sobaszek went 3-for-4 including a triple and four runs scored. Loew was 3-for-4 with three RBI and three runs scored. Pasco had three hits in five at-bats with three RBI and and two runs scored. Lucey was 2-for-3 with an RBI and two runs scored.
Trey Brown (Aquinas) drove in a run and scored twice with two hits. Ferranti collected two RBI and two runs scored. Martella-Tasick drove in four runs. Flannery had a double and a triple.
Liam Devine (John F. Ross CVI/Guelph, ON) struck out the only two batters he faced to close the game.
Monroe will look to sweep the best-of-three series with a noon first pitch on Saturday from Tribune Field. Game three (if necessary) will take place 20 minutes after the completion of game two.