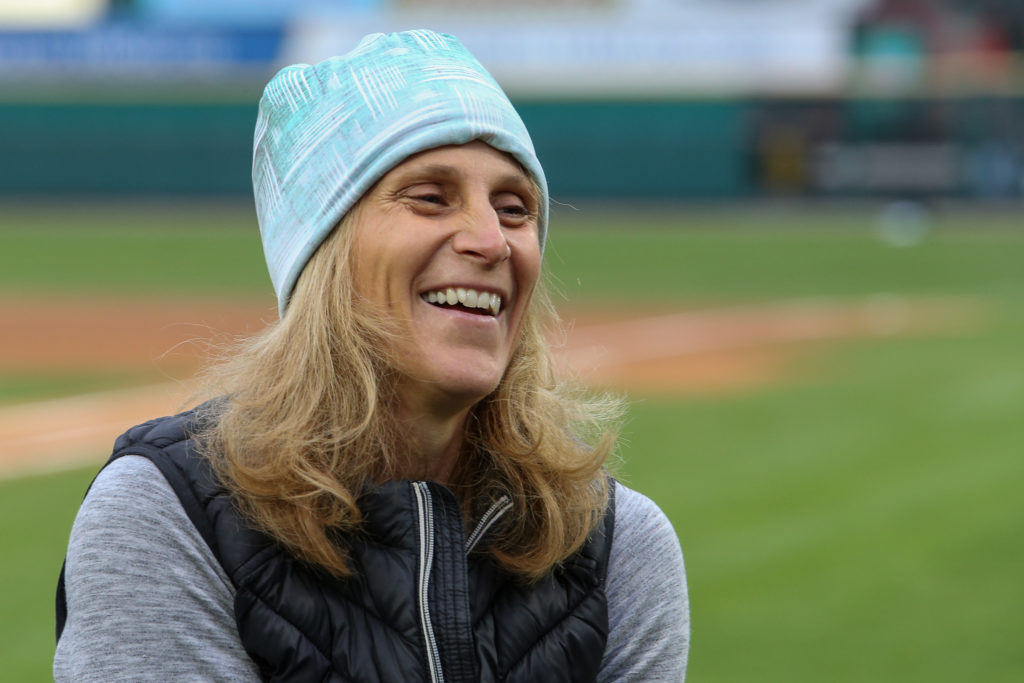 By CHUCKIE MAGGIO
ROCHESTER — If you didn't know any better, you would think the honored guests at the Rochester Red Wings' inaugural Women in Sports Night were lifelong friends.
The women had met just a few hours prior, but as Kristine Lilly said, "Once an Olympian, always an Olympian." Lilly, the third-leading scorer in United States women's national soccer team history, headlined an illustrious panel that included U.S. softball outfielder Janie Reed and two-time U.S. Olympic fencer Iris Zimmermann.
The former and potentially future Olympians (softball had been excluded from the Olympics since 2008, but Reed is hopeful to be on the 2020 squad) joined Red Wings President Naomi Silver, 2002 Olympic ice hockey official Megan Mackenzie and former East High football player Alannah Scardino in a pregame roundtable discussion and in-game autograph session. The Wings also hosted a pregame softball clinic with the Our Lady of Mercy High School softball team.
Scardino, a University of Massachusetts sports management undergrad and former Red Wings intern, was the visionary behind the event, a first at Frontier. Lilly, a two-time World Cup champion and two-time gold medalist, was happy to participate.
"It's just great to be here, the Red Wings hosting us for Women's Night and Alannah, who put in the proposal to the organization and said to bring us out here, it was great," Lilly said. "These Olympians… when you meet other people playing at the highest level in their sport, it's fun just to hear their story, what goes on in their training. It was fun to chat up with the girls."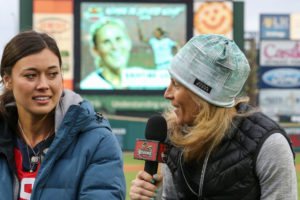 Lilly was a natural choice for the event. The University of North Carolina alum started all six games in the 1999 World Cup that burgeoned women's soccer's popularity, preserving America's title hopes by heading a would-be extra time winner off the goal line in the final. She retired with 130 international goals in 354 appearances.
The "'99ers'" inspired a generation of girls to play competitive soccer. Lilly was not only a world-class athlete who seemingly never got tired and proved indispensable to the best team in the world, she was a role model for current stars like Alex Morgan.
The national team's influence on the younger generation hasn't wavered in the last 20 years. The 1999 final drew 90,185 fans to Pasadena's Rose Bowl, still the largest crowd ever to watch a women's sporting event. The 2015 final averaged 25.4 million viewers, making it the most-viewed soccer game ever in the United States.
"We loved playing the game and we were playing it to be the best, but also to play for the people," Lilly remarked. "We wanted people to see how great the team was and how great the people were, too. And every time we started to commit ourselves to the game and we got into the World Cup and the Olympics, we just wanted to continue to put the game in a better place.
"The people I played soccer with throughout my career are pretty amazing people, not just amazing soccer players. We appreciated the support that we got and we knew we had a great product that people could enjoy if they just came to watch us, and then they started to come to watch us."
The team's journey to success was the inspiration for Lilly's newly-released book. In "Powerhouse: 13 Teamwork Tactics that Build Excellence and Unrivaled Success," she teams up with Dr. John Gillis Jr. to explain the dynamics of collaborative work and highlight the actions readers can take to empower their teams.
Tactics in the book are broken up into four pillars: Transform, Empower, Achieve and Motivate. The book was released on Tuesday but is already listed as an Amazon Best Seller in Workplace Culture.
"It's not just one thing. Not one thing was why we were successful nationally; it was many things," Lilly explained. "Whether it was leadership and building your foundation, chemistry, figuring out how to handle conflicts, communication, all those things together made our team successful.
But I think when you look at the big picture, being part of a team, you have to have respect and trust for each other. We had that with our team. We all embraced our roles to help the team be successful."
The 2019 U.S. Women's National Team has a new look as it hopes to add a fourth star to their uniforms and win the World Cup in France this summer. Eleven of the 23 players named to the roster last week are playing in their first World Cup.
The Americans start World Cup play on June 11 against Thailand in Rennes. Chile and Sweden are their other two group play opponents.
"They've done all the training; now it's time to stay healthy and just come together as a team," Lilly commented. "There's a lot of great talent. I always believe in the U.S.; I always believe if we're playing our best soccer, that we can beat everybody. I think they have the capabilities and now it's just staying healthy, coming together and playing great soccer each game to be successful in this World Cup.
"It won't be easy; no World Cup is ever easy. But to win back-to-back, everyone always says it's so difficult but if they play great soccer they have a great chance."
The only country to repeat as champions is Germany, winners of the 2003 and 2007 titles. An American back-to-back would not only be historically significant, it would be another victory in their fight for equal pay. A pool of 28 national team members filed a lawsuit against the U.S. Soccer Federation in March for wage discrimination under the Equal Pay Act and Title VII of the Civil Rights Act.
"Despite the fact that these female and male players are called upon to perform the same job responsibilities on their teams and participate in international competitions for their single common employer, the USSF, the female players have been consistently paid less money than their male counterparts," the lawsuit said. "This is true even though their performance has been superior to that of the male players — with the female players, in contrast to male players, becoming world champions."
The complaint noted that the top female players are paid a salary of about $72,000 a year by U.S. Soccer to play in a minimum of 20 exhibitions per year. They are awarded bonuses only if they win those games, with the potential to earn $99,000, the complaint said. The men are paid a minimum of $5,000 for each match. Male players can earn up to $263,320 if they win all of their games.
The women receive a $30,000 bonus for making the World Cup roster. The men receive $68,750.
Lilly is proud of the new generation's continued persistence against the unfair wages.
"In the late '80s, early '90s we started the fight, because we weren't getting anything," Lilly recalled. "So it's been a long haul, and the fact that they still have to fight for things is pretty frustrating, to be honest with you. But they have a platform right now and they've been using it to do good. They're not only making an impact for the team and our future generations coming up but worldwide. A lot of the organizations in other countries are standing up to their organizations, demanding more. That's great.
"For them, they just have to keep taking care of business on the field, keep taking a stand and keep being unified."