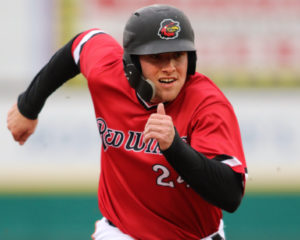 By PAUL GOTHAM
ROCHESTER, N.Y. — Luke Raley collected his fourth straight multi-hit game in the Rochester Red Wings loss Friday. The Wings right fielder took advantage of a steady breeze blowing out to finish 3-for-4 with a double, home run and three RBI on the night.
The game was the ninth straight in which the seventh-round pick of the Los Angeles Dodgers in the 2016 MLB Draft connected for a hit.
"The work he's been putting in with Javy (Red Wings hitting coach Javier Valentin) in the cage is playing out," manager Joel Skinner said after the Wings fell to Durham, 11-8. "Getting a couple hits here and there kinda loosens you up a little bit. You get a little bit of confidence."
After putting together one multi-hit effort in his previous 12 games, Friday's performance was Raley's sixth with two hits or more in the past nine games.
"He's got a little more looseness to his swing," Skinner added.
VIEW MORE JOE TERRITO PHOTOS HERE. 
And less movement.
"Mechanically cut down my leg kick so my stride is short," Raley explained. "Trying to make adjustments to get down in a good hitting position earlier. It's been working."
His solo shot in the fifth was his seventh rounder tripper of the season.
A Raley 🚀 checks in as tonight's @ESLFCU Top Play! pic.twitter.com/s2D6i2XKns

— Rochester Red Wings (@RocRedWings) May 11, 2019

"Started off 1-0," the Lake Erie College alum said.  "I was sitting on a fastball and he gave me something to hit. I hit it well."
It was his fifth home run since April 28th, a stretch of nine games in which the left-handed batter has scored 12 runs and driven in 11.
In his previous 12 games he had four RBI and one long ball.
"Javy and I have been working on just simplifying everything," Raley added. "When I came in, I wasn't so much as pressing, but I was doing too much, like trying to hit home runs. The adjustment has been to simplify everything, a lot less movements."
The 6-foot-4 outfielder has also made a point to clear his head before stepping into the batter's box.
"I've been doing little things like instead of freaking myself out in my mind thinking about what pitch could be coming that's not, I think about that when I'm outside the box and then go in and almost sing a song, something to relax.
"It's more of a relaxation thing. Going up there and taking a deep breath before stepping in the box."
Familiar Foe
Long-time Red Wings starter Aaron Slegers took the mound for Durham, Friday night.
Designated for assignment in January of this year, the Pittsburgh Pirates claimed Slegers off waivers before trying him to Tampa Bay in late March. The Rays sent the 6-foot-10 right-hander to Durham to start the season.
Slegers had his best year in Rochester in 2017 when he finished 15-4. He logged a career-high 148.1 innings that year.