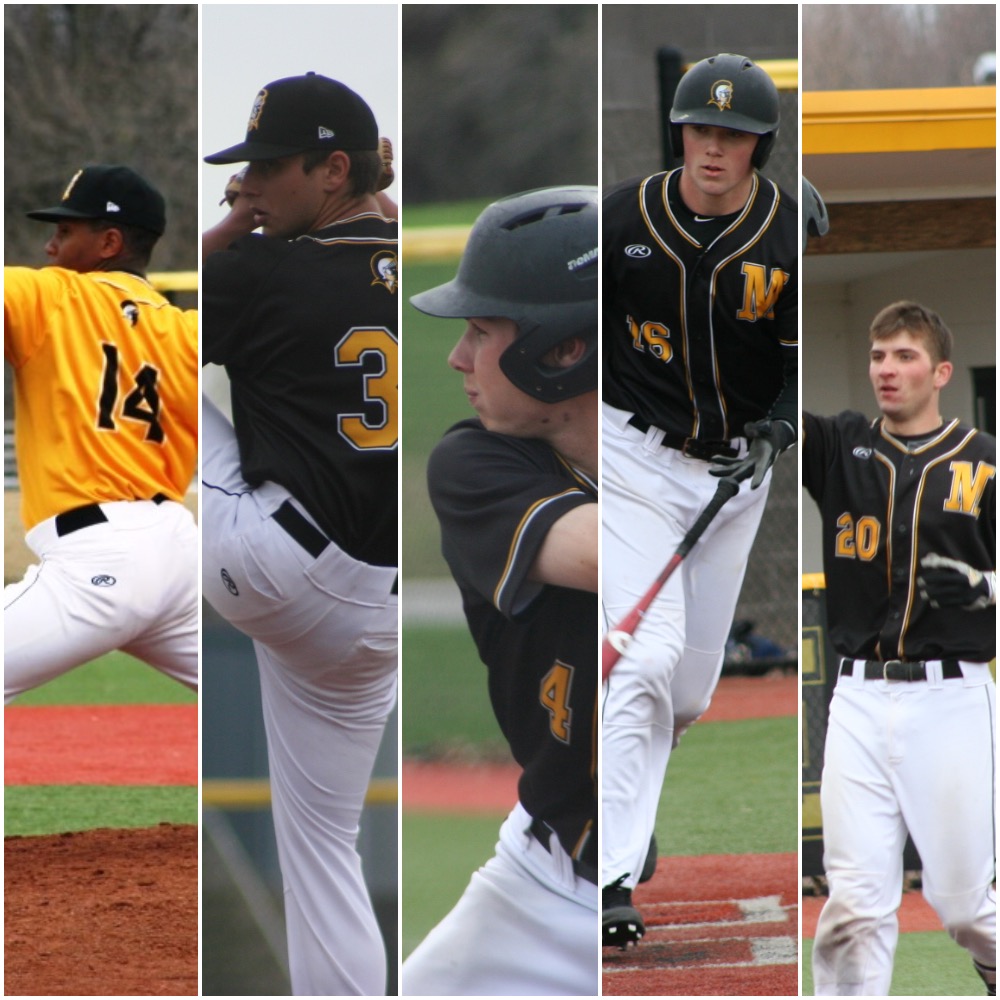 By PAUL GOTHAM
ROCHESTER, N.Y. — Top-seeded Monroe Community College will host when the 2019 NJCAA Region III Division II Tournament opens Friday (May 10).
UConn-Avery Point (14-14) and Mercyhurst NE (22-18) will meet Friday for a noon first pitch in the tournament's first game. Monroe CC (25-19) will play the winner later that afternoon. The tournament continues with two more games on Saturday. With one more contest scheduled for Sunday if necessary.
Monroe, the 2018 Region III and East District Division II champions, has won 26 regional titles including three under current head coach Dave Brust.
Hitting .364, Trey Brown (Aquinas) leads a Tribune squad which has scored 319 runs this season and has a team batting average of .325. The freshman outfielder's on-base percentage of .483 and 34 RBI also tops the Black and Gold. Fellow freshmen Evan Magill (Notre Dame Catholic/Ajax,ON) is hitting .362 along with Sean Flannery (Wayne) registering a .356 average.

Phil Ferranti (Webster Schroeder), a third-team NJCAA All-American a year ago, has 32 RBI and leads the Tribs with 18 doubles. Other returners, Cas Sobaszek (Rush-Henrietta)  and Sam Loew (Binghamton) are hitting .336 and .281 respectively.
Matt Petrossi (Fairport) is 4-3 on the season and leads Monroe with 46.1 innings of work. Chris LeVere (King George/VA) has made nine starts, thrown 44.0 innings and compiled 44.0 innings of work. Liam Devine (John F. Ross CVI/Guelph, ON) has made 14 appearances and thrown 32.1 innings. Brennen Smith (Webster Thomas) has 41 strike outs in 31.1 innings.
Padraig O'Shaughnessy leads Mercyhurst NE hitting .353 with seven home runs and 33 RBI. Alex Petchark is hitting .482 for UCAP with five home runs and 21 RBI.
Monroe took three of five from Mercyhurst NE this season including a doubleheader sweep in mid-April to earn the right to host the tournament.
The Tribunes downed UCAP in the finals of the 2018 East District championship. This is the first year UCAP has participated in the Region III tournament. The Pointers are the only Division II squad in Region XXI.
This weekend's champion advances to the district tournament scheduled for May 17-19.

2019 Region III, Division II Tournament
Friday
GAME 1 – 12 p.m. – UConn-Avery Point vs. Mercyhurst NE
GAME 2 – 3 p.m. – Monroe vs. Winner of Game 1
Saturday
GAME 3 – 12 p.m. – Loser Game 1 vs. Loser Game 2
GAME 4 – 3 p.m. – Winner Game 3 vs. Winner Game 2
Sunday
GAME 5 – 12 p.m. – Winner Game 4 vs. Loser Game 4 (IF NECESSARY)