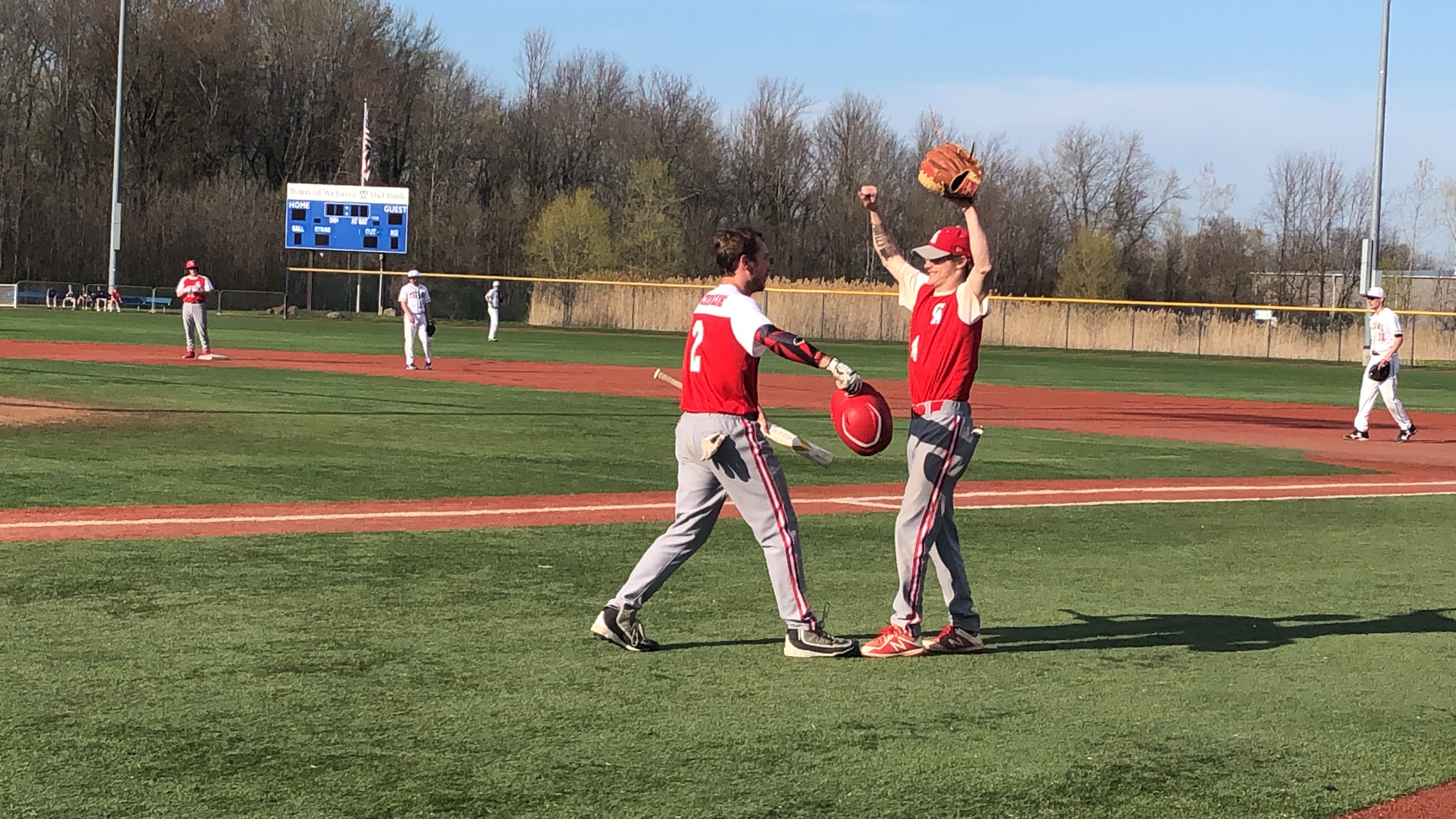 By BILLY HEYEN
WEBSTER, N.Y. — Michael Sculli has heard the two-word shout from behind the backstop many times. So has Seth Vigneri, the Canandaigua catcher.
"Power curve!"
That's Sculli and Vigneri's fathers, taking turns, imploring the Braves' southpaw to break off his big hook. On Monday, Sculli's curve may have been more inconsistent than it had been all season. But it was still practically untouchable.
Michael Sculli has struck out eight through four, seven via his "power curve." @CABravesSports @cabravebaseball lead Webster Thomas 4-1 as the fifth gets underway. @PickinSplinters pic.twitter.com/L5whYI3HIN

— Billy Heyen (@Wheyen3) May 6, 2019
Entering Monday's game, Sculli had allowed one hit in his last 20 innings of work. He allowed three in five innings against Webster Thomas at Basket Road on Monday. But he held the Titans to one run and struck out eight, including seven via his curveball. Sculli's outing was still more than enough for Canandaigua (10-3) to pull out a 7-1 win, a third-straight win after dropping three in-a-row last week.
"Once we get a few runs with him on the mound, you feel pretty good about it," Canandaigua head coach Dale Werth said.
The Braves occupied the visitors' dugout on the first-base side on Monday, so that's where Werth got a from-the-side view of one of the most dominant individual pitches in Section V. He estimated that it drops from a batter's shoulders to a batter's shins. The hook adds some side-to-side motion, too, to make it even tougher to hit.
Stationed at third base, Joe Brinza observed from the opposite side of the Canandaigua senior on the mound. The first word he used to describe watching Sculli pitch: "Wonderful."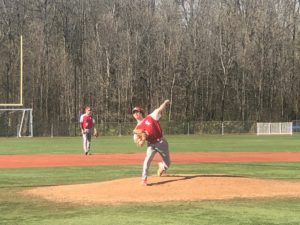 From the outset Monday, it seemed that one-word answer was all Brinza would need. Sculli struck out the first four batters of the game — the first coming on his lone strikeout with a fastball on the evening. In the third, though, Webster Thomas scored the only earned run Sculli has allowed all year, giving the Titans a bit of life.
At some point mid-game, Sculli started to speed up his tempo. He didn't want to. He kept telling himself, "Slow down, slow down." As he sped up, Sculli felt he gripped his curveball too hard, but then loosening the grip meant he hung a few. The fifth inning, Sculli's last, threatened to ruin another solid outing.
Webster Thomas loaded the bases up with two outs — an error extended the inning, and then Sculli walked two-straight hitters. He went to 3-0 on the next batter, a stretch of 11-straight balls thrown. To escape, Sculli "zoned out."
"Act like there's no runners on base, act like it's just me and that glove," Sculli said. "Totally white minded, like I've got nothing in my head, just shoot the ball straight down the middle, basically."
He induced a groundout to second to strand the bases loaded and preserve Canandaigua's at-the-time 4-1 lead.
"His mound presence is amazing," Brinza added. "You never really see him get flustered, ever. He's always just kind of within himself and it's really amazing to watch."
Sculli gets a groundout to Werth to strand three runners. 4-1 @CABravesSports @cabravebaseball after five. I think Sculli is at 104. @PickinSplinters pic.twitter.com/DtwYu6xDDb

— Billy Heyen (@Wheyen3) May 6, 2019
The Braves, after struggling to do so last week, cashed in runners in scoring position on Monday, too. Brinza went 3-for-3 with a sac fly. Dylan Mackenzie ripped both a run-scoring single and double. Sam Werth turned on an RBI single into left, and Vigneri clobbered a double to left center to score a run.
At the start of a five-game week for the Braves, that clutch hitting has the potential to carry over. Brinza thinks it's definitely a "momentum booster."
"It's just a great way to start off the week and make things roll forward for us," Brinza added.
Even on an off-day, though, the story of Monday's game still features Sculli front and center. Off the mound, his speed beat out a fielders' choice, reached second on an error, advanced to third on a wild pitch and scored on Brinza's sac fly. In center field in the seventh, Sculli sprinted back toward right center, the direction the American flag stationed beyond the fence was blowing out. He closed his eyes and stuck his glove out, he said afterwards, and in the ball went for an out that had the fathers beyond home plate discussing if it was the play of the Braves' season.
That set the stage for the pitch that carried Canandaigua's day to finish off the job. Cooper Crunick pitched the game's final two innings for the Braves after Sculli's day was done. He wasn't immensely sharp, struggling a bit to find the strike zone.
But Crunick did accrue three strikeouts, including two-straight to end the game. Each time, he went to Sculli's playbook. Neither father behind the backstop was yelling for it anymore. But apparently, Crunick had heard: He threw his power curve.