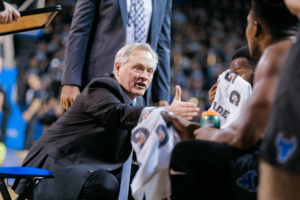 By MICHAEL BUNDT
Heading into his first offseason as head coach of the University at Buffalo, one thing was clear to Jim Whitesell looking at the Bulls roster.
They needed to add some size down low.
With Nick Perkins and Montell McRae graduating, the remaining roster lacked experienced big men.
Whitesell spent the past month actively searching for players that can fill that void and received a huge commitment on Thursday evening from 6-foot-10 center David Skogman.
Thank you to everyone who has helped me to this point in my basketball career. I'm excited to announce that I have committed to The University of Buffalo!!! #HornsUp???? pic.twitter.com/tSmqBJUOZ7

— David Skogman (@dskogman42) May 3, 2019
The highly coveted three star forward from Waukesha, Wisconsin was getting looked at by a plethora of mid-major and Power Five programs including scholarship offers from Texas Tech, Vanderbilt, Utah State, Nebraska and Minnesota.
One school not included on that list was his home state Wisconsin Badgers.
They scouted Skogman before eventually offering him a spot as a preferred walk-on, an opportunity that he declined.
Ultimately, not a surprising decision given the amount of offers that he's received. 247 Sports ranks Skogman as the 344th best player in the nation and second best in the state of Wisconsin.
He's listed 282nd in their composite rankings which combines data from all of the recruiting networks while ranking as the 59th best center prospect in the country.
Despite all of the high praise, there was a time when Skogman was unsure of his basketball future.
He suffered a heart attack minutes into a summer league game following his junior season while trying to finish off a three-point play.
According to reports, he had only a 10 percent chance to live.
Fortunately, Skogman was one of the lucky ones. He survived and after a series of tests, doctors found nothing wrong and cleared him to continue playing basketball.
He continued to grow on the court, averaging 18.6 points, 12.6 rebounds and 3.2 blocks as a senior.
Look for Skogman to carve out a role on Jim Whitesell's bench in 2019. He has a solid jumper and isn't afraid to shoot from deep, connecting on nearly 40 percent of his shots behind the arc.
He's a solid addition for the Bulls and a player they're hoping will develop into a top tier forward in the Mid American Conference.