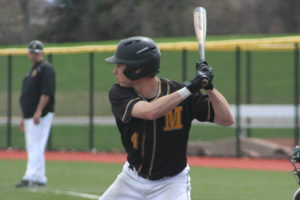 BY PAUL GOTHAM
ROCHESTER, N.Y. — Sean Flannery (Wayne) and Cas Sobaszek (Rush-Henrietta) paced the offense as the Monroe Community College baseball team swept Ithaca College JV (15-5/17-13) on a blustery Saturday afternoon at Tribune Field.
Flannery and Sobaszek combined to score 10 runs and drive in five in the nightcap as Monroe (24-19) won its fourth straight game. Flannery highlighted a two-out rally in the sixth inning to cap the sweep. With Sobaszek on first and Logan Martella-Tasick (Penfield) on second, Flannery's base hit snapped a 13-all tie, and the Tribunes went on to score two more runs in the frame.
Flannery finished the game going 4-for-4 with a walk, four RBI and five runs scored. Sobaszek went 2-for-3 with a walk, five runs scored and an RBI.
The duo was part of Monroe's top of the order which drove in 13 runs.
Evan Magill (Notre Dame Catholic/Ajax, ON) was 2-for-4 with a double and four RBI out of the three-hole. Clean-up hitter Jose Ramos (Poinciana/Kissimmee, FL) collected three hits and four RBI.
TJ Lucey (Fairport) doubled, walked twice and scored two runs in game two.
Liam Devine (John F. Ross CVI/Guelph, ON) came out of the bullpen and retired all four batters he faced to pick up the win. The left-hander struck out one and improved to 4-1 on the season.
Devon Robb (Holy Cross Catholic/Kingston, ON) allowed an unearned run on three hits over four innings of work in the opener for his third win of the season. The right-hander struck out six and walked one. He is 3-3.
Monroe sent nine to the plate in the third inning to blow open a 4-1 game in the opener. Trey Brown (Aquinas), Sam Loew (Binghamton), Magill and Sobaszek collected an RBI apiece in the decisive frame.
Ryan Hill (Webster Thomas) finished 2-for-2 with two walks, three runs scored and an RBI in the opener.
Sobaszek had two hits including a double, scored two runs and drove in a pair. Magill was 2-for-3 with two RBI and two runs scored. Loew finished 2-for-4.
Martella-Tasick walked twice and scored twice in game two. The MCC centerfielder crossed home four times Saturday afternoon.
Phil Ferranti (Webster Schroeder) collected three walks and three runs scored for the afternoon.
Monroe has scored 11 or more runs in four of its last six games.