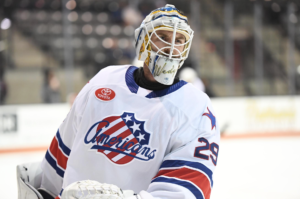 By KEVIN OKLOBZIJA
The team and league record books will forever show the Rochester Americans had a very good season in 2018-19.
They'll be nothing but lies.
Oh, that 46-23-5-2 record and 99 points the Amerks piled up will always look nice. But looks are deceiving. This franchise is far beyond taking consolation in regular-season accolades.
When you haven't won a playoff game in five years, when you haven't won a playoff series in 14 years and when you haven't won a Calder Cup 23 years, post-season success is now all that matters.
And thus, when you get swept in the first round of the playoffs, the season really is nothing but a colossal failure, plain and simple.
The league trophies for individual greatness, the 25 road wins, the fourth-best record in the league? None of it matters when you do diddly against the Toronto Marlies in the Calder Cup playoffs.
The Amerks were unceremoniously ushered off to summer on Wednesday night, when they lost 3-1 at Coca-Cola Coliseum in Toronto.
Adam Brooks scored three all three goals for the Marlies. That's just one fewer than the entire Amerks team scored in the three-game series against goalie Kasimir Kaskisuo.
This was the third season in pro hockey for Kaskisuo, a 25-year-old native of Finland. You won't find him on any list of can't-miss prospects. His regular-season goals-against average was a rather ugly 3.07. His save percentage was an equally unimpressive .896.
But we all know the regular season means nothing. Kaskisuo sure does. He showed with his spectacular play against the Amerks that he could ramp it up. He could find another level. He could fight through (minimal) goal-mouth traffic to find point shots through screens.
He turned aside breakaways, two-on-ones, point-blank one-timers. You name it, he pretty much stopped it.
In the three games he allowed four goals to a team that boasted about balanced scoring, about potent prospects, about being ready to make a real Calder Cup run.
So what happened? The Amerks didn't respond well to in-game adversity in any of the three games. They never have, really, save for a terrific comeback or three in regular season. Mental toughness was not this team's forte.
Too often, they dominated for long stretches but suddenly found themselves behind, they didn't know how to respond as a team. They couldn't steamroll the opposition with shift after shift of dominant forechecking that produced a goal.. They couldn't create chaos when it was necessary.
They got flustered; the Marlies didn't.
This was a collective failure, too. Goalie Scott Wedgewood wasn't great in the three games, but he wasn't why the Amerks lost. That talk about changing goalies you may have heard? Absurd.
The bigger issues were up front, where the forwards couldn't score despite a boatload — think Carnival Cruise Lines — of chances. They hit goal posts. And more goal posts. They shot wide of empty nets. They couldn't get sticks on pucks when the net was empty.
On Wednesday, Kyle Criscuolo had a chance to tie the score 1-1 in the first period. He was skating right to a rebound to the left of the crease with a half empty net. What happens? Jeremy Bracco gets just enough of his stick on Criscuolo's stick to prevent a goal.
The play was a microcosm of the entire series for the Amerks. Tage Thompson scored their only goal in Game 3, tying the score on a power play at 9:38 of the second period.
It stayed tied, however, for just 119 seconds. Brooks' super mid-air redirection in front of defenseman Zach Redmond of a Vincent LoVerde point shot put the Marlies back on top and deflated the Amerks.
They couldn't find a way to tie it in the third period and Brooks finally clinched it with an empty-net goal in the final minute.
All of the hope, all of the promise, all of the expectations; gone in the flash of leather by Kaskisuo and the flick of the wrists of Brooks and Bracco and Chris Mueller.
There was a time when the Amerks played hockey until late May nearly every year. Sometimes the played into June. Not anymore. And that's called failure.