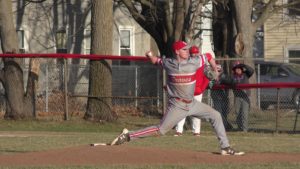 By CAITLIN McCLARE
Gage Ziehl's two-way dominance led Penfield to four win over spring break. Canandaigua's Cooper Crunick broke a school record at the plate and shut out an opposing offense. Hudson Bockmier finished his spring break trip with a perfect record in Pittsford Mendon's 5-0 week. Honeoye Falls-Lima's Carey VanNewkirk and Greece Olympia's Mike Matteson hit for power in their two respective games.
Monroe County named the five as the players of the week (Apr. 15-20) in their respective division.
Ziehl returned from Penfield's Myrtle Beach trip with an 8-for-12 record at the plate and a 1-0 record on the mound. In the first three games, Ziehl hit two two-baggers to finish with six doubles on the week. In the Patriots' 8-7 win against Loris, the third baseman went 2-for-3 with two runs scored and one RBI. The next day he one-upped himself, going 3-for-3 with three runs scored and two RBI in the 14-1 win. On Wednesday, Ziehl shut out Spring Mills through 4.1 innings with five strikeouts. The righty helped himself and his squad to a 10-0 win, as he went 2-for-2 with three runs. Ziehl went 1-for-4 with an RBI on the final day of the trip. The Patriots are scheduled to travel to Hilton on Monday, April 22, for a 4:30 p.m. start.
Crunick went 7-for-10 in Canandaigua's three victories, breaking a school record in the second game. The day after the Binghamton University commit went 2-for-3 with one run in the Braves' 2-0 win, Crunick hit three triples, never done before by a Brave. His three triples knocked in five runs, contributing to the 23-0 rout of Benito Juarez (Ill.). On Tuesday, he took the mound against Whitney Young. He recorded ten strikeouts in five innings pitched, giving up two hits, one earned run, and six walks. Crunick went 2-for-3 at the plate with one run and one RBI in the 7-4 victory. Canandaigua will travel to Churchville-Chili on Monday, April 22, for its second league game of the season.

Bockmier took the hill in three of Mendon's four games in Disney. He finished with a 3-0 record in 12 innings with a 1.75 ERA and 14 strikeouts. He threw two in innings in Mendon's 10-0 win to open the trip, striking out four and letting up one hit. Bockmier dominated on both ends of the ball the Vikings' 11-8 win. The southpaw struck out five, allowing three hits, two earned runs, and one walk in 3.1 innings. He also accounted for five of Mendon's runs, as he went 3-for-3 with a double and a triple and four RBI. The next day, though seemingly quiet for Bockmier, his one hit moved the Vikings' winning run to third, so they could eventually complete the comeback. He took the mound one last time against Spencerport for his longest start of the trip. Bockmier struck out five, allowed five hits, two runs, one earned, and four walks. Mendon is back in action at Greece Athena on Monday, April 22.
Honeoye Falls-Lima played two games over its spring break. In both, VanNewkirk sent one over the fence. The junior connected for a three-run shot in the first inning, proving to be the eventual game-winning hit in the 3-2 win over Rush-Henrietta. His second homer in three days was a long one. The projected 420-foot solo shot to center contributed to the Cougars' 23-3 rout over Wayne. READ MORE. VanNewkirk finished the week going 3-for-6 with three runs scored, seven RBI, and two homers.
Matteson helped Olympia get to the finals of the East Tournament. The catcher finished with a .500 batting average, going 4-for-8. Three of his four hits were two-baggers, knocking in four runs in two games. In the 10-0 win over Lyons, the catcher went 2-for-4 with two RBI. In the finals of the tournament, Matteson played a crucial role in Olympia's attempt to lock down a close game. His 2-for-4 day included an RBI single in the seventh to help Olympia knot the game at 11. READ MORE. He also threw out three runners on the bases and stole four of his own.