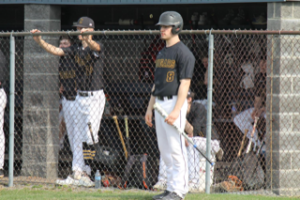 By BEN BLAKELY
ONTARIO, N.Y. —  Honeoye Falls-Lima connected for eight runs in the top of the third inning and never looked back in a 23-3 win over the Wayne Eagles at Wayne Central High School. The game was a rematch of last year's Class A2 quarterfinal matchup, where the Eagles defeated the Cougars 5-4.
Cary VanNewkirk was the star of the afternoon, racking up four RBI on two hits, including an estimated 420-foot solo home-run to deep center in the top of the fourth. It was his second homer in three days. The junior DH hit the game-winner on Tuesday against Rush-Henrietta, but he still has not found the feeling of the swing.
"I haven't gotten the feel too good yet, but it felt good off the bat," the junior said. "Big hits can definitely help us win games, including picking up walks and getting RBI, which really helps us out."
Cougars head coach Dan Hoyt had nothing but high praise for his cleanup hitter.
"Cary has been picking us up," he said. "He had the big hit against Rush Henrietta and the one today and our two through five hitters are going to be our RBI guys this season."
After the offensive explosion in the third, Coach Hoyt felt the momentum shift towards their side of the scale.
"Wayne came out and shut us down in the first inning," he said. "We took advantage of some walks and clutch hitting and the lead got pretty big." The Cougars sent 13 to the batter's box in the inning.
Derek Childs picked up two hits and Mitch Slymon chipped in three RBI to lead the Cougars. Hayden Smith recorded one hit and two RBI and forced two walks. Ben Sousa walked four times out of the Cougars 16 combined and gained an RBI.
On the mound, Hayden Smith dominated for the Cougars. The junior right-hander picked up the win, going 5.1 innings, giving up four hits and two earned runs, walking three and striking out 10 Eagles batters.
Coach Hoyt felt Smith kept his composure after going down 1-0 early.
"I thought he did a great job, as it could get out of hand in games like this," Hoyt said. "Just to settle down and take it batter by batter was key for him staying focused."
Wayne starter Richie Cassano took the loss for the Eagles. The junior gave up three hits and nine earned runs over 2.2 innings pitched. He walked seven and struck out two.
Aidan Harris and Josh Armstrong picked up two hits and a run each for the Eagles offense. Aidan Tomaselli walked twice for the Eagles. Caleb Kornaker had a base hit and an RBI.