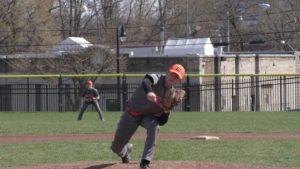 By PAUL GOTHAM
ROCHESTER, N.Y. — Brian Oddi ended a back-and-forth with a one-out, walk-off hit as the Waterloo Indians downed Greece Olympia, 12-11 in the finals of the 2019 East High Tournament.
With bases loaded, Oddi plated Matt Barron with a blast to left field.
"I saw one inside (on the previous pitch), and I thought I could have worn that one," the sophomore said. "But the next pitch came right down the middle and decided to take it. It worked out for me. It looked good and felt good off the bat."
Oddi's hit brought to a close a wild last two innings which saw the two teams exchange four-run frames on three occasions.
"The kids battled," Waterloo head coach Dan McGuane said. "I got to congratulate both teams. Neither team quit. The teams could have folded when the score switched the way it did."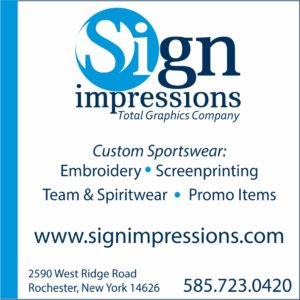 Marshall King started the inning with the first of three straight walks. King was eventually erased at the plate on a fielder's choice. Oddi's single brought home Matt Barron with the winning run.
"This team doesn't give up," McGuane added. "They battle. They're aggressive. They each other's backs. It's a good team. I'm proud of them."
Oddi started the game on the mound. The right-hander retired six of the first seven he faced. He gave up two runs in the third but worked out of a bases-loaded situation with a infield pop up and a ground ball.
"He was pounding the zone," McGuane said of his starter. "He wasn't walking guys. If guys got on base, he battled. He hasn't pitched much this year. We have two other guys who throw most of the innings. For him just getting thrown out there today he did a very good job."
Olympia added a run in the fifth, but Oddi left a runner in scoring position with his only strike out of the game.
Oddi left with one-on and one-out in the sixth and a 4-3 edge.
Olympia scored four in the frame. Waterloo answered with a four spot of their own and an 11-7 lead heading into the seventh.
Mike Matteson drove in a run with a single, and Zach Wright tied the game with a two-out double.
But Oddi gave Waterloo the final response of the game.
"Since I started it, I wanted to finish it. We're going to come back the next two years win 'em again."
Barron walked three times and scored three runs in the game. Seen Bronson also received three free passes and crossed home twice. Steven Dewall doubled, singled, walked and was hit by a pitch. Ethan Hunt finished 2-for-4. Marshall King reached base all four times he came to the plate with a single and two walks.
Olympia's Matteson was 2-for-4 with a walk. Wright doubled, walked twice and stole two bases. Colin Avery reached base all four times he came to the plate with a single and three walks. Jack Berbert walked and singled.
Cameron Carr came on in relief for Olympia to start the third and tossed three scoreless without surrendering a hit before Waterloo struck in the sixth.
Barron and Oddi earned All-Tournament honors for Waterloo. Olympia's Wright and Berbert also received spots on the All-Tournament team. Brothers Andrew and Scott Norris shared the nomination for Lyons. East High's Willito Soto was named to the team.