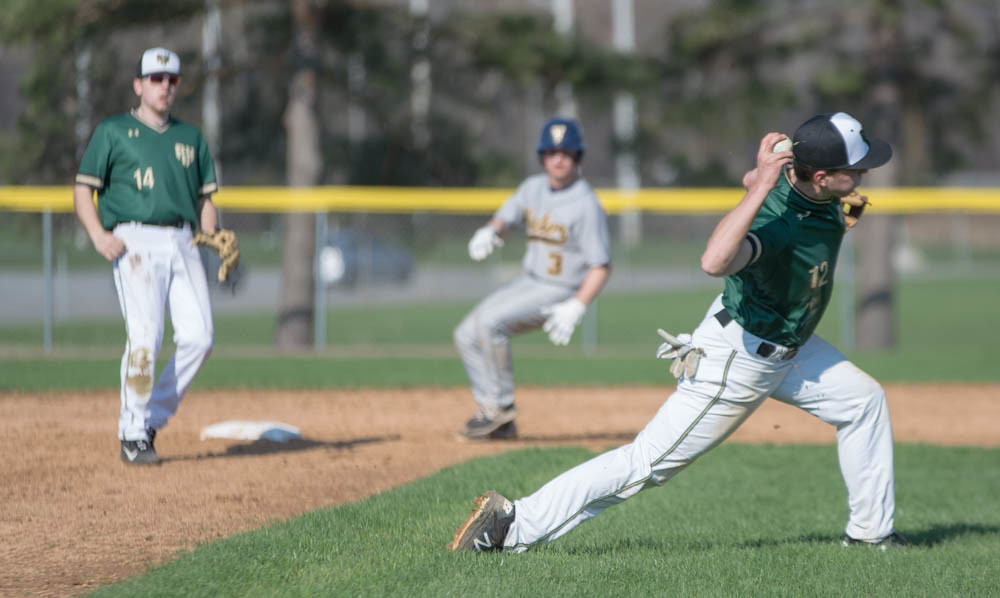 VICTOR 4
RUSH-HENRIETTA 1 (8 INNINGS)
Victor (3-4) was able to find its offense in extra innings. With the score tied at one headed into the eighth inning, Billy Brady drove in a run to put the Blue Devils ahead. Later in the frame, Jake Chittenden knocked in two more insurance runs for the Blue Devils. Prior to extra innings, the game was a pitcher's duel. Santino Rosso threw seven innings for the Blue Devils and struck out seven while allowing one unearned run on three hits. Rosso also went 1-for-4 with a double at the dish. For Rush-Henrietta, Chris Sleeper hurled five innings. Sleeper also gave up one unearned run and recorded five strikeouts. In a game without a lot of offense, CJ Williams went 2-for-4 for Victor. DJ White was 1-for-2 with a sacrifice and also scored the only run for Rush Henrietta (2-3).
PITTSFORD MENDON 2
GREECE ATHENA 1
Zach Janson drove in the go-ahead run for Pittsford Mendon (7-1) as the Vikings captured their sixth straight win. Janson drove in Karthik Mathew-Malik with the score tied at one in the bottom of the sixth inning. Greece Athena (4-1) took a quick lead in the top of the first inning when Casey Saucke II drove in Tyler Curtis. The Trojans had the lead until the fifth inning when Andrew Bernacki's solo home run tied the score. For Mendon, Janson, Mathew-Malik and Bernacki were the only three players to tally a hit on the day. Hudson Bockmier allowed one run on five hits over a complete-game effort. Bockmier struck out five. Athena's Ryan Dineen started and allowed three hits and three walks while fanning one over 5.1 innings. Saucke finished the day 2-for-3 for the Trojans.
PENFIELD 4
HILTON 5 (9 INNINGS)
Drew HerrNeckar plated Alex Noto with a two-out single as Hilton (5-2) twice erased a late-inning deficit to win its fifth straight game. Trailing 3-2 going into the bottom of the seventh, Noto led with a base hit and later scored on an error to send the game into extra innings. Penfield scored in the top of the eighth, before Jason Story worked a one-out walk, stole second and scored on a Tyler Koster base hit. Koster finished 2-for-4 on the day. Gavin Moore and HerrNeckar scored a run apiece. Gage Ziehl led Penfield going 2-for-5 with an RBI and a run scored.  Peyton Pace was 2-for-5 with an RBI. Brendan Miller was 1-for-3 with a run scored.
VIEW MORE SUE KANE PHOTOS HERE. 
PITTSFORD SUTHERLAND 6
BRIGHTON 9
Sam O'Hora and Trent Wasserman plated runs with back-to-back doubles in a five-run fourth as Brighton stayed undefeated on the season. READ MORE.
CANANDAIGUA 1
CHURCHVILLE-CHILI 0
Canandaigua (6-0) senior Michael Sculli struck out 16 and hurled his second consecutive no-hitter. Sculli also scored the only run of the game in the fifth inning when he doubled and then came home on a Seth Vigneri RBI single. Vigneri finished 2-for 4 in the game. Sculli retired the last 16 batters he faced. Ethan Putney fanned seven in a complete-game effort for Churchville. Putney allowed six hits.
IRONDEQUOIT 4
WEBSTER THOMAS 1
Nick Serce struck out four and surrendered two hits over five shutout innings, and Irondequoit improved to 5-2 on the season. Chad Gartland highlighted a four-run first with a bases-clearing triple. JP Erbland added an RBI sacrifice and the Eagles had all the runs needed. Garland hurled a scoreless inning to pick up the save. Serce and Ryan Davis both had a hit. Sam DeGrace singled and scored the lone Thomas run. Devin Mulcahy finished 1-for-3 with an RBI. Evan Ziegelhofer threw two shutout innings in relief for Thomas.

GREECE OLYMPIA 2
HONEOYE FALLS-LIMA 10
Derek Childs fanned eight over five innings to pick up the win as HF-L improved to 5-0 overall and 1-0 in Monroe County Division IV. Mitch Slymon finished 2-for-3 with three RBI and three runs scored. Jake Fusare was 2-for-3 and brought in a run with a suicide squeeze. Brian Reinke went 2-for-4 with a double. Sal Tripi doubled, drove in a run and had a hit in two at-bats.
GREECE ARCADIA 3
BROCKPORT 1
Traverse MacNeal and Nate Yantz combined on a 3-hitter to lead Arcadia. Ben Bell finished 2-for-2 at the plate with a double. Sam Carducci 1-for-2, and Spencer Phillips had a hit in his only at bat. Ryan Rivera drove in a run with a single. Sam Velletri drove in the lone Brockport run. Esten Schalge was 1-for-3 with a run scored for the Blue Devils.
GREECE ODYSSEY 1
BATAVIA 3
Josh Weis connected on an RBI double in the sixth to score the eventual game-winning run. Luke Grammatico paced the Batavia offense going 2-for-3 with a double. Sam Sallome  went 2-for-3. Trevor Zewan had a hit in three at-bats and drove in a run. Andrew Francis struck out seven in two and third innings of work to pick up the win. Taiyo Iburi-Bethel fanned seven over 4.2 frames.
MONROE 8
FRANKLIN 10
Nomar Quinones allowed five unearned runs on two hits over five innings, and Franklin improved to 4-1 (4-0 league) on the season. Julian Cotto and Luis Lopez snapped a six-all tie in the sixth inning with an RBI single apiece. Freshmen Callahan Reddington and Jalen Breedy scored in the decisive inning. Greiram Ramos picked up the win in relief.
SCHOOL OF THE ARTS 11
EAST 1
Ross Janezic struck out 10 and allowed one unearned run on two hits and four walks to pick up the win.  SOTA scored twice in the second and added seven more in the fifth inning. Brennen Johnson scored three runs for the Silverhawks. Steven Lepki and Ricky Torres had two hits apiece and both added an RBI and a run scored.  Justin Rodriguez collected a hit and two RBI. Reece Correa had a hit, scored three and drove in another. East's Angel Silva allowed three hits through four innings. Silva drove in East's only run.
EDISON TECH 4
LEADERSHIP ACADEMY 14
Justin Morales paced Leadership (2-3) going 3-for-5 with two doubles, two runs scored, a stolen stolen base and five RBI. Jaquez Cochran went 3-for-4 with two runs scored and two RBI. Byron Bounds was 2-for-5 with two runs scored.
HONEOYE 24
NAPLES 3
Brett Higley tossed five innings to pick up the win and finished 3-for-4 with two triples and five RBI to lead Honeoye. Tyler Rudolph went 3-for-3 with three RBI for the Bulldogs. Donnie Todd led Naples going 1-for-3 with a double.  Nick Green was 1-for-3 with an RBI.
AVON 7
LETCHWORTH 11
CJ Hallopeter finished 3-for-3 with three RBI and two stolen bases to lead Letchworth (4-2/1-2). Will Bean went 2-for-5 with a triple and a double. Nate Thompson struck out six and picked the win.
MYNDERSE 7
WAYNE 6
Griffon Heron walked twice and scored twice as Mynderse jumped to a seven-run lead and held off Wayne in the seventh. Jared King, Mason Major, Malikai Taylor, Jared Hartnell and Jeremy Porter scored a run apiece for Mynderse. Taylor finished 2-for-4 with two RBI. Logan Holgado and Nathan McKenna had two hits apiece for Wayne. Holgado scored twice. Caleb Kornaker sparked a three-run Wayne seventh with a leadoff single – the first of three straight hits for the Eagles. Holgado and McKenna followed suit.
HORNELL 16
BATH-HAVERLING 1
Connor O'Rourke finished 3-for-4 with four RBI and two runs scored to lead Hornell. Zack Miles went 2-for-3 with a walk, three RBI and two runs scored. Justin D'Amato scored three runs and drove in two.
MARCUS WHITMAN 0
SOUTH SENECA 20
Ben Jessop finished 2-for-4 with a double, five RBI and two runs scored. Nicholas Twardeski went 3-for-3 with three RBI and four runs scored. Spencer John was 3-for-4 with two RBI and four runs scored. Chris Lucas had two hits, scored three runs and drove in another. John Struck out 16 without a walk and scattered four hits over seven innings.